Basketball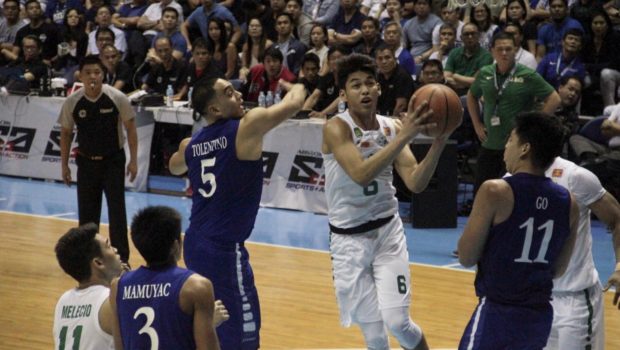 Published on November 12th, 2017 | by Genrev Villamin
0
DLSU Green Archers punish archrivals Ateneo Blue Eagles to end eliminations
Photo by Khyte Mendoza
The De La Salle University Green Archers defeated the Ateneo Blue Eagles, 79-76, on Sunday at the Smart Araneta Coliseum.
After bowing to Ateneo in the waning seconds of their first encounter in Season 80, La Salle made sure to own Round Two. And they sure owned it thanks to a huge 10-0 run to end the game. After a controversial non-call that led to a 76-69 Ateneo cushion at the last 2:21 mark, the defending champions' did not allow the runners-up to score anymore.
The Green Archers opened the game with four points in the first three minutes. On the other hand, the Blue Eagles, who started the game flat, connected five straight points to lead 5-4. Santi Santillan cleaned Ricci Rivero's missed trey and completed the bonus free throw for a 7-5 La Salle advantage. Then, Aljun Melecio and Jollo Go buried two triples. Abu Tratter's basket underneath gave them a 17-12 lead with two minutes to go. But, Matt Nieto's triple tied the game at 17-all. Eventually, Ateneo regained the lead as Isaac Go connected on two baskets to cap their 10-0 run. At the end of the first quarter, La Salle trailed Ateneo, 17-22.
The Taft-based squad remained trailing over the first five minutes of the second frame. Jolo Mendoza's jumper made it a seven-point game, 24-17. Mbala connected five points to bring his team back to within two, 26-28. The game knotted at 30-all after Santillan split his charities. With under four minutes in the second quarter, Melecio hit a free throw to give La Salle back the lead, 31-30. Matt Nieto and Ricci Rivero exchanged triples to end the first half.
At the half, La Salle led Ateneo, 37-35. Mbala already had 15 points, nine rebounds, and five steals to lead the La Salle. Matt Nieto and Isaac Go had 12 and 10 respectively for the opponents.
The Green Archers started the third quarter with a 6-2 run to stretch their lead to its biggest, 43-37. But, Ateneo countered it with a vicious 18-2 run as the tables turned to their favor. At the 4:24 mark of the third period, Vince Tolentino, Anton Asistio, and Raffy Verano's baskets gave the Blue Eagles a 55-45 advantage. La Salle, little by little, clawed their way back. Kib Montalbo's triple brought them to within six, 52-58. Furthermore, Mbala went coast-to-coast to make it a 54-60 game. However, Mendoza hit a buzzer-beating triple to give Ateneo a 54-63 advantage after three quarters.
Kris Porter opened the fourth frame with a triple to extend Ateneo's biggest cushion to 12, 66-54. At the 7:14 mark, Ricci Rivero's scoop shot capped an 8-0 La Salle blast and pulled them to within four points, 62-66. The Blue Eagles held on to that four-point lead up to the final 3:36 of the game. However, Caracut fouled out and an offensive foul was slapped on Melecio in consecutive plays. The Green Archers saw themselves down by seven once again, 69-76.
A controversial non-call on Asistio that led to a Tolentino basket heated the already classic game. La Salle head coach Aldin Ayo threw his jacket on his bench, which eventually fired up his team. Tratter and Mbala provided buckets and trimmed Ateneo's lead to three, 73-76. In the next play, Ricci Rivero fished a foul on Matt Nieto and sank two free throws. With 40 ticks to go, Montalbo, who was eager to make up for his costly errors in the first round, buried a tough jumper to take La Salle to the driver's seat once more. Ateneo had a chance to reclaim it with 12 seconds remaining, but Isaac Go missed his shot and Ricci Rivero grabbed the board. He, then, swished two more freebies to cap the winning 10-0 run.
Reigning and defending MVP Mbala took most of the responsibility finishing with 28 points, 19 rebounds, six steals, and six rebounds. Ricci Rivero provided 21 points as he joined Mbala as the only Green Archers in double figures.
On the other hand, Ateneo's Thirdy Ravena led the Blue Eagles finishing with 15 points, eight rebounds, and four assists. In addition, Isaac Go and Matt Nieto combined for 25 points.
The victory not only pushed La Salle to 12-2, but also gave them some momentum heading into the Final Four. Furthermore, they also boast being the first and only team to stain the Blue Eagles' erstwhile immaculate record in the eliminations.
The DLSU Green Archers, by virtue of their Top 2 finish, enjoy a twice-to-beat advantage in the Semifinals. They will try to eliminate the third-seeded Adamson Soaring Falcons in Game One on Saturday, 4PM at the Smart Araneta Coliseum.
Scores:
DLSU 79 – Mbala 28, Rivero, Ri. 21, Tratter 8, Santillan 7, Melecio 6, Montalbo 6, Go 3, Caracut 0, Rivero, Ra. 0, Baltazar 0, Paraiso 0.
ADMU 76 – Ravena 15, Go 13, Nieto, Ma. 12, Verano 9, Mendoza 7, Asistio 6, Tolentino 6, Ikeh 4, Porter 3, Nieto, Mi. 1, Mamuyac 0, Black 0.
Quarter scores: 17-22, 37-35, 54-63, 79-76