Basketball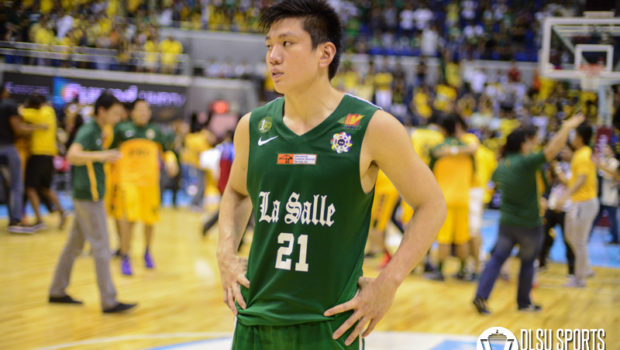 Published on October 2nd, 2014 | by DLSU Sports
0
Cul-de-sac: Green Archers' title defense comes to an unfortunate close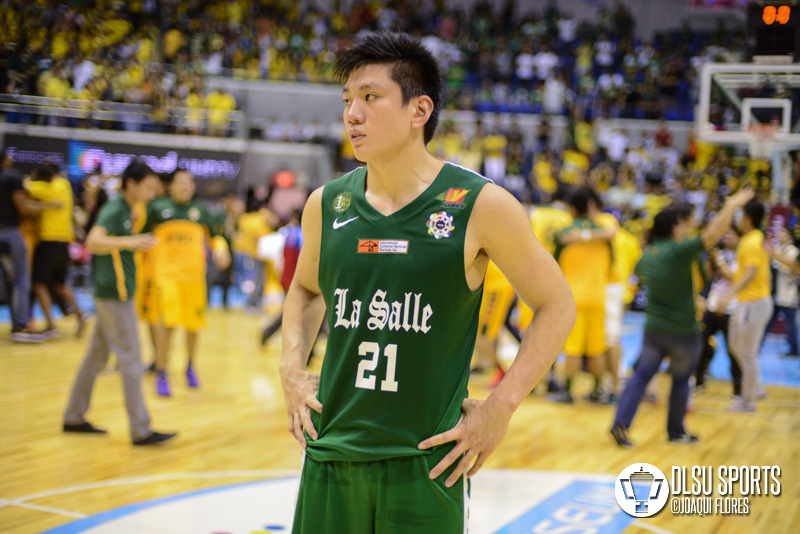 A last-second Mac Belo three buried the Green Archers' Season 77 quite prematurely with the FEU Tamaraws scoring a dramatic 67-64 win Wednesday night at the Smart Araneta Coliseum to end La Salle's hope of winning the UAAP men's basketball title in consecutive seasons since 2000-2001.
Jeron Teng led La Salle with 13 points, 4 rebounds and 6 assists while Jason Perkins put a valiant effort after posting 12 points and 12 rebounds. In addition, Almond Vosotros posted 6 points and 3 assists in his final UAAP game.
It was a game of runs with both teams alternately piling up offensive spurts throughout the game. Teng initially brought La Salle ahead, 11-6, with his three ball. Yet, it was FEU, via an 8-1 rally to close the first quarter on top, 24-17, in the game's first 10 minutes. The Archers' graduating players teamed up with the team's first-year cagers to produce a huge 15-2 attacking barrage to carry a 32-26 lead midway in the second period. However, the Tamaraws almost exactly reversed that situation to retrieve the advantage at the interval, 42-37.
A low-scoring third canto ensued with both teams not scoring more than ten points. A slight advantage by La Salle narrowly trimmed the lead to four with ten minutes left in the game.
Teng and Prince Rivero staged big plays to shift the lead back to La Salle. It even grew bigger after FEU slightly recovered it at 55-53 when Arnold van Opstal and Julian Sargent combined for six points to make it a four-point lead. Belo continued to find ways in torching the Archers' defense with two good converted looks at the basket. A trade of baskets between Perkins and Achie Iñigo happened before Belo unleashed the first of his two heart-shattering triples to give FEU a three-point advantage with only 75 seconds to go.
The champions of 2013 equalised with Perkins splitting his charities while Norbert draining an uncontested shot from point-blank range. 64-all, the Araneta scoreboard displayed with 24.3 seconds remaining.
Knowing they will have the last say, FEU wisely burned the time with Tolomia holding the ball while trying to unlock the Lasallian defense. In the nick of time, Tolomia found his teammate Belo to deliver a game-clinching, reign-ending corner triple that will forever live infamously in La Salle basketball history.
Box scores:
DLSU (64) – Teng 13, Perkins 12, Van Opstal 11, Sargent 8, N. Torres 7, Rivero 7, Vosotros 6, Montalbo 0, Torres, T. 0, Bolick 0.
FEU  (67) – Belo 23, Tolomia 14, Pogoy 8, Iñigo 5, Jose 3, Cruz 3, Tamsi 3, Ru. Escoto 2, Ugsang 0, Ri. Escoto 0, Dennison 0, Lee Yu 0
Quarter scores: 24-17, 42-37, 51-47, 67-64.