Baseball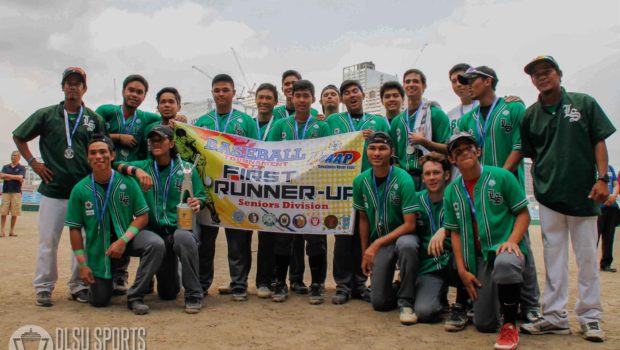 Published on February 21st, 2014 | by DLSU Sports
0
Green Batters finish second best to back-to-back champions Ateneo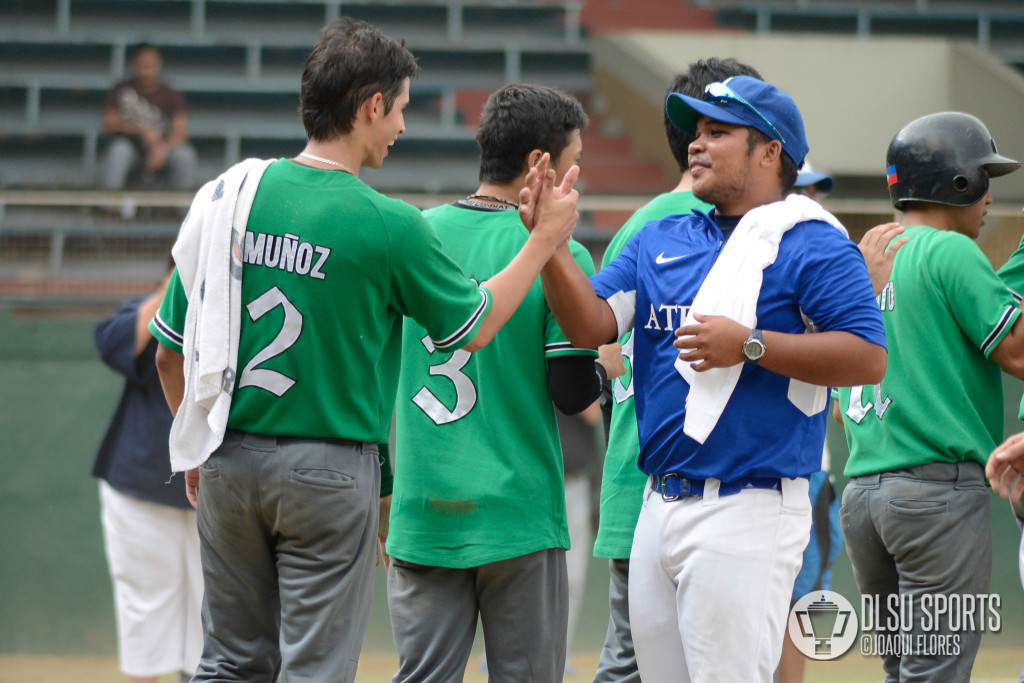 An eight-run deficit with three innings left was too much for the Green Batters to overhaul as they succumbed, 3-8, to defending champions Ateneo, who sealed their second straight championship in Game Two of the best-of-three UAAP Season 76 Baseball Tournament Championship Series Tuesday night at the Rizal Memorial Baseball Stadium.
Ateneo blew the game wide open in the fourth inning as they more than doubled their lead to keep the relentless and dangerous Green Batters from keeping pace with them.
Batting first was La Salle and the number-one ranked team started slowly as they were quickly blanked by Ateneo in the first inning. Matt Laurel reaches plate through Kevin Ramos' hit early in the first inning.  Down by a run, the Green Batters seemed to have created a chance to at least equalize with Dino Imperial, Miguel Olmos and Carlos Munoz loaded the bases. However, the Green Batters were not able to manage at least a run out of a scoring position. At the bottom of the second, Chip Esguerra converted off Pelos Remollo's hit to make it 2-0 for Ateneo.
A pitching change then took place in the green camp as Miguel Olmos was replaced by veteran Bastie Uichico at the mound. Yet, Ateneo still earned another run, putting more pressure on the Green Batters. With another barren inning gone for La Salle, Ateneo capitalized as they went on a four-run barrage to make it a seemingly unassailable lead at 7-0. Enrico Untalan, Adrian Bernardo and Dio Remollo all reached home through RBIs of Bernardo for Untalan and Laurel for the latter two. A defensive lapse from the Green Batters cleared the way for Laurel to make it seven. Soon, Renzo Ramos made it eight for the champions who looked imminent on defending their crown.
Known for their huge one-inning hauls throughout the season, the Green Batters were down but definitely not out. At the top of the 7th inning, Munoz hit a solo home-run to give his team a lifeline. Edward Flores then made a hit that sent Imperial home before he himself scored a run coming off a hit from Pocholo Dominguez.
At 8-3 and with two more innings left to bat, the Green Batters looked to attempt another monumental comeback but tactical defensive changes for Ateneo prevented the game from being extended or even stolen from them by holding firm in the last two innings of the game as they went on to win their second baseball title.
"Hindi agad nakapag-adjust ang mga players ko tapos ang gaganda pa nang palo ng Ateneo," pointed out Green Batters Coach Joseph Orillana, who himself was a UAAP Baseball Champion in the last time that La Salle lorded the diamond back in Season 65. Yet Orillana finds no shame in finishing second as he adds, "I've told them that 'we've gone this far. Nagpursige tayo. Ito ang gusto natin' So, ayun, nagpakilala na kami [as title contenders]."
Orillana also gave credit to his players off the bench who played well for the team whenever he called their numbers to the pitch although he thought that they may have been put under much pressure when they played in the championship series.  Lastly, he thinks that the team has learned a lot from a valuable experience this season. "Since na-experience na naming makapaglaro sa championship, siguro makakapag-adjust na kami," he told with optimism.
Munoz was heralded as the season's best hitter while he and teammate Bastie Uichico and Blue Batter Matt Laurel shared the Most Stolen Bases honor.
 Game photos can be viewed in our Facebook page by following this link: https://www.facebook.com/media/set/?set=a.458332774295481.1073741951.343223135806446&type=1