Baseball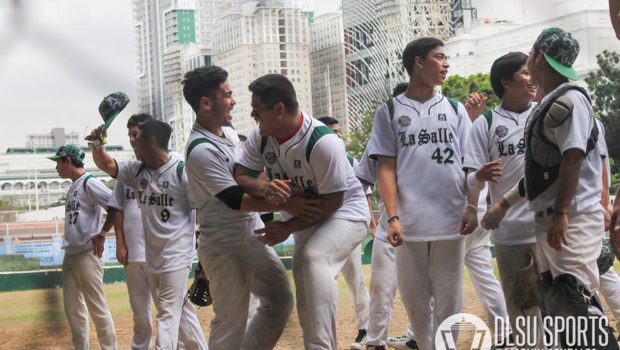 Published on February 22nd, 2018 | by Jhenel Laus
0
Green Batters outduel Bulldogs for second straight victory
The De La Salle University Green Batters were waxing hot offensively after demolishing National University, 6-0, in the UAAP Season 80 Baseball Tournament, yesterday, at the Rizal Memorial Baseball Stadium.
La Salle grabbed their fifth win of the season after opening the second round of the Baseball Tournament.
At the start of the game, the DLSU Green Batters completed two runs to put up a 2-0 lead at the end of first. But heading into the next innings, La Salle and NU showed nothing but great defense as both squad converted zero run and finishes the fourth inning with La Salle still ahead, 2-0.
The Taft-based squad suddenly got their rhythm back as they exploded to 3-0 run at the end of fifth inning that made the Green Batters ahead by five points. On the other hand, the NU Bulldogs continued to struggle offensively and still could not convert any runs. La Salle on top, 5-0, at the end of fifth.
NU remained unshaken as they tried to come up with a huge run entering the sixth inning. But La Salle came prepared, showing their best defensive. Both teams could not convert any run at the end of sixth inning.
Coming into the seventh inning, La Salle who was looking good to get their fifth win of the season, completed another run that gave them another point to finish the game. The Green Batters dominated NU, 6-0 after the game.
The Green Batters' climbed up to a 5-1 card.
The DLSU Green Batters will try to retain their winning streak as they will continue to battle for the Green and White on Sunday against UST at the Rizal Memorial Baseball Stadium.