Baseball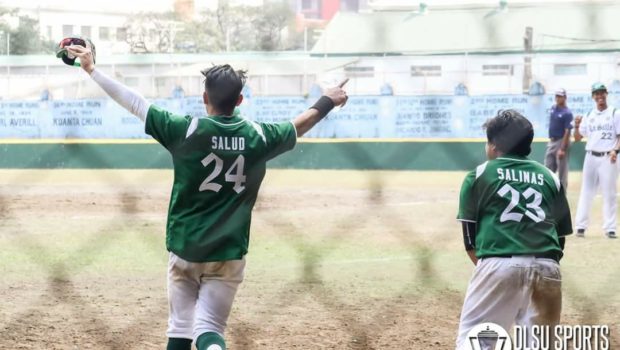 Published on March 1st, 2018 | by Jhenel Laus
0
Green Batters stretch win streak to four with win over UP
The De La Salle University Green Batters exacted a commanding win against University of the Philippines, 10-4, in the UAAP Season 80 Baseball Tournament, yesterday, at the Rizal Memorial Baseball Stadium.
La Salle dominated UP, grabbing their 7th victory; their fourth win streak. It was an early going offense for the Green and White as they converted a run by Green Batter Francis Gesmundo courtesy of his teammate James Esparas to end the first inning. Opening the second inning, Green Batters' Salinas and Rojas got to home base after a Salud swing that gave La Salle ahead, 3-0. La Salle blanked UP at the end of second.
The UP Fighthing Maroons concentrated on defense to start the third inning that limited La Salle's opportunity to score but La Salle countered with an easy defensive inning with Green Batter Barandiaran punishing UP's batters. It was a scoreless inning for both teams to end third.
La Salle widens lead to five at the top of fifth but the UP Fighting Maroons found their rhythm as they came up with a 3-0 run to cut deficit down to two at bottom of the fifth. La Salle was still on top, 5-3.
As UP was starting to fight back, The Green Batters offense said otherwise as they end the sequence with four runs and ballooned their lead to six, UP almost got a run but the defense of the Taft-based squad was there. UP trailed La Salle, 9-3, at the end of sixth inning.
At the end game, UP and La Salle both completed a run after the seventh and ninth inning respectively. The Green Batters won, 10-4.
Although Green Batter Iggy Escaño missed the match, La Salle was able to get the win against UP. The Last year's MVP has something to say on missing yesterday's game, "I sat out because of my injury, so the doctor advised that I sit out for those matches so I can be a hundred percent on the next games because that's more important, we are looking for the bigger picture lang." Asked about his team's overall game performance, "I really liked it, like you know the other guys who step in to my place and for my other teammates' place, they really stepped up and it was a good win, a good overall team win."
The Green Batters remains on the top of the standings with 7 wins and 1 loss record.
The DLSU Green Batters will battle for win number eight and will try to continue their winning streak to five on Sunday against archrival Ateneo De Manila University at the Rizal Memorial Baseball Stadium.