Baseball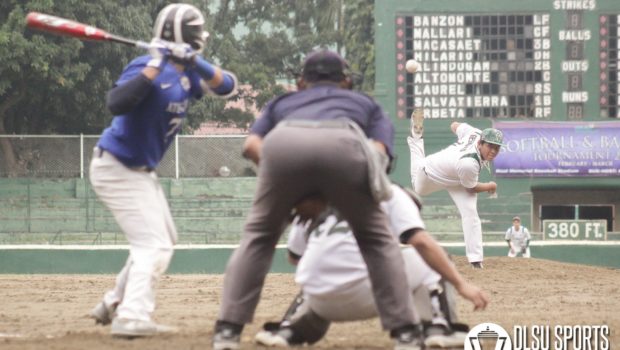 Published on February 14th, 2018 | by Cheska Erfe-Mejia
0
Green Batters succumb to defending champs Ateneo
The DLSU Green Batters suffered their first loss of the season at the hands of defending UAAP Baseball Champions Ateneo Blue Eagles, 9-6, at the Rizal Memorial Baseball Stadium.
Up until the top of the fifth inning, the Ateneo Blue Eagles had a good run that gave them an seven-point lead.
Anton Acuña scores after a wild throw by Ateneo's Laurel. A fielding error by the first base brings home 3. At the end of the fifth inning, the advantage of the Blue Eagles is cut to 5, 8-4.
The Taft-based squad scored 1 point in the sixth and seventh inning led by Acuña and Lorenzo Amado respectively. Both teams struck out in the eighth inning, 8-6.
A base hit brings one home for the Ateneo Blue Eagles in the ninth inning. The DLSU Green Batters failed to score as Ignacio Escaño, Arvin Herrera, and Amado grounds out to end the game, 9-6.
With their loss, the DLSU Green Batters and Ateneo Blue Eagles are now tied with the Adamson Soaring Falcons.
TEAMS 1-2-3-4-5-6-7-8-9
ADMU 2-0-0-1-5-0-0-0-1
DLSU 0-1-0-0-3-1-1-0-0