Football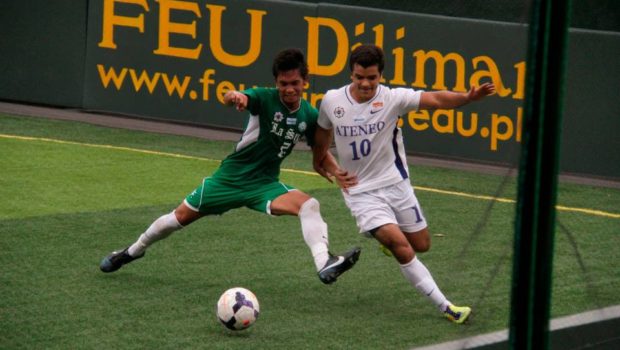 Published on December 19th, 2013 | by DLSU Sports
0
Green Booters take down Blue Booters, streak hits three
When all hope seems lost, never doubt the power of the Animo.
The DLSU Green Booters stunned the Ateneo Blue Booters, the defending men's football champions, in their 2-1 win last December 15 at the FEU Diliman Football Field.
"I'm happy with the result. I think that the team played well. We were dominating the game both the first and second half," said Joshua Cruz after the game.
After trailing 0-1, the Green Booters finally notched their first goal and the equalizer as Gelo Diamente punched in at the 78th minute to knot the score at 1-1.
"We kept pushing and pressuring Ateneo. The chances came and finally the goal came after a lot of shots," shared Diamante.
Ateneo would later employ a series of attacks and tactics but the La Salle defense was enough to deny them of scoring a goal.
As time was running low, both teams played with a more sense of urgency as they exchanged as series of strong but neither of which failed to score.
However, La Salle would break the dry spell as Alfredo Bustamante scored a goal at the 94th minute off Greggy Yang's free kick to seal the deal for the Green Booters.
"Before Yang took that freekick, I was already thinking of ways how I could put the ball in," Bustamante added about his goal.
With this win, the Green Booters now ride a three-game winning streak but the team will face its tough challenge yet as they're set to face the still undefeated FEU Tamaraws this coming Friday, December 20, at the FEU Diliman football field.