Football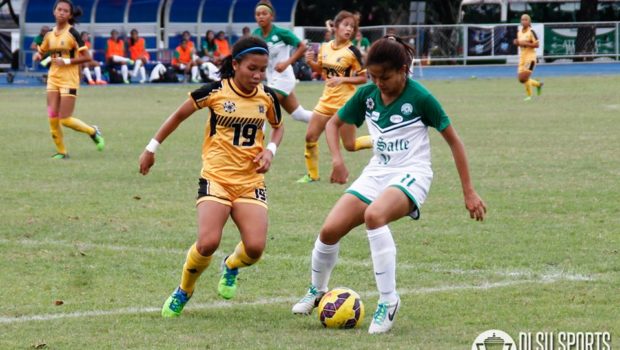 Published on December 1st, 2014 | by DLSU Sports
0
Green Booters halt opening game losing skid, Lady Booters snatch win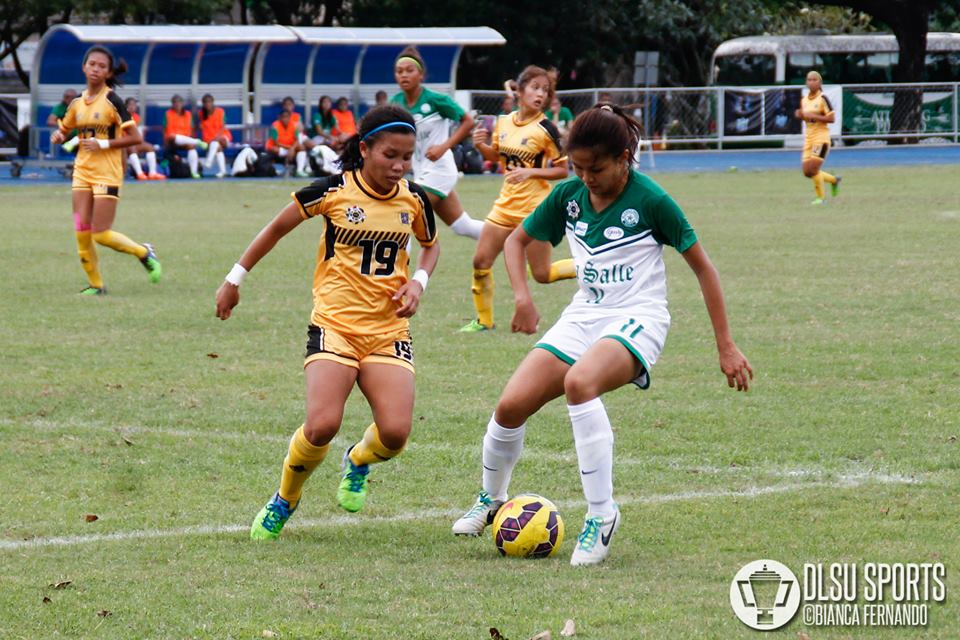 The DLSU men's and women's football teams raised the UAAP Season 77 football curtain unbeaten in the competition's opening weekend. Unwavering performances from both teams in the second half of their respective games resulted in a respectable start in the tournament held both at the Moro Lorenzo Football Field in Quezon City.
A Chuck Uy goal saved the day for La Salle to avoid another opening game defeate via a thrilling 1-1 finish last Saturday. Gelo Diamante played a huge part in the build up of La Salle's only goal of Season 77 so far. He claimed the ball well inside UP's half before creating space in the left flank. After dribbling past two UP defenders, he struck a shot past an empty net. With the ball possibly going out of play rather than inside the goal, Uy came just in time to assure that La Salle scores a much needed equalizer.
Before that, Jinggoy Valmayor put UP ahead in the 35th minute by taking advantage of puzzled players then whipping a coolly drilled finish against Paeng de Guzman. It was believed that the referees missed to spot the ball to have gone out of play with UP's quick play making it appear to have stayed in. Both teams also had an attempt each that glazed the woodwork with Valmayor's shot in the 14th minute hitting the post and Sabin Bustamante was denied by the crossbar in the 37th minute.
In women's play, the Lady Booters prevailed over UST with a 91st minute breakthrough from Irish Navaja. The rookie dribbled towards the box, splitting past UST's defense before putting it out of Zipporah Luna's reach and into the back of the net. The Lady Booters spent most of the first half on the back foot as UST created more chances. After halftime however, it was the other way around. Megan Diaz and Chermaine Guancia had decent attempts kept out by Luna midway through the second half. Just before Navaja's winner, the Tigresses threatened to take all three points but squandered a couple of their opportunities wide. It paved way for a dramatic conclusion that was punctuated by the rookie's memorable debut goal.
For both his teams, Coach Hans Smit expressed the team's need to make better decisions and play with more confidence. Finishing has not yet been the best for La Salle teams in the opening games, something that can developed in the coming games. "I'm more confident of my defense," said Smit as his teams not only conceded a goal in total of two games for they have limited more goal scoring opportunities from falling in favor of their foes.