Football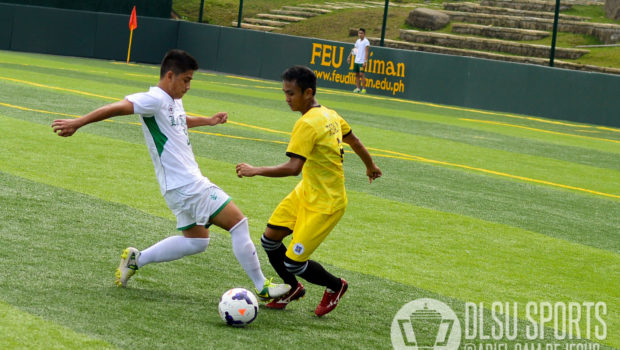 Published on December 7th, 2013 | by DLSU Sports
0
Green Booters slip, Lady Booters gain ground on opening week

The DLSU Football Teams had contrasting starts in this season's UAAP Football Tournament as the men dropped points in the 0-2 defeat to UST while the women edged past UP, 2-1. Both games were held at the FEU-Diliman Football Field in Quezon City.
Saturday was a bad day for Coach Hans Smit and the Green Booters as ace striker Gelo Diamante was ruled out because of dengue. Furthermore, they were on the wrong end of a 2-0 result. Jogi Celiz capitalized on the defensive lapse of DLSU in the fourth minute of the match to put the Gold-and-Black ahead, 1-0. La Salle then dominated the proceedings but was not able to find an equalizing goal by halftime.
Things were similar in the second half. Jojo Borromeo and Nathan Alquiros produced opportunities with Alquiros' striking the woodwork a couple of times. Unfortunately, Patrick O'Neill's shot in the 81st minute went beyond DLSU goalkeeper Joshua Cruz to double UST's advantage. There was still time for La Salle to snatch a result but the Thomasian defense stood firm to deny the DLSU XI any chances of spoiling their win.
The following day, Smit's lady wards drew a 2-1 victory over relentless UP. Things started beautifully for last year's first runners-up. Rookie forward Kyra Dimaandal pounced on the rebound off a saved attempt by Cha Guancia. The lead did not get to last by halftime though as UP's Kali Navea-Huff poked the ball in. It appeared that Inna Palacios already had control of the ball but the sophomore goalkeeper lost grip after colliding with two UP players. Nonetheless, the referee saw no malicious contact; thus ruling the goal legal.
In the second half, Erika Turtur stepped up her game as she replaced Palacios. The Davaoena keeper was alert in stopping a number of UP shots all throughout the half. The same can be said of the UP defense, which clamped down La Salle's attacking spells. It all boiled down to a 91st minute free kick by Negrense Ange Metillo. After failing to register a goal last season, the ace midfielder struck a wonderfully-arched, game-winning shot to give the Lady Booters the lead with just three minutes left.
The two teams will look for nothing but three points in the upcoming midweek clashes. The Green Booters would aim to bounce back against an improved UE side on Tuesday while the Lady Booters are in the quest of their second win when they square off with rivals UST. Both games have 3PM kickoffs and will be held at FEU-Diliman.