Green Shuttlers shoot down Soaring Falcons in a sweep!
Published on September 23rd, 2017 | by Karl Niccolo Dela Cruz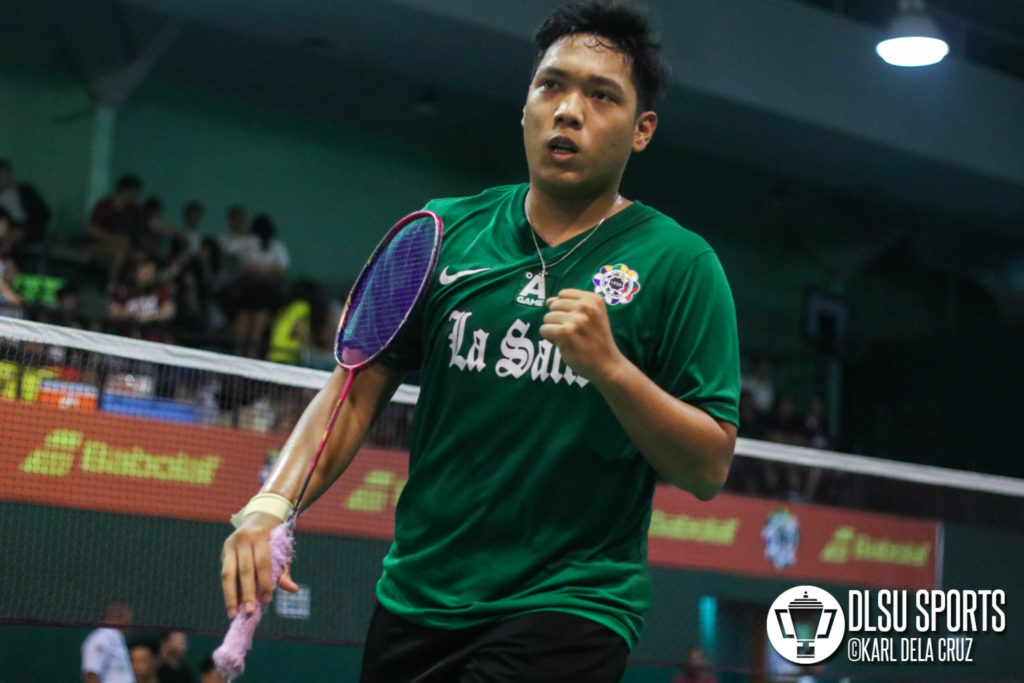 After winning their debut match, the De La Salle University Green Shuttlers once again showed their might after easing their way past the Adamson University Soaring Falcons, 5-0, September 23 at the Rizal Memorial Badminton Court.
The first singles face-off of the match was between Jerickson Obaob and Kevin Fabros. Obaob maintained a steady lead in the early frames of each set. Fabros, however, tried to catchup but to no avail as Obaob quickly dismissed the San Marcelino mainstay with his sharp smashes and rock-solid defense, 21-17, 21-14.
Green Archer Glenn Camillo squared off with Soaring Falcon Elben Concha in the second singles match. The Taft-based Shuttler made quick work of Concha, beating him, 21-12, 21-11.
Obaob paired up with Cayel Pajarillo in the first doubles match as they were pitted against Fabros and Jhonrick Macabenta. The Obaob-Pajarillo duo was too much to handle for the AdU pair with the match ending 21-12 for both sets.
Although at this point, the Green Shuttlers were assured of a win, veterans Bee Monterubio and Andrew Pineda still showed grit in court against Concha and Joshua Antonio. The Monterubio-Pineda duo were tested in the first set with the Green Shuttlers going neck-and-neck against Adamson. DLSU eventually got away with the set at 21-19 and never looked back as they pounced on a hapless Adamson duo in the second frame, 21-9.
Pajarillo suited up for the Green Shuttlers in the last match against Soaring Falcon Macabenta. Pajarillo took the first set, 21-15, while Macabenta lashed back in the second set, 11-21. The deciding set saw a heated exchange between the two shuttlers with Pajarillo taking the match and sealing the sweep for the Green Shuttlers, 21-17.
The Green Shuttlers carry a 2-0 win-loss card as they continue the tournament. They face rivals Ateneo De Manila University in a bid to get back at them for last season's loss tomorrow, September 24, 8AM at the same venue.