Green Spikers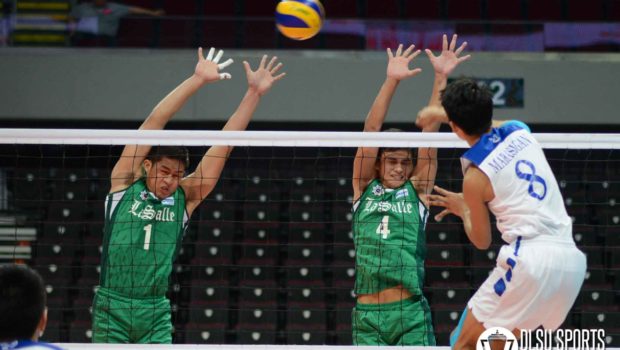 Published on February 19th, 2015 | by JC Gonzales
0
Green Spikers absorb tenth defeat of season against sizzling Ateneo Blue Spikers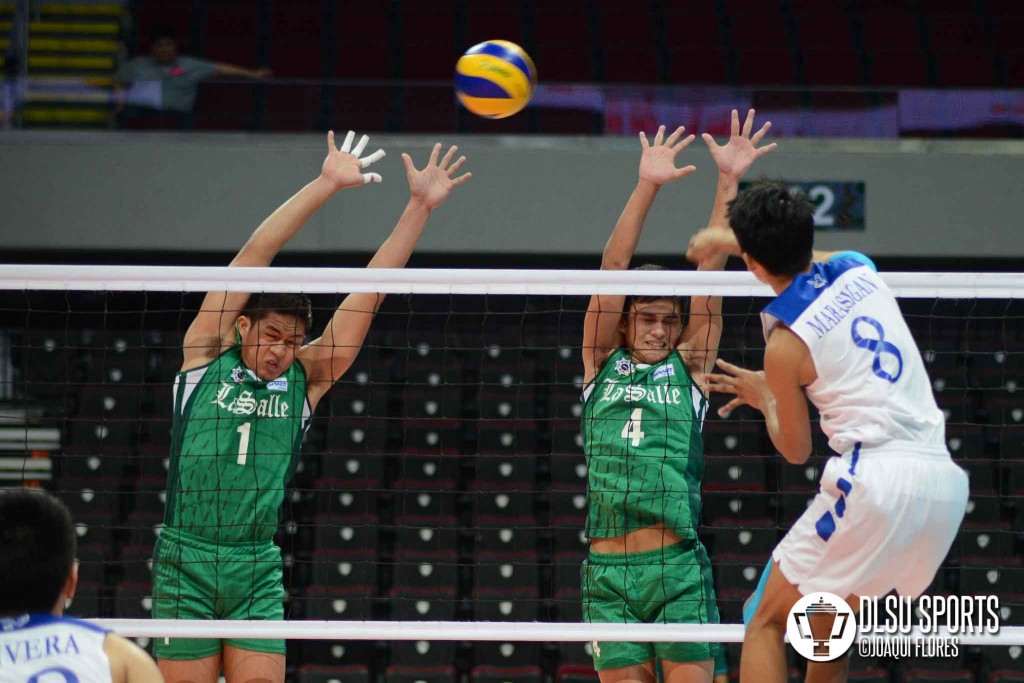 Currently out of contention in the semi-final round in the Men's volleyball, the DLSU Green Spikers continue their struggling season as they bow down to the league-leading ADMU Blue Spikers squad in straight sets, 17-25, 25-27, 21-27 on Wednesday at the Mall of Asia Arena.
From the get go, the Ateneo duo of Ysay Marasigan and Mark Espejo providing the opening punches and delivered the offense for the Blue Spikers as they romped up early points to separate themselves from the Taft-based squad. Despite La Salle chipping in hits to reduce the gap, Ateneo found ways in putting La Salle at bay.
From the errors piling up, the Green Spikers found themselves trailing 7-14. La Salle's spikers were also denied by Ateneo's tough net defense as they eventually lost the opening frame by eight.
In the second set, the Green Spikers rushed to a quick lead but also evaporated fast as several spikes went wide in favor of the Blue-and-White. La Salle lost its 21-18 edge during the second set as Ateneo built a commanding run late to take the lead anew.
Ateneo called for a timeout and masterfully outplayed La Salle in the last moments of the second set as they outscored the Green Spikers 9-4 to escape the tightly contested set.
Similar to the second set, the Green Spikers once again led during the early moments of the third set. With Ateneo's Espejo struggling to deliver from the service area, La Salle led by 17-14 which triggered the Blue Spikers to issue a timeout. After said ceasefire, three quick points by Ateneo helped them regain control and late-game composure enabled the last year's bridesmaid finishers seal the deal at the end.
The Green Spikers will face UP on Sunday at the Filoil Arena in San Juan to round up their Season 77 games.
The scores:
DLSU (0) – Calasin 8, Calderon 7, Dumago 5, Relcopan 4, Christensen 3, Dimayuga 3, Frey 3, Onia 3, Santos 2, Dizon (L) 0, Movido (L) 0
Ateneo (3) – Marasigan 14, Espejo 13, Villanueva 10, Intal 7, Rivera 7, Polvorosa 3, Señoren 0, Rivera (L) 0