Green Spikers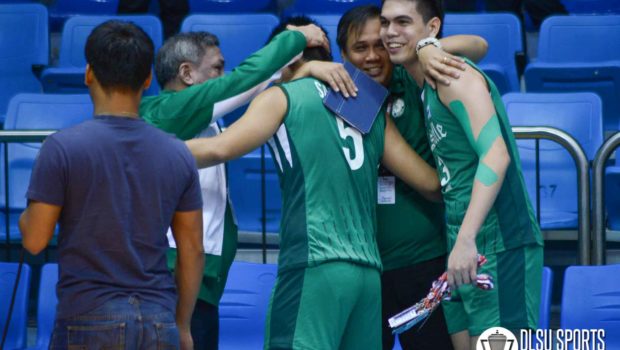 Published on February 22nd, 2015 | by DLSU Sports
0
Green Spikers avert massive collapse in season-ending win against UP
In a season wherein they were struggling, the DLSU Green Spikers went all out in their final game against the UP Figthing Maroons as they escape them in a five-set thriller, 25-19, 25-19, 18-25, 15-25, 17-15 at the San Juan Arena.
Cris Dumago and Arjay Onia led the Green Spikers with 22 and points respectively while Mike Frey and Aaron Calderon both racked up 10 points.
For UP, Alfred Valbuena had 25 points while Wendel Miguel had 13 points and 12 digs.
La Salle won the first two sets of the game and the game seemed to be finished after then but UP fought back and forced a fifth set.
UP was slowly pulling away after they took a 13-10 lead but La Salle did the necessary things, particularly curcial defensive stops and escaped with the win to end their season.
La Salle ends their UAAP Season 77 campaign with a 4-10 record. This also marks the final games for seniors Red Christensen, Calderon and Brendon Santos.
Box scores:
LA SALLE – Dumago 22, Onia 20, Calderon 10, Frey 10, Calasin 7, Santos 5, Christensen 3, Dimayuga 1, Asia 0, Del Pilar 0, Dizon (L) 0, Movido (L) 0.
UP  – Valbuena 25, San Pascual 13, Miguel 13, Raymundo 10, Abuda 7, Cabatingan 5, Hernandez 0, Acuna 0, Diaz (L) 0.