Green Spikers get haunted by the past in Beach Volleyball opening!
Published on October 1st, 2016 | by Karl Niccolo Dela Cruz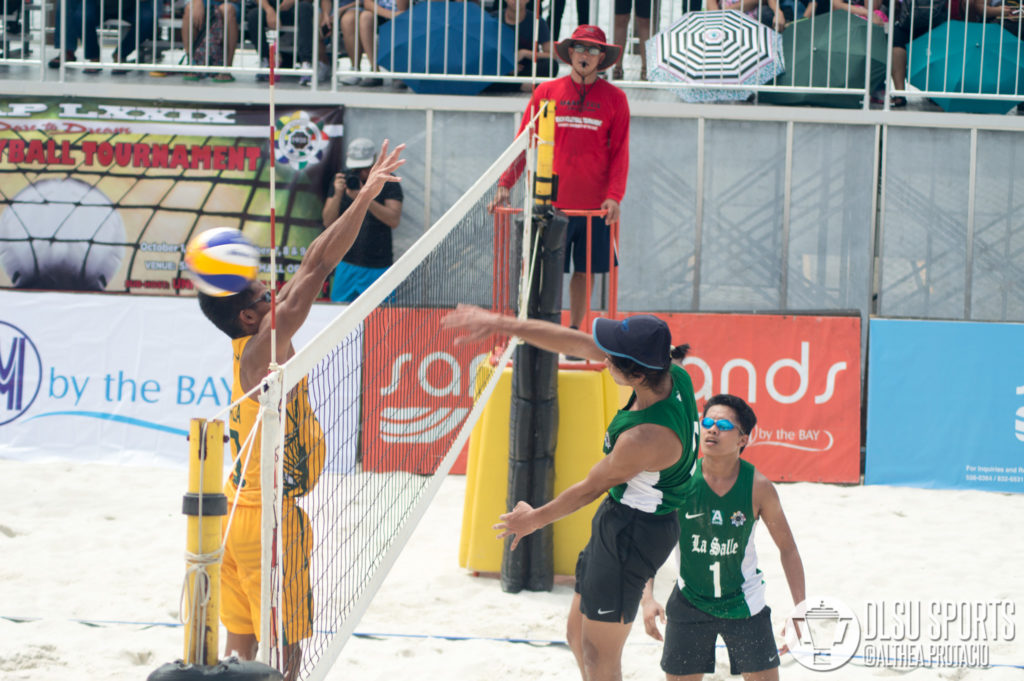 In what seemed to be a nightmare from last season, the De La Salle University suffered back-to-back losses in their UAAP 79 Beach Volleyball debut after falling to FEU in three sets and getting swept by UP, October 1 at the SM Sands by the Bay.
Green Spikers vs FEU
Green Spikers Wayne Marco and Cris Dumago had to rush against FEU in the opening frame as the duo of Jude Garcia and Richard Solis was able to keep the momentum against DLSU, 11-17. Although Marco tried to level with the Morayta-based squad, the weather was not in his team's hands as the Tamaraws were able to take the first set, 12-21.
Both Dumago and Marco entered the second set with vengeance on their faces as they struck FEU with attacks of different variations. Dumago gave the Tamaraws a hard time passing with his loaded serves, which allowed Marco to widen the lead for DLSU, 17-11. After a few errors from team captain Dumago, Marco was able to solve the FEU puzzle and finally get a set against them, 21-15.
In the deciding set, Marco and Dumago unleashed their beast modes as they quickly crept close to match point, 13-8. However, FEU came from a 5-point deficit to trail within one, 13-12. After a point from Marco, the Tamaraws were able to get the momentum to the FEU side after a Garcia hit and a block on Marco, 14-all. Garcia closed the set and the match with back-to-back attacks to complete the come-from-behind win, 14-16.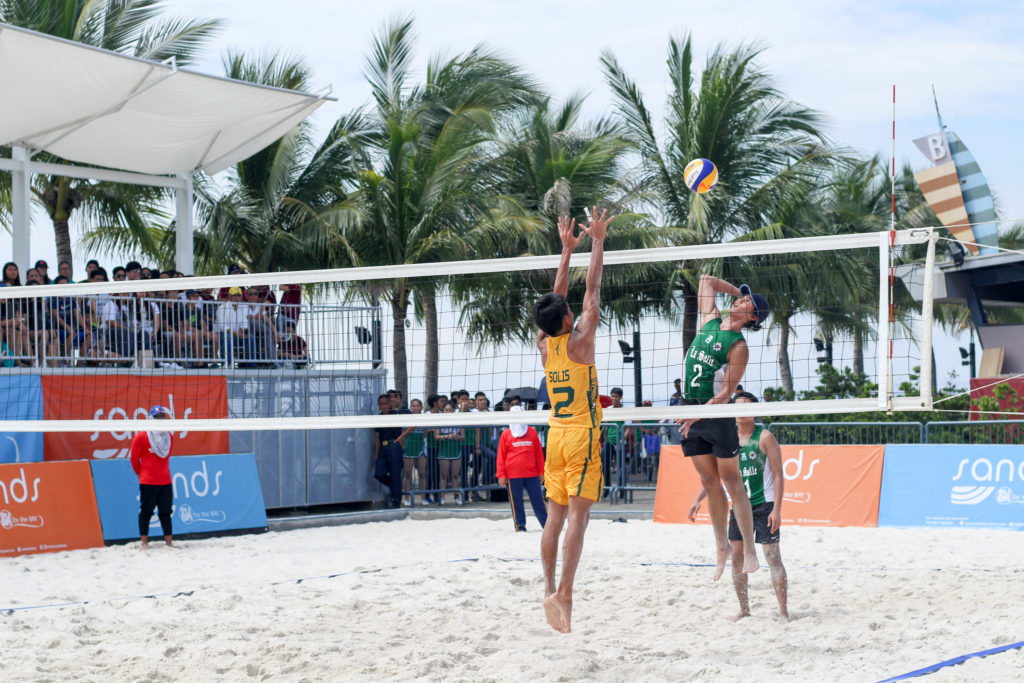 Green Spikers vs UP
The Green Spikers were hit by the error bug in the first set as Marco was not able to get a grip of his attacking and Dumago blew service errors here and there. Meanwhile, the Wendell Miguel and Alfred Valbuena combo pounced on the hapless Green Spikers who eventually took the first set on a quick note, 12-21.
In the second frame, both teams were able to keep up with heated exchanges sent to one another. After a deadlock at 8-all, both DLSU and UP scrambled all around the sand court to keep momentum. Although Marco and Dumago were able to get their form back, the Fighting Maroons kept at bay and showed how experience mattered most in crucial moments. After a lucky attack from Marco, 19-all, a Miguel attack gave UP match point with Valbuena ending the match on a solid hit, 19-21.
On the team's second set snatch against FEU and Dumago expressed how the Green Spikers' training has paid off, "Nilaro lang namin yung laro namin tapos nag-enjoy lang kami." However, he still thinks that the team should mature more inside the court during crucial moments. "Pag dikitan na, experience na yung [labanan]," he added.
As the entire UAAP Beach Volleyball schedule was adjusted hours from the original timetable due to technical issues, fatigue was to blame in the Green Spikers' meltdown against the Diliman-based squad. "Mahirap kasi kapag umaga hanggang gabi eh. Parang nabigatan siguro yung katawan namin," said Dumago. He added that the team needs more conditioning in the next few games.
The Green Spikers look to come back from a bitter start in their matches tomorrow at the same venue against UST at 9:30AM and NU at 1:30PM