Green Spikers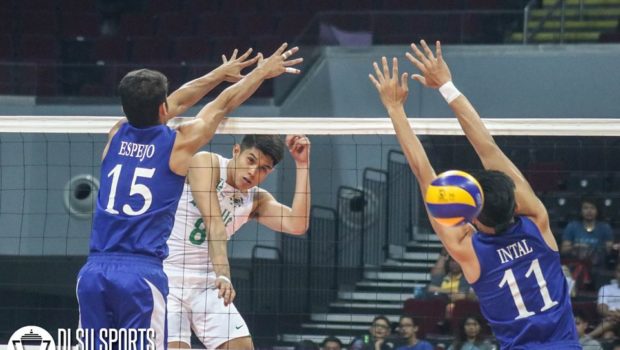 Published on April 2nd, 2017 | by Justin Aliman
0
Green Spikers get struck by Ateneo; bid farewell to Final Four hopes!
The DLSU Green Spikers lost to defending champions Ateneo Blue Eagles in straight sets, 22-25, 20-25, 21-25 yesterday, April 1st in MOA Arena. The bitter thee-set beatdown sent La Salle packing as they fail to anchor themselves to at least a semi-finals playoff in the UAAP 79 Men's Volleyball Tournament.
La Salle had a hard time working on Ateneo as the latter tried to pull away early in the set. The Green and White army made sure they were not left behind after Arjay Onia rejected an Ateneo attack, 2-5. Onia's effort didn't seem to faze the Blue Eagles as the lead continued to blow up. DLSU tried to rally in from behind, scoring back-to-back points from a net touch error committed by Ateneo followed by a kill block from Joshua Jose, 6-11. DLSU was able to close in the gap with the help of Onia's powerful hits with help from back-to-back Ateneo errors to tie the match, 15-all. Both teams went on exchanging rallies and points until the Green Spikers were able to pull away to lead, 19-17. However, a Rex Intal block and deadly services from Marck Espejo sealed the set for the Katipunan-based squad.
The Taft-based squad went with the same story in the second frame with Ateneo taking the lead early, 4-11.  The Green Spikers rose with resurgence to force an 11-5 run to keep La Salle pinching close to Ateneo. However, the defending champions soared past the Green Spikers after not letting them score after an Onia hit at 20-21. ADMU was able to take the second set after a costly net error on the La Salle side.
The third time didn't seem to be a charm for the La Salle crew when they found themselves where they started off in the first two sets, 11-4. Once again, the Taft squad got their groove as they gave Ateneo a scare with a 4-2 run. It wasn't long before the Blue Eagles maintained their grip and fended off La Salle, 18-11. Cris Dumago tried to spark momentum for the Green Spikers but it wasn't long enough until the Blue Eagles inched close to claim the match. Jose and Onia was able to save two match points but a middle hit by Joshua Villanueva sealed Ateneo it's 13th win of the season.
Despite losing to the defending champions, La Salle was able to put on a good show as they almost snatched the first two sets. They were able to build a momentum but was unable to finish the sets. According to skipper Dumago, their team lost their passing and lacked the push to kill the ball. "Hindi masyadong nag-receive", added Dumago.
As for their final match this season against the Red Warriors, Dumago said that they plan to push through with their training and do what they have to do. He also asked the DLSU fans to continue supporting them up to their last show.
As the Green Spikers bowed down to the still undefeated defending champions, they officially bid goodbye to any chance for a playoffs spot with a 4-9 win-loss record. They look to end the season on a high note as they compete against UE Red Warriors this Wednesday, April 5 at the San Juan Arena.