Green Spikers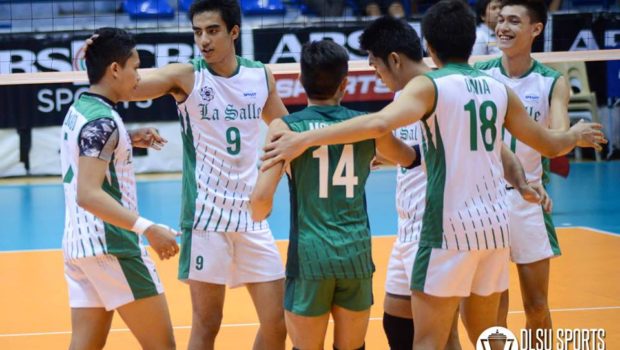 Published on January 24th, 2015 | by JC Gonzales
0
Green Spikers notch second win over Red Warriors
The DLSU Green Spikers won their second victory of the ongoing Men's Volleyball tournament with a four-set win over the winless UE Red Warriors squad, 25-15, 22-25, 25-20, 25-22 held at FilOil Arena.
Four Spikers from the Green-and-White had double digit production in terms of scoring led by Mike Frey's 16 points. On the other hand, UE's Ed Camposano led all scorers with 22.
John Onia and Cris Dumago had 14 and 13 spikes out of the team's 55 to lead the attacking department for La Salle. Aaron Calderon and Ralph Calasin had three blocks apiece in a total team effort for the Green Spikers.
Despite losing the second set by three points, the Taft-based squad took care of their possessions with less errors in the entire game, 21-30.
The win helped DLSU improved to a 2-8 slate while UE dropped to 0-7, still on the bottom of the standings. The next game of the Green Spikers will be up against FEU on Feb. 1 at the FilOil Arena.
The scores:
DLSU: Frey 16, Onia 15, Dumago 13, Calderon 12, Calasin 7, Santos 4, Asia 0, Christensen 0, Dimayuga 0, Dizon(L) 0, Movido(L) 0
UE: Campusano 22, Molina 14, Alba 8, Lelic 6, Adviento 5, Magdaong 4, Mandani 2, Gopio 0, Caluya 0, Almario(L) 0