Green Spikers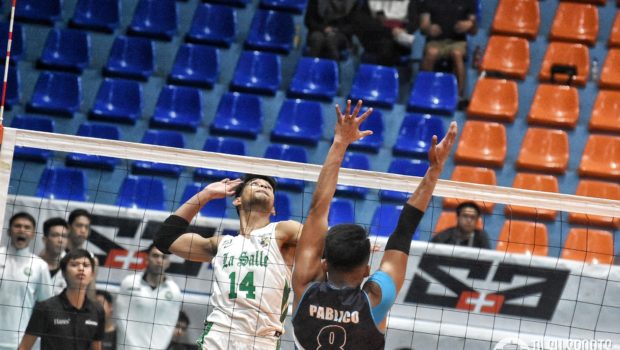 Published on April 13th, 2019 | by Jasmine Tan
0
Green Spikers succumb anew to Soaring Falcons
Photo by: Jempoy Pimentel
The De La Salle University (DLSU) Green Spikers fell to the Adamson University (AdU) Soaring Falcons in four sets, 14-25, 25-23, 19-25, 19-25 at the Araneta Coliseum, earlier today.
Adamson made quick work of La Salle in the first set, launching from a 4-1 lead following a team captain vs team captain joust between Paolo Pablico (AdU) and Cris Dumago, which was won by the former. DLSU tried to rally some points, but struggled to find its groove, giving Adamson the first set in just 20 minutes of play.
Once again, The Green Spikers found themselves down early in the second set, 0-3, after a series of errors, but got back on their feet to tie the game at five apiece. Stellar floor defense showcased by the Green and White shifted the lead to La Salle, 11-10, following a Dumago crosscourt hit that ended a long rally. La Salle maintained a three-point cushion since then, but four straight points by AdU changed the complexion of the game and made the Green Spikers surrender their advantage, 19-20. However, the combined efforts of Dumago and rookie Gerian Bacon finished the set in favor of the Green and White, overcoming a 23-21 advantage by AdU.
It was a chess match, no team wanting to allow a two-point lead until a Carlo Jimenez drop gave the San Marcelino-based crew an 8-4 advantage heading into the first technical timeout. From then on, the opposing squad never stopped putting their feet on the gas pedal, leading to as much as seven, 17-10, after a bullet by Geoffrey Alicando. The Soaring Falcons did not look back and capped off the set with a forced error from Dumago.
Although La Salle showed Animo in the fourth frame, the number of unforced errors were just too much. The boys in green immediately found themselves staring at a 2-6 deficit following an unorthodox hit by George Labang. The Soaring Falcons extended their lead to six, 18-12, with a drop shot by Pablico that ended another long rally. La Salle refused to wave the white flag as a service ace by Billie Anima, and back-to-back offensive blocks by Kieffer Reyes and the team captain gave DLSU a glimmer of hope, cutting the deficit to two, 16-18. However, Adamson showed composure and countered with an offensive block of their own, courtesy of Alicando. Jimenez then gave the match to his team with a drop shot that fooled the entire Green Spikers squad.
Lone bright spot Dumago spearheaded La Salle's offense with 18 points followed by Anima's 10 and Reyes' 9.
On the flip side, three Soaring Falcons tallied double digits as Pablico scored 18, Leo Miranda had 13, while Labang finished with 10 markers. Setter Jimenez was hailed as the best player of the game with 35 excellent sets and six points.
The Green Spikers now hold a 4-8 win-loss record slate.
Catch our men's volleyball team as the Green Spikers attempt to bounce back against the FEU Tamaraws on April 24, Wednesday, 10AM at the Filoil Flying V Centre.