Beach Volleyball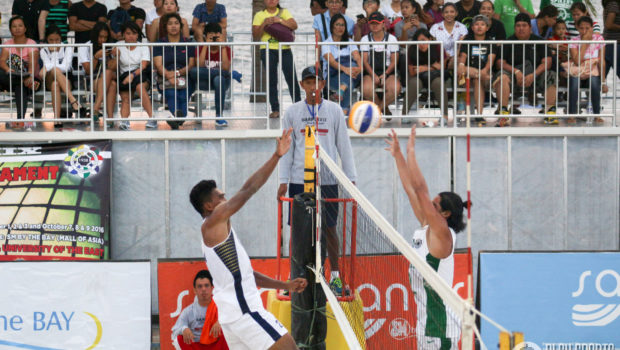 Published on October 3rd, 2016 | by Akiram Briceño
0
Green Spikers succumb to Tigers and Bulldogs; suffer 4th straight loss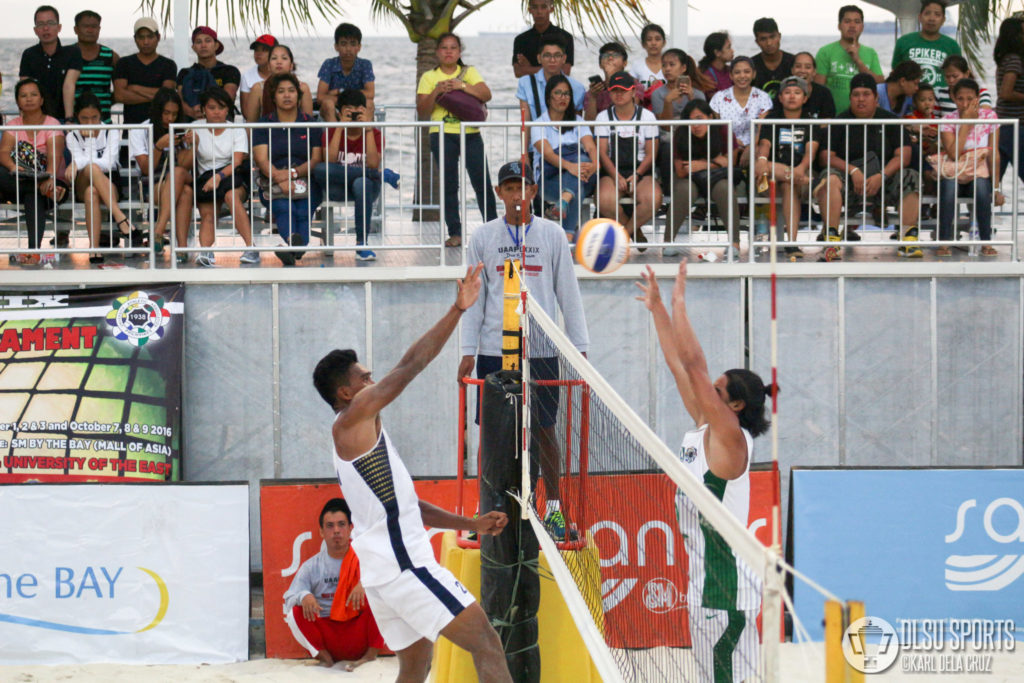 The De La Salle University (DLSU) Green Spikers were struck again by misfortune after earning back-to-back defeats against UST Growling Tigers and NU Bulldogs last October 2 at the SM Sands by the Bay.
Green Spikers vs. UST
The duo of Cris Dumago and Wayne Marco exchanged spikes with UST's Kris Roy Guzman-Anthony Arbasto combo in the early moments of the second set. Although the España-based squad was trying to pull away in the scoreboard, DLSU managed to keep them within striking distance, 9-11. However, the Tiger Spikers ignited a mini run to increase their lead to 5, 10-15. Dumago and Marco scored with a couple of kills to slice down the cushion, 12-16, but UST was in total control of the momentum and further raised the scoring margin, 12-19. Guzman harshly finished the match with back-to-back blows to give UST the victory, 12-21.
In the opening frame, the Taft-based squad was playing catchup due to the early domination of UST in both sides of the court. Although the dig of Marco gave them a thin 1-point lead, 3-2, the Tigers hastily devoured the Green Spikers after blasting off a mini run, 3-7. Both teams continued to launch kills after kills but UST remained poised to carry a 4-point cushion, 12-16. After the 13-16 tally in the scoreboard, Guzman and Arbasto caught fire and capitalized on the unforced errors of DLSU, allowing them to make quick work of the Green and White team, 13-21.
Green Spikers vs. NU
The Taft-based squad was aggressive at the start of the second set as both players paraded their unforgiving offense and defense, 4-0. However, the Bulldogs roared for a 10-3 spark as they took advantage of the outside hits and service errors of DLSU, 7-10. Although the Green Spikers were able to get close to the score of Sampaloc-based squad, the Bulldogs kept them at bay with their relentless down the line attacks and blocking prowess and eventually sealed the win, 15-21.
Meanwhile, the opening set was a lopsided one in favor of NU as they showered DLSU with thundering kills. The Green Spikers were not able to recover from their on-court breakdown and suffered an 11-point loss against the Blue and Yellow team, 10-21.
The Green Spikers will look to fight another day as they battle the Adamson Soaring Falcons and UE Red Warriors on October 3 at the SM Sands by the Bay.