Green Tennisters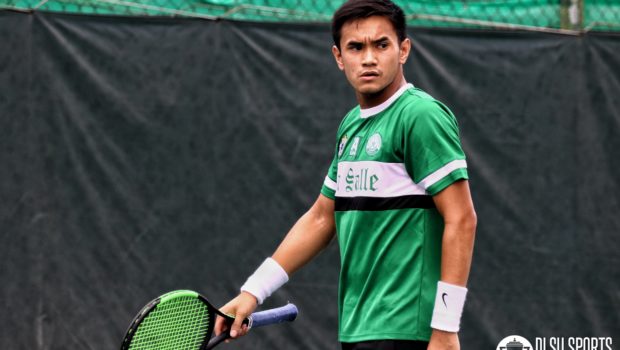 Published on February 25th, 2018 | by Timothy Nolasco
0
Green Tennisters assert mastery over Fighting Maroons
The De La Salle University Green Tennisters showed their fine form as they downed the UP Fighting Maroons anew, 4-1, earlier at the Rizal Memorial Tennis Courts.
Singles
The day started out well as Argil Canizares looked to dominate his opponent after a 6-2 tally in the first set. However, his opponent bounced back in the second canto. Luckily, for the Taft-based Tennister, he was able to hold off the UP rally and clinch the match after a 7-6 scare in the second set.
Team captain Kyle Parpan and co-captain Betto Orendain took the courts for the second and third singles. There was little resistance from the Diliman-based squad as both easily swept their respective opponents. Orendain finished the day with a scoreline of 6-4, 6-0. On the other hand, Parpan also gave up just 4 sets to his counterpart, winning with a score of 6-3 and 6-1.
Doubles
The tandem of Qoqo Allian and Jonah Cano won in straight sets. The pair had twin scores of 6-4 in both sets that they played.
With another win in the bag, the Taft-based tennisters looked to sweep their games for the day. However, fate would not have it as the duo of Hans Asistio and Raphael Teng lost via a heartbreaker, 4-6 and 6-7.
The Green Tennisters look to continue their winning ways against rivals Ateneo de Manila University Blue Eagles tomorrow, February 25 at the Rizal Memorial Tennis Courts. The game will start at 8am.