Green Tennisters suffer a drawback after falling short against UST!
Published on February 25th, 2017 | by Karl Niccolo Dela Cruz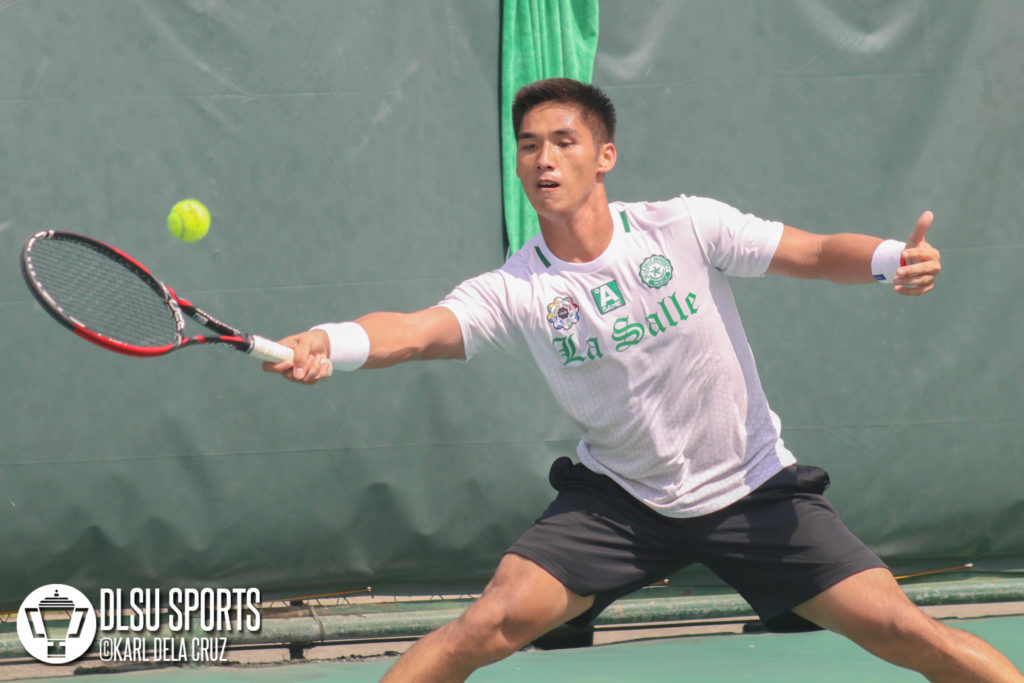 After a convincing win last Wednesday, the Green Tennisters were marred with a 2-3 loss against the UST Golden Tigers in the continuation of the UAAP 79 men's tennis tournament, February 25 at the Rizal Memorial Tennis Center.
In the first singles match, Kyle Parpan suited up for the Green Tennisters to go against UST's Dave Mosqueda. The veteran Parpan couldn't seem to get a grip of his game after  a sorry 1-6 score in the first set. Pardon was able to put up with Mosqueda in the second frame but the Tiger did not allow for a come-from-behind win for Parpan, 4-6.
It was a heated exchange between DLSU's LA Canizares and UST's Clarence Cabahug in the second singles match. Canizares opened the first set trumping over Cabahug by two games. However, Canizares was shocked by Cabahug in the second set to extend the match to a do-or-die set, 2-6. Eventually, Canizares was able to shoot down the Tiger in convincing fashion after a 6-3 set and match win.
Green Tennisters Hans Asistio and Dale Gorospe went against Golden Tigers Joel Cabusas and Bernlou Bering in the first doubles match. The Taft duo was not able to get their presence felt in both sets after getting powered over by the España-based squad, 1-6, 2-6.
The second doubles match paraded Qoqo Allian and Jonah Cano to go against En-En Lopez and Warren Lagahit. Although the Taft mainstays kept their fight until the end, the Cano-Lopez tandem gave DLSU a hard time returning attacks to eventually give UST the match win, with both sets ending with a score of 3-6.
At this point, the Green Tennisters automatically drop the total event win with UST getting three matches to La Salle's one.
The showdown was not yet over with Betto Orendain facing Nico Lanzado in third singles match. Down 2-6 in the first frame, Orendain exacted a comeback in the second, 6-4, to force a do-or-die final set. Tied at 1-all, Orendain mustered up all his might in the remaining games to clobber Lanzado and get DLSU's second win in the event, 6-1.
"Sayang, we had our chances," was what Head Coach Rolan Kraut expressed after the disappointing loss. He pointed out how the doubles matches were the crucial factors in today's loss. "It should have gone either way but that's how it is talaga eh," he added.
Facing UE next, Kraut looks to get his wards to bounce back in the competition. "We just have to step on the court and play our game and rely on the lineup matches," Kraut promised.
The Green Tennisters go head-to-head against the Red Warriors tomorrow, 8AM at the same venue.