Chess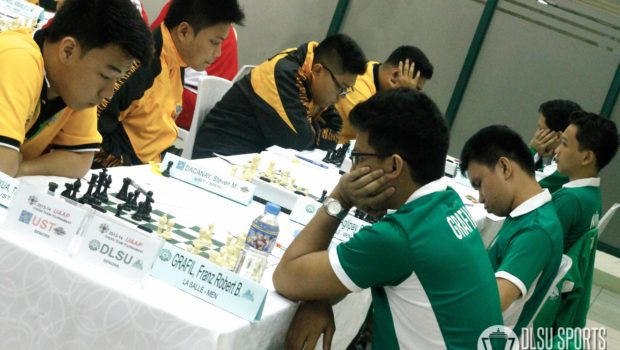 Published on January 13th, 2014 | by DLSU Sports
0
Green Woodpushers start season with two straight wins
The DLSU Green Woodpushers amassed a couple of great 3-1 wins against University of Santo Tomas and Ateneo de Manila University to formally open their Season 76 championship campaign last January 11 and 12 at the Enrique Razon Sports Complex.
Shackling Espana
In round 1 against UST, the Green Woodpushers earned a trio of victories as Franz Grafil defeated Timothy So Kua while Aglipay 8 Oberio won against Steven Dacanay and with Jan Nigel Galan overpowering Normel De Jesus. La Salle's lone defeat came from the hands of UST's Christian Anthony Flores win over Christian Nanola.
No time for chess blues
For the team's second round opponent, La Salle also repeated another 3-1 win against Ateneo.
This time around, Aglipay 8 Oberio, Jeazzir Kline Surposa and Jan Nigel Galan earned victories against Jude Que, Kerby Tong and Anfernee Bonifacio respectively. Meanwhile, Franz Grafil came up short against Jan Garcia
Moving on
Up next for La Salle will be Far Eastern University this coming January 18, 1:00 pm, at the Enrique Razon Sports Complex.