Table Tennis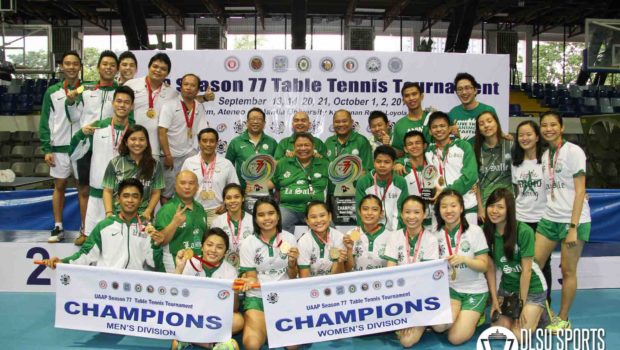 Published on October 2nd, 2014 | by DLSU Sports
0
Happy Thursday: Paddlers pulverize Maroon counterparts to pocket double championship
Coach Lauro Crisostomo's Green and Lady Paddlers swept the UP men's and women's table tennis teams to capture a rare UAAP double championship Thursday at the Blue Eagle Gym.
Impeccable, invincible, indestructible
Armed with a thrice-to-beat incentive, the Green Paddlers did not take any prisoners in their finals matchup against UP. A couple of 3-0 wins made it look like an easy task for the unbeaten team. Nonetheless, Green Paddlers Captain Jerald Cristobal said they were wary of UP's potential in causing them problems. "We were alarmed that they overcame a twice-to-win disadvantage against UST, a team that won three straight championships [before us]. We made sure that they will not erase ours [advantage].
Apart from their talents, Cristobal highlighted perseverance and prayers in towing them above the rest for the past two seasons. In that run, the men's team only lost twice in 33 matches, including the playoffs.
Redemption run completed
The Lady Paddlers may have finished the elimination round in third, but it did not stop them from aiming for the crown that slipped out of their hands last season.
An 8-4 record good for third place brought them to a matchup against FEU. Yesterday, they defeated the Lady Tamaraws twice to book a rematch against UP, which embarrassed them last year in the finals.
Beating a team they have never defeated in the past five outings was the perfect way to end La Salle's tournament. Ina Co won the deciding match of Game 1 to bring the Lady Paddlers closer to the trophy.
Tied one apiece with a split in the first two singles' matches, the pair of Mardeline Carreon and Darianne Talento won a four-set match. It paved way for Lady Paddlers Captain Ian Lariba to finish UP's defense of the championship with a win against Noriko Nishino. The Rookie of the Year of Season 76 challenged the UAAP Season 75 MVP in the first set. Experience helped Lariba in taking the first set, 16-14. It went one-way traffic in the next two sets, both ending at 11-3, prompting a grand celebration among the Paddlers and the Lasallians in attendance.
"This is the sweetest victory we have tasted because we had to hurdle a lot of obstacles on our way to winning the championship," exclaimed Lariba who was not able to hide her happiness. Another thing she cannot conceal is the delight in avenging last season's heartbreaking duel against UP. For them to accomplish the vengeful mission, the Season 77 Most Valuable Player in the women's division mentioned, "we took it one step at a time. We have to win over ourselves but also play and win for ourselves and everything else will follow."
Top of the table, top of the world
The man behind both team's successes, Lauro Crisostomo, revealed that it took them four years to turn the goal of winning twin titles into a reality. More importantly, he pointed out the factor he believes helped them get to where they are now. "We are open with each other, we talk about how we can improve our game. That sense of camaraderie lead to this," he shared. Aware that there are players that leaving La Salle next year, Crisostomo is assured that the core of his teams will help the incoming batch of players in filling the outgoing players' spots.
Season 77 men's table tennis tournament MVP Cristobal supports his coach's claim. Winning two championships in his final years with DLSU, he poured his all in this title defense while another graduating player Ken Yu also did the same. Looking forward, the outgoing captain is confident that his teammates will sustain a winning tradition.
For now though, the Paddlers will rejoice after being crowned as the kings and queens of UAAP table tennis.