Green Spikers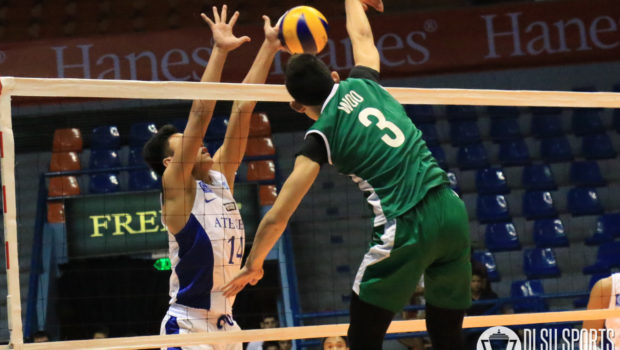 Published on February 15th, 2016 | by Marj Yap
0
Heartbroken Green Spikers loses five-set rally as rival Blue Eagles overhauls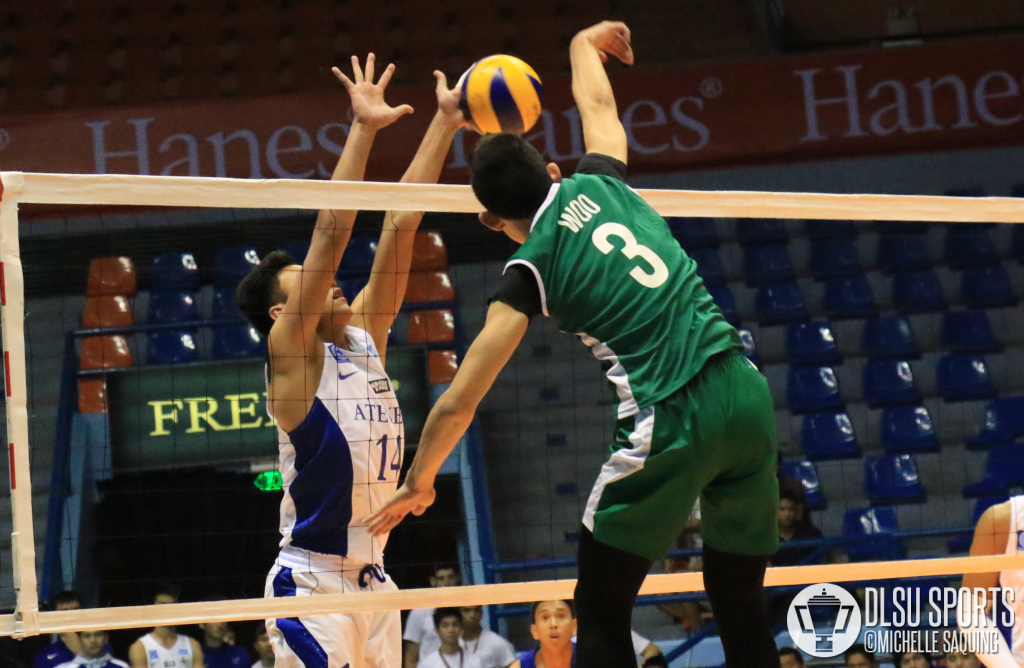 The weather outside was as hot as the Valentine's Day game inside the Filoil Flying V Arena as the De La Salle University (DLSU) Green Spikers gave a prolific mid-game display of their game plan but eventually fell to the hands of their collegiate rival Ateneo de Manila University (ADMU) Blue Eagles in a five-set defeat, 25-20, 23-25, 22-25, 25-21, 15-10, dropping their position, 1-2, in the University Athletics Association of the Philippines (UAAP) Season 78 Men's Volleyball Tournament.
Green Spikers' top men finished off with double figures. Main gun and captain Raymark Woo headed the arrow attack with 24 points: 21 spikes, two blocks and a service ace. Veteran John Arjay Onia also contributed 17 spikes and two service aces alongside with Cris Dumago who chipped in eight points in the scoreboard.
Season 77 MVP Marck Espejo carried the Atenean squad having 30 spikes, four blocks and one ace together with Season 78 Beach Volleyball's Best Setter Ysay Marasigan contributing nine spikes, three blocks and an ace.
The Blue Eagles drew the first blood sealing the first frame with a 25-20 set victory and gaining the advantage over the error-prone Lasallian team.
After the start of second set coming in, the Taft-based squad stepped up to the plate and faded the 7-4 Ateneo-leading run to a 10-12 edge as ADMU Coach Oliver Almadro calls timeout. The Green Spikers finally closed the outwearing set despite having four more unforced errors than the opponent with a 23-25 tally as both of the teams traded point after point as the closing of the frame approached.
DLSU's spikers made the momentum shift useful as they delivered kill after kill making five points as the highest lead of the set eventually taking the crucial frame 22-25 with 14 attack points.
The Loyola-based team regained composure and steps up in the fourth set delivering 13 attack points and five blocks. Ateneo nailed the Green Spikers' board from 2-1 to 7-1 in the early part of the fifth frame. The DLSU team had trouble in stopping their bleeding giving the rival a seven-point advantage.
The Green Spikers' downfall leaves them with a 1-2 standing securing a sixth place in the Men's Division and will seek to get a second chance to seal their second victory against the University of the Philippines' (UP) Fighting Maroons this coming Wednesday, Feb. 17, in the Filoil Flying V Arena in San Juan City.