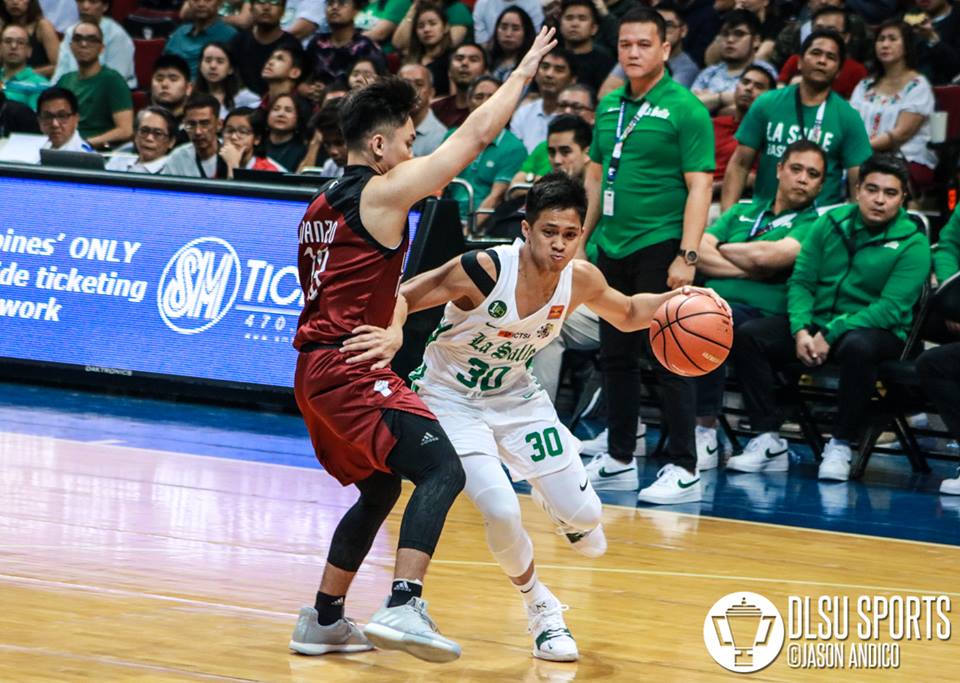 Written by: Maggie Mariano 
It was a tough game for the De La Salle University Green Archers as they suffered a crucial loss against the University of the Philippines Fighting Maroons, 97-81, yesterday at the Mall of Asia Arena. A remarkable feat for the Diliman team, the win granted them a spot in the Final Four for the first time since 1997.
The two teams showed an aggressive effort with counter-attacks after each basket, the close game did not show any sign of backing down. The Green Archers started off with a fiery streak from Aljun Melecio, who was able to lead the team to a 22-17 lead towards the end of the first quarter.
However, the Fighting Maroons sped up the pace and things took a turn for the DLSU players. The Gomez De Liano brothers powered through and delivered 19 points from Juan and 8 points from Javi, building up a 41-25 lead in the second quarter. Proving to be a key player, Juan Gomez De Liano contributed continuous three-pointers alongside Bright Akhuetie. By then, it was clear that DLSU was struggling; with 11 turnovers by the end of the second quarter, the Taft-squad had given away 16 points through unforced errors.
In the second half, UP's explosive performance did not disappoint. Despite efforts from La Salle players Justine Baltazar, Aljun Melecio and Andrei Caracut to tighten the 20-point gap, the lead UP had put on in the first half proved difficult to the Green Archers. The third quarter, ending at 75-54, had the Archers grappling with the hopes of coming close to the UP team.
The fire in the Gomez De Liano brothers seemed to be far from dying down, delivering three-pointers one after the other. The determination to end the 21-year playoff drought brought exceptional results, as the game closed at a staggering 16-point lead, 97-81. UP now stands at 8-6, the team's best record since their last appearance at the Final Four.
Justine Baltazar capped off the game with 22 points, eight rebounds and two assists, while Aljun Melecio scored 19 points, six assists and three rebounds. Had DLSU won the game, the No. 3 spot would have been secured by the Archers, as their fate will now be dependent on the match between the AdU Soaring Falcons and the FEU Tamaraws on Sunday, November 18. A win by FEU will require a face off with La Salle to determine a spot in the final four; meanwhile, a win by Adamson will automatically grant the Archers the fourth seed.