Football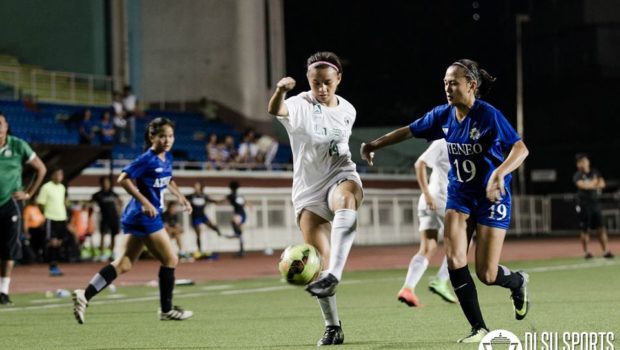 Published on March 5th, 2017 | by Akiram Briceño
0
Immaculate record still unblemished: Lady Booters devour archrivals Lady Eagles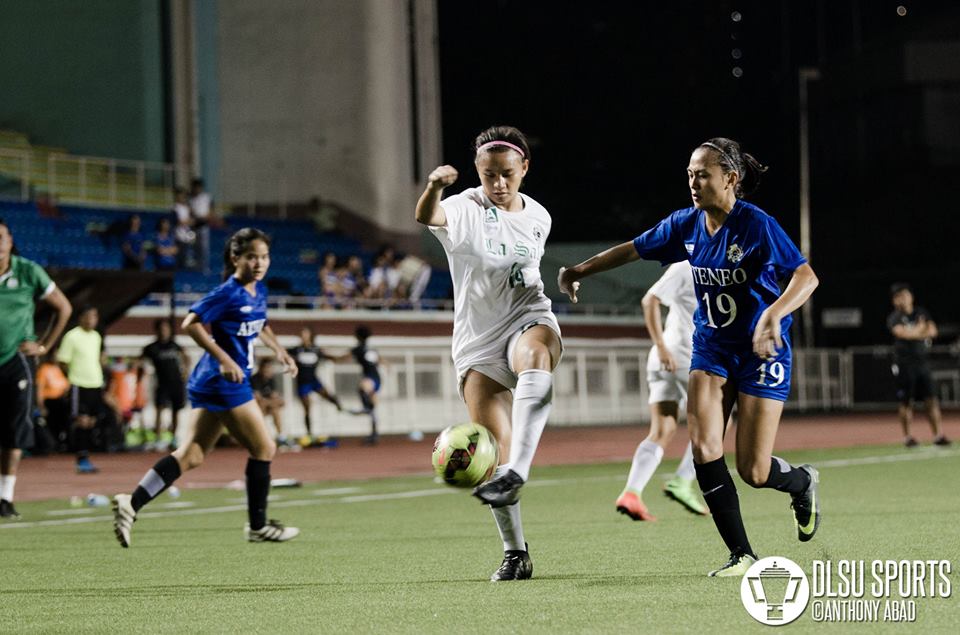 The De La Salle University Lady Booters destroyed the Ateneo De Manila University Lady Eagles with a 3-0 victory in the UAAP Season 79 Women's Football Tournament last March 4 at the Rizal Memorial Stadium. After extending their winning streak to three, DLSU has now the solo spot on top of the team standings with nine points.
In the early moments after the kick off, the Lady Booters had a slow start, allowing ADMU to control the tempo of the game and get early goal attempts. However, DLSU managed to find their rhythm, led by the aggressiveness of the strikers. Irish Navaja fed Kyla Inquig inside the box but her shot was off target in the 18th minute. The Green and White squad also capitalized on long shots but always go over the goal. Due to their relentless passing and ball handling, Inquig made a cross to Kyra Dimaandal for a short stab and drew first blood for DLSU in the 41st minute, giving them a precarious 1-0 lead at halftime.
Come second half, a scorching Taft-based squad entered the field as the Booters paraded their suffocating defense and bombarded the Lady Eagles with attacks from different angles. In the 48th minute, the Inquig-Navaja combo penetrated the weak fortification of Lady Eagles and released a shot that just went wide. Moments later, Navaja had a clear look towards the goal after a running pass from Inquig but the defender intercepted the ball from behind and avoided a possible downfall. Empowered by their prowess on both ends, DLSU sealed their second goal after a follow-up kick from Nicole Andaya in the 55th mark. Down by two goals, the Lady Eagles spearheaded by Camille Rodriguez pushed the ball in the next sequence and had a good chance inside the box. However, goalkeeper Inna Palacios' defense remained unforgiving and resulted to a blocked ADMU shot. The Green and White squad ballooned the margin up to three as Navaja notched a goal from the wing off the dish from Inquig in the 69th minute. The Lady Booters continued in dominating the match and did not give Ateneo any window of opportunity for a comeback until the 90 + 5' to secure their 3rd straight victory.
The Taft-based squad will be looking to end the first round in a winning note against the Far Eastern University (FEU) Lady Tamaraws. Lady Booter Kyra Dimaandal shared that the team must observe critically the gameplay of Lady Tams and be smart in strategizing on how to outplay them. "He (coach Hans Smit) said specifically that we're not robots. We have to be smart about the game and now na FEU na 'yung kalaban, considering that they're also an undeniably skillful team, we also have to keep up with their pace or maybe do a better pace in them," said Dimaandal.
Both squads will clash on March 11, 3:00 pm, at the Rizal Memorial Stadium.