Sports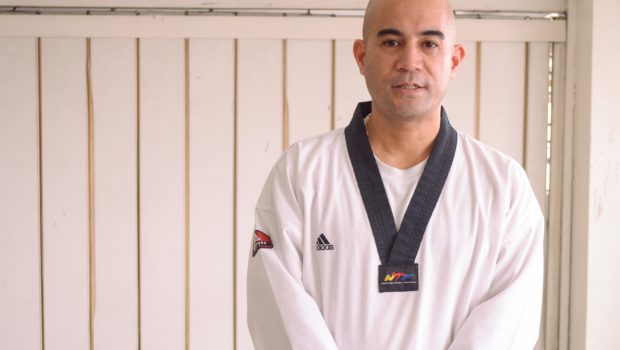 Published on August 20th, 2013 | by Adiel Sam De Jesus
0
"It's fantastic" – Coach Stephen Fernandez on his 24-year coaching stint
In 1989, a Taekwondo collegiate star takes his move to the coaching ranks for the De La Salle University Green and Lady Jins. After more than two decades of excellence for the Jins, Coach Stephen Fernandez finally called it a day.
"No regrets at all," quipped the multi-titled head coach of the Jins on his long term head coaching duty in DLSU.
May 31, 2013 marked the official expiration of contract of Coach Pen who stayed in La Salle since his childhood days. Since 1974, Stephen Fernandez possessed the animo in him in his elementary days in La Salle Green Hills (LSGH). After 24 years of head coaching career in DLSU, Coach Pen decided to pass on his coaching duties in DLSU to 10-year assistant Roberto 'Kitoy' Cruz.
Huge task ahead
Onto a bigger challenge of his own, Coach Fernandez took over the presidency of the Philippine Taekwondo Association (PTA). His appointment as the highest official of the association became one of his reasons not to close his coaching career in DLSU at two decades and a half.
"There are things I want to do also, things I want to pursue and I have taken a bigger role now in the association," said Coach Pen as he elaborates that he is now looking at taekwondo on a bigger picture as the lead man of the national association.
As the president of PTA, Fernandez has to look at more Jins aside from those inside the Taft campus of La Salle. He takes the challenge of finally bringing an Olympic gold for the country which he sees as a tough task to handle.
He gave hints that possible national team members that will be fielded may come from DLSU. Coach Stephen though refused to drop names as he does not want to over hype the things to come for the next generation of Jins for the country.
Heart remains bleeding green
As he still serves as a faculty under the Physical Education Department of the University, Coach Pen remains at the back of the team he served for 24 years. He then said "I'm still here to give my ideas, guidance but handling technical matters it will be Coach Kitoy (Cruz) and Dax (Morfe)."
Though stepping down as head coach of the Green and Lady Jins, the pure blooded Lasallian coach will definitely cradle more talents of Taft Avenue. Coach Stephen Fernandez still serves as head coach of De La Salle Santiago Zobel and De La Salle College of St. Benilde.
"I'll still be around to guide the guys. My heart is still with La Salle definitely," Coach Stephen Fernandez sealed the promise.
The post-Fernandez era
For the longest time, Coach Pen watched over the Jins enter and go out of collegiate ranks but all god things ends as new beginnings come close. As he steps down of his coaching rank in DLSU, Coach Stephen does not see any change on his long time mentored team except him treading down as head coach.
"I think it is time that Coach Kitoy Cruz gets to this level of being a head coach and I've seen the dedication, commitment, and heart," sentiments of the long time DLSU head coach.
Since Coach Cruz had been with Coach Fernandez for a long time in the national team and in the coaching ranks of DLSU, Coach Stephen safely said that he believes that the system would remain on the team with his longtime assistant taking over.
"Now it's his (Coach Cruz) time. It's time to turn over. I don't want also to hang on to something that later on I might not be able to handle," Coach Pen humbly stated.
The Jins will also be left with much talent on their backs with new assistants – Coach Dax Morfe and Poomsae world champion JP Sabilo.
A fantastic ride of his life
As he march down out of the picture, Coach Stephen Fernandez could proudly say how fulfilled he is in his 24-year ride.
"It's been a good ride. I have won titles as a player, as a coach. I have gained everything already. I am satisfied, there's nothing more I want to fulfill in coaching. I have won every tournament there is to be won. It's been a good ride to have won these championships not just in the local scene but also in the international frame," Fernandez ends as the curtains of his DLSU coaching stint close.