Basketball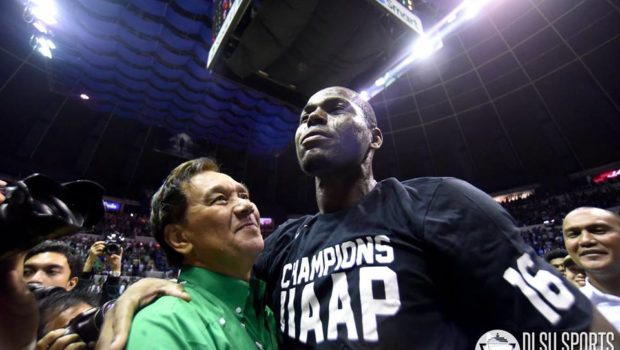 Published on December 25th, 2016 | by Khyte Mendoza
0
The Journey: Ben Mbala's Own Road To Redemption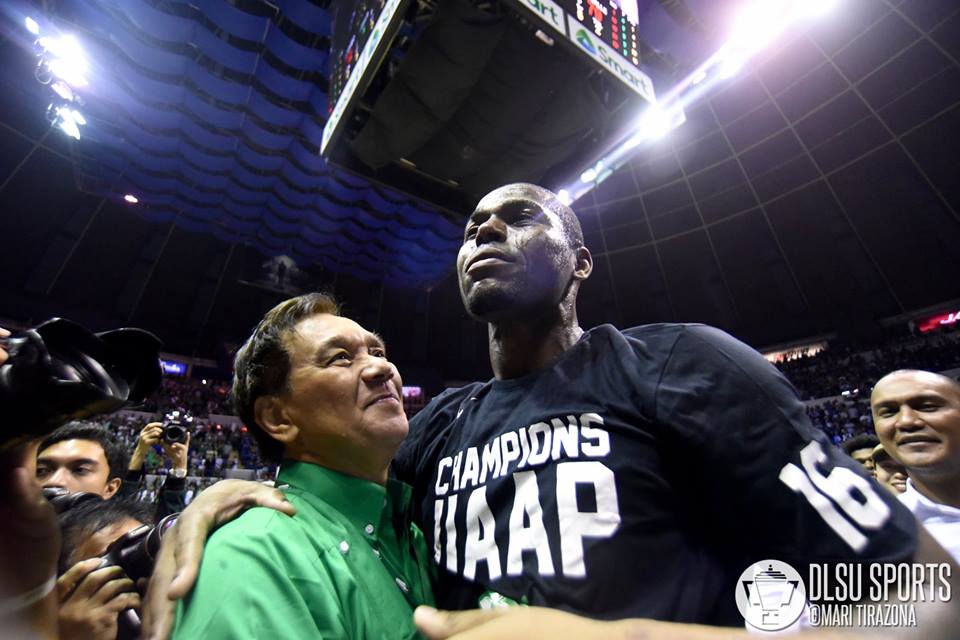 For college athletes here in the country, whether injured or restricted due to residency and ineligibility, they want to make the most of their collegiate careers because they only have a maximum of five playing years for their respective school.
Ben Mbala was one of the greatest contributors of the De La Salle University Green Archers' championship run. A squad loaded with deep talent from the first down to the last man on the bench. He unleashed his unstoppable force this season after watching his team from the sidelines for the past three years because of ineligibility. A long period of waiting game, criticism, and controversy turned into a season of "finally's" – finally he got to play and finally the crown is brought back to Taft. The dominance and the fantastic spectacular, Mbala showed everyone all.
IN THE BEGINNING
The Kid from Cameroon – as he calls himself on Twitter – started playing basketball when he was a teenager, but he admitted that it was not his first love.
"I think when I was 13 to 14 years old," Mbala said, "basketball wasn't my first sport, it was actually soccer."
Asked who his biggest influence was in playing basketball, the 6'7 Center quickly replied, "I just started playing basketball out of curiosity. I had this conversation with my brother. We were watching a basketball game and he just mentioned the fact that I was growing way faster than everyone else. And I just tried basketball."
The Cameroonian, though, has a player that he looks up to. Make a guess – LeBron James. Mbala's path into the UAAP can be linked to The King's, with people bombarding him with doubts and criticism after failing to reach the NBA Finals despite his consistent MVP-numbers.
"He had been with a team [pre-Kyrie Cavs] where he spent years without winning a title and everybody was saying that he's never going to win a championship. Despite all the hate and all the controversy, he was able to find a way to win a championship, even if he had to go to Miami. He still went back to his team [Cavs team with Irving and Love] and gave it [championship] to the promised land so that's someone you should really look up to."
Tracing back to the earlier part of his college career, Big Ben first played for two years in the Cebu Schools Athletic Foundation, Inc. (CESAFI) in Visayas. Former University of the East big man Moustaph Arafat helped Mbala showcase his skills, before eventually getting a slot in the lineup of the Southwestern University Cobras under the tutelage of Head Coach Raul Alcoseba.
"Someone put me in touch with them and one day I tried out and they really liked the way I played so they kept me. I was able to keep in touch with these guys through my friend, Arafat, he was already playing for UE in the UAAP and then the guy got me in touch with the Southwestern Coach Yoyoy Alcoseba and he pulled me out there."
Mbala craved for tougher competition. He wanted to grow more not just as an athlete, but also as a student. He knew that DLSU is just too prestigious of a university to turn back from, so he transferred.
"Well, as a player, you want greater competition and I felt like going to Manila would be a good improvement for me who was looking for greater challenge and looking at the level and the quality of the studies and education in La Salle," he said, "I think that's a really good opportunity for me to take."
THE WAITING GAME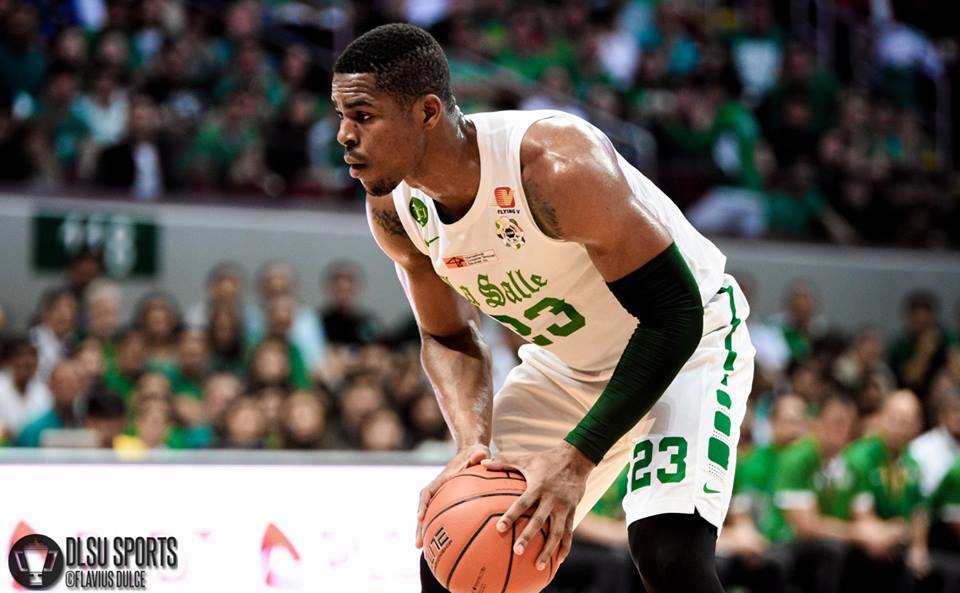 Mbala, then, had to serve residency for two years before he would be able to suit up for the Green and White. Unfortunately – after playing for an exhibition game in General Santos City – the UAAP board declared him ineligible for season 78 due to violating the rules of the league.
Arnold Van Opstal opted not to play his final year, while Norbert Torres already graduated. The Taft-based squad was left with Prince Rivero who was still a sophomore at that time, Jason Perkins, Abu Tratter, and Larry Muyang. There did not have a legitimate big man that can be a defensive threat inside the paint.
DLSU struggled throughout the season, finding it hard to be consistent as they actually failed to reach the final four. The nightmare from that year haunted Mbala. It made him think about giving up on his bid to play in the UAAP. Good thing, though, people were behind his back all the time telling him to just keep grinding.
"I felt like giving up to be honest. Sitting out for three years, that's not something everyone wants to go through. But, you have to be accountable for whatever you did. That's something I was able to do. I took care of myself and I wanted to be patient. I was lucky enough that I have people around me, who were advising me. I was really happy that I was able to wait for three years," he marveled, "My teammates, friends, manager of the team, and the entire Lasallian community. Everyone was there for me telling me to be patient, to keep working, and don't mind what the media and people will be saying about me. And I'm just really thankful that I was able to have those people around me." he added.
He also found a best friend on the team; none other than his frontcourt partner, Abu Tratter. Mbala shared that the Fil-American big man was with him since the beginning; and they have been more than teammates on and off the court.
"I've been with him since Team B even if he went to Team A before me, we were still close. His family is close to mine."
Mbala even said that they push each other harder every time in practice to sharpen their game.
"As teammates, that's (challenge) something we should be doing and all the others are trying to push each other harder during training. If you go soft against your teammate, it means that you don't want to improve so that's something we've been doing for the entire season."
THE COMING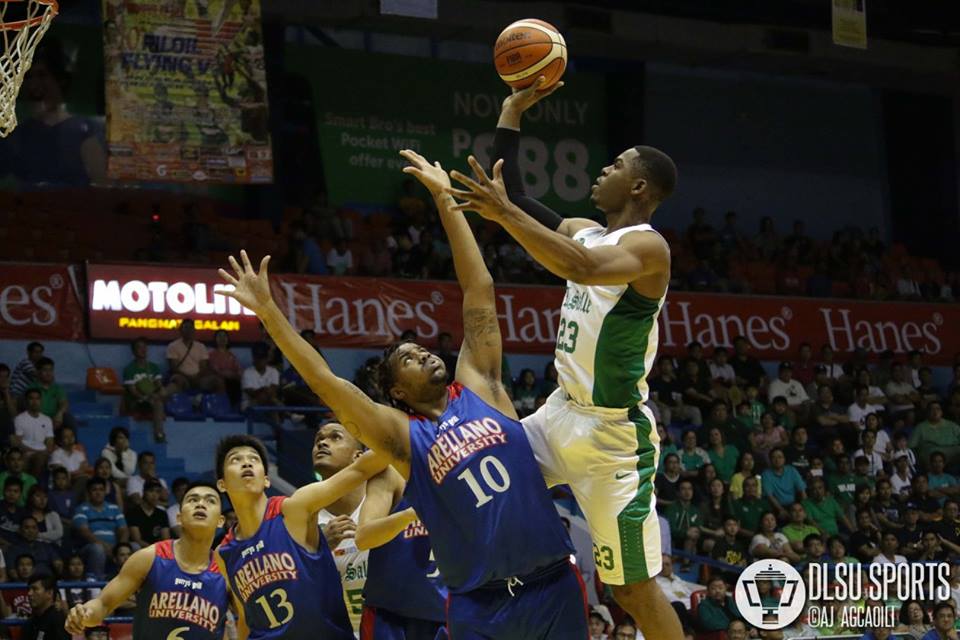 2016 Fil-Oil Flying V Premier Cup – the renaissance of Mbala's collegiate career had finally come.
In the pre-season, La Salle introduced their prized recruits together with a new head coach, Aldin Ayo, and his 'Mayhem' system. The rest was history. They swept the tournament, a feat only done by a Ray Parks Jr-led National University in 2012, to bag the championship.
Mbala threw weight around his opponents, venting off his frustration after years of waiting. He saved the best for last as he punished their finals counterpart Arellano University Chiefs with monster numbers of 28 points and 26 rebounds, together with a tournament record eight blocks. No wonder he was named Most Valuable Player and Best Defensive Player earlier that day.
Still, the Fil-Oil wasn't a walk in the park for him. He had to shrug off the rust that stuck by him when he was out. He wanted more.
"I felt very excited," Mbala shared.
"When you've been out for a long time and you finally get to play. I won't say that it was really easy because with all the rust of sitting out three years, I had to adjust and play. Looking at what I was able to do, I felt like that was a way for me to express my frustration for three years. And I feel like I'm not going to stop there. I still want to do it, and all the time I have to keep doing that."
Prior to his UAAP debut, questions swirled on how Coach Ayo would find a way for both Mbala and captain Jeron Teng to click. Some fans became worried as to how both superstars share the spotlight. On the flip side, Big Ben and Teng knew what to do for the better of the team.
"As a basketball player, you should be able to adjust no matter who are playing with, who is your coach, what type of system you have to run. That's something you should be able to do all the time. Knowing that the team really needs me, I have to find a way, I have to sacrifice some of my habits for the team to be in harmony. I was doing it happily and it was not like Jeron was a contender but he was a plus to the team. Together, it was a great thing that we were able to showcase to everyone during the season."
When UAAP Season 79 came, all eyes were on Mbala and the Green Archers. They immediately had a tough task as they faced the erstwhile champions Far Eastern University Tamaraws. Pressure was there and he was still finding a way out of the dark. As the game went on, he slowly got his rhythm.
"I was still adjusting to the way people play in the UAAP, and it was my first official UAAP game. Play out the referees. It was a big crowd, but as a player you have to be able to play through all that. You cannot let it affect you or make it change your game, so I was just able to play."
DLSU won it against FEU, 83-78.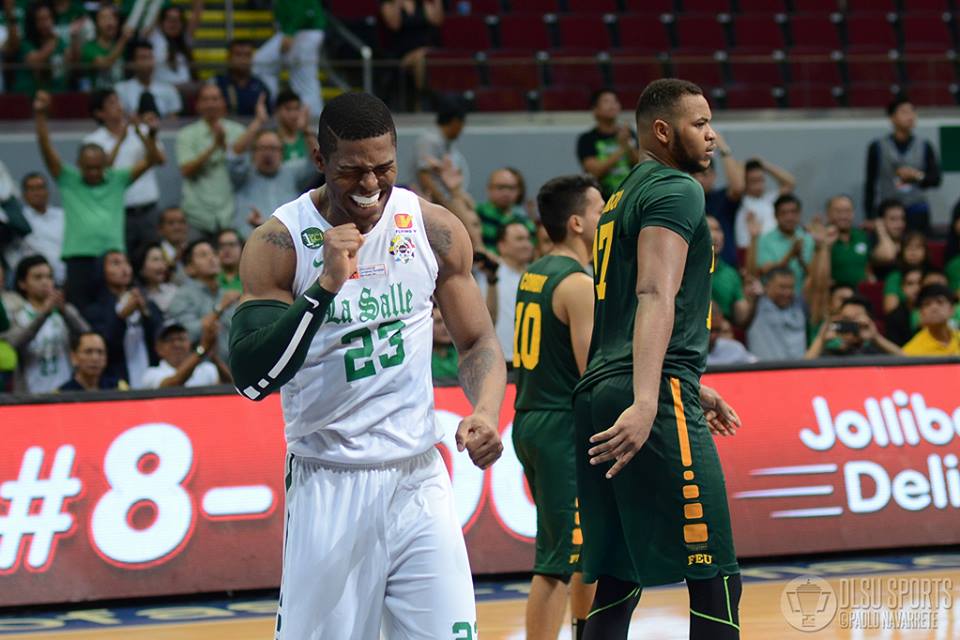 People expected them to blow by their opponents every game, yet they only won by five against the defending champions who lost their top six players.
"Are the Green Archers for real?" "Can they win it all?"
The boys shut them down and responded big time. They annihilated their opponents to post a perfect 12-0 slate highlighted by a come-from-behind win against NU, first and second round wins against UST by 38 and 43 points respectively, and an obliterating Thomas Torres-Mbala alley oop versus Ateneo.
La Salle was two wins away from the sweep. Mbala admitted that the team was thinking of it for the fans to show some respect.
"Saying that not thinking about it would be a lie. Everyone wants to make history. [We] wanted people to show more respect to us."
However – a team went back for a vengeance to stain a clean record – and it was bad that it had to be their perennial rivals, the much-improved Blue Eagles. The Katipunan-based squad had a 51% shooting night, while limiting DLSU to just 29%. Atenean Center Isaac Go had a solid game with 10 points and seven boards. He held his own defensively inside against Mbala who had decent numbers 17 markers and 10 rebounds, but committed seven turnovers.
It was a heartbreak for the Lasallian community, but a good wake-up call for the Green Archers. Mbala learned that they were still far from the prize. They returned to the drawing board to make adjustments, just to be sure that they wouldn't slip again.
"It did not feel good losing, especially against Ateneo. It really makes you feel bad and that should be an added motivation. If you're losing to Ateneo, who's going to probably break your perfect record that you are trying to maintain but at least they made us understand that there's still room for improvement and you can still get better every day. After the loss, everyone went back to the gym and just started working to be able to fix what we didn't do right."
And Coach Ayo's crew did things right. They did not run through their remaining opponents easily heading into the finals. In fact, the young and gutsy Adamson University Soaring Falcons threatened DLSU to use their twice-to-beat advantage. AdU kept themselves within striking distance, but La Salle's experience kicked in to book a seat in the finals.
THE FINAL TEST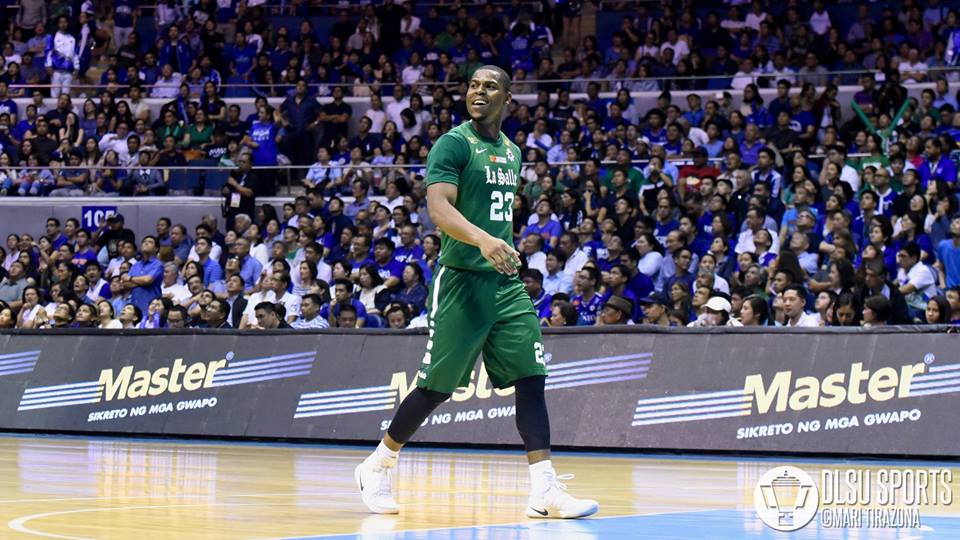 At last, it came. The team was once again two victories shy from grabbing the championship trophy. Who were they up against? The Blue side that gave them the taste of first defeat. There was not a surprise this around, though.
In Game One, the Lasallians pounced on the Eagles early. The latter was able to rally back and make it a ballgame, but Mbala answered the call every time the Green Archers needed help. He tallied a norm double-double of 20 points and 15 boards, five more against Go and Chibuezeh Ikeh who combined for 10 rebounds, en route to a 67-65 win.
Mbala was hailed as the Most Valuable Player award prior to Game Two. He finished the season with averages of 20.6 points, 16.0 rebounds, and 2.4 blocks per game. He had 92.34 statistical points over Adamson's Papi Sarr who came in second place with 69.86 SPs.
Later that day, La Salle ended the war. They held the edge right from the get-go and never looked back.
The Blue Eagles continuously knocked on the Green Archers' door, but they got denied every time they were gunning for a comeback. Mbala sealed the championship as he received a dime from Teng inside the paint.
DLSU… won… 79-72. DLSU WON, 79-72!!!
When the final buzzer sounded, Mbala walked slowly into the free throw line on the defensive end and all he could do was to kneel down as tears fell down on his face. The wait and the guilt – he knew that he had to pay the price. Still, the redemption was sweeter.
"I don't know if I could really describe my feeling. I just had a fast flashback of all these years I spent on the side not playing, cheering up and just seeing the team struggling and seeing myself being evolved to a [better] player and helping the team get a championship. That was really a priceless feeling and I would never trade that for anything in the world."
WHAT'S NEXT?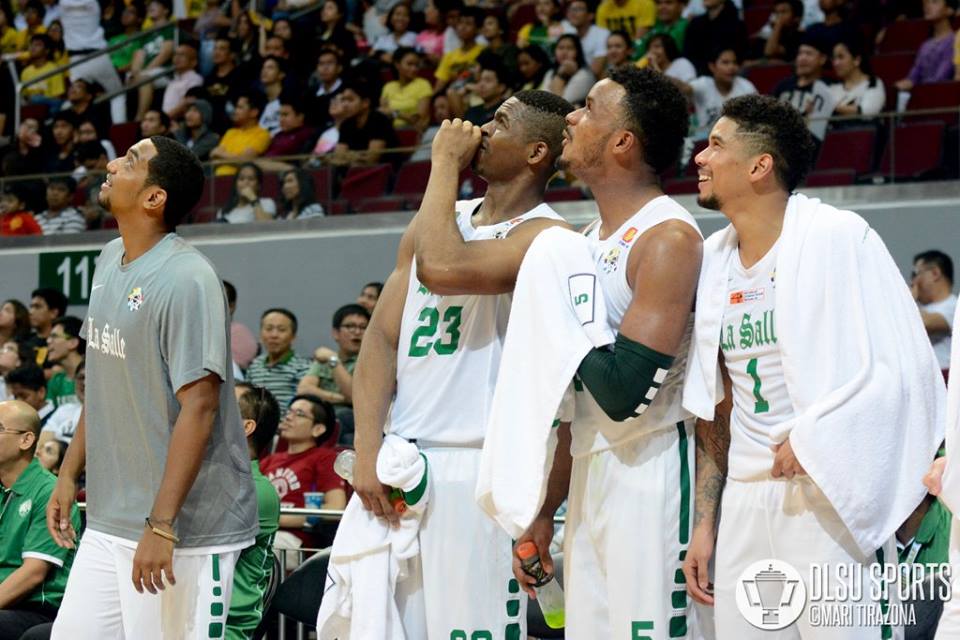 La Salle will parade their men's basketball next season without Teng, Torres, Julian Sargent, and Jason Perkins. And with the championship hangover set aside, fans will expect Mbala to lead the title defense for the Green side. However, the MVP said that it takes a whole team to win it again. The Green Archers need the veterans to step up if they want to repeat as champions.
"It's on the four of us: Abu, me, Kib, and Prince. Our main goal will be to pull out these guys and lead them, because they've been looking up to us. We really have a big target on our back and we will have to work very hard to accomplish, maybe back-to-back championship next year. When you win one, you want to keep going through. You don't want to go through the feeling of losing, no one wants to lose and of course you always have to help La Salle be on top and that's what we'll be doing starting January"
But how are they going to maintain hunger? Mbala spent no time thinking and said that next season would all be for DLSU.
"If you say ball is life and you have this passion [for the game] that is huge, you don't need another excuse to be hungry. Looking at the support of the Lasallian community and the fans, we have to do it for them. We cannot go out there and play soft. We have to be hungry every day."
With all eyes set on a bid for a back-to-back next year, Big Ben promised an all-out La Salle team in Season 80.
"We're going to come out next year hungrier and we're going to give our everything every single game to help La Salle stay on top. I really thank them all for the support and everything they've done for us through all these years," he said.
Since it's now the holiday season, Mbala added a simple treat: "And I just want to say Merry Christmas and a Happy New Year to everyone. "
It was a roller coaster ride for the high-flying big man. He was itching to play for the school who also puts a lot of pride in their sports program. For Ben, it all paid off. The hard-banging inside the paint, the non-calls, the and-ones, the putbacks, and the earth-shattering slams – Mbala let loose of the chains that held him back for three long years.