Basketball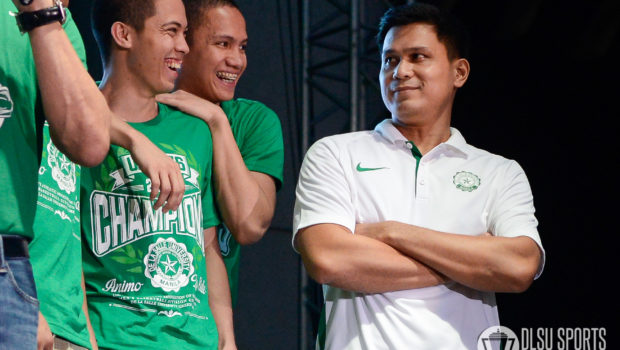 Published on July 14th, 2014 | by Sabrina Capuz
0
Juno Sauler: From game theory to basketball game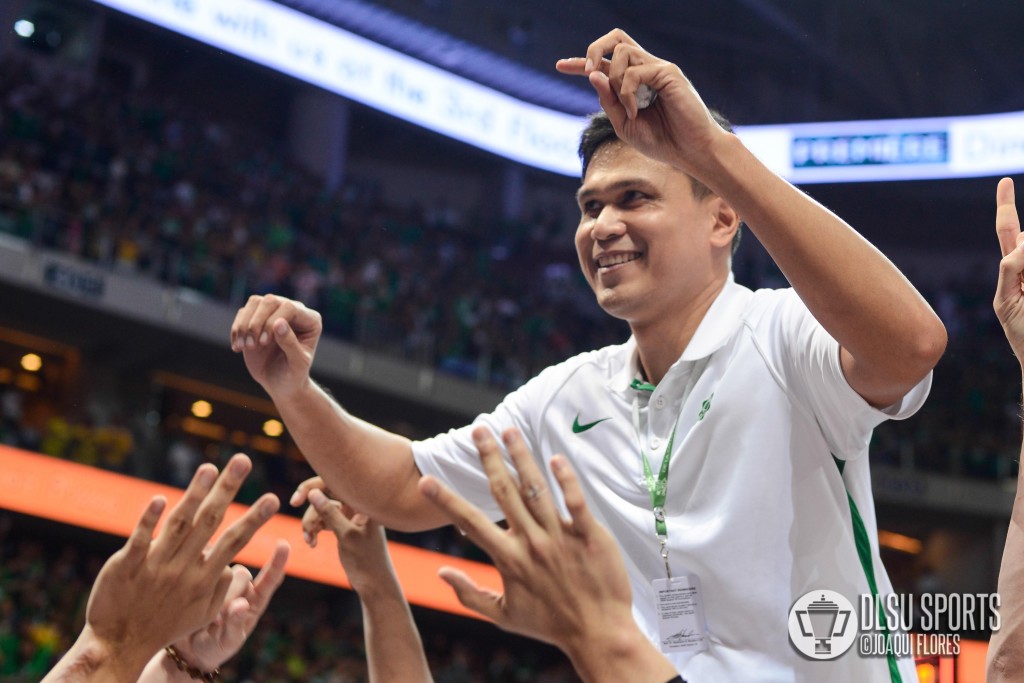 Last season's UAAP basketball victory was Coach Juno Sauler's golden ticket as he became one of the most respected coaches in the arena of men's collegiate basketball. With only three weeks left before the season, the rookie mentor in UAAP men's basketball managed to formulate a winning strategy for the green team to take the glory once again. The Economics graduate coach has led the Green Archers to three championship titles namely: UAAP Season 76, Philippine Collegiate Champions League (PCCL), and the Fil-Oil Flying V Hanes Premier Cup. Not everyone knows that this coach was once a brilliant student-athlete.
Last-minute legacy
Marco Januz "Juno" Sauler's love for basketball came from his father who was a former college varsity player.  In his grade school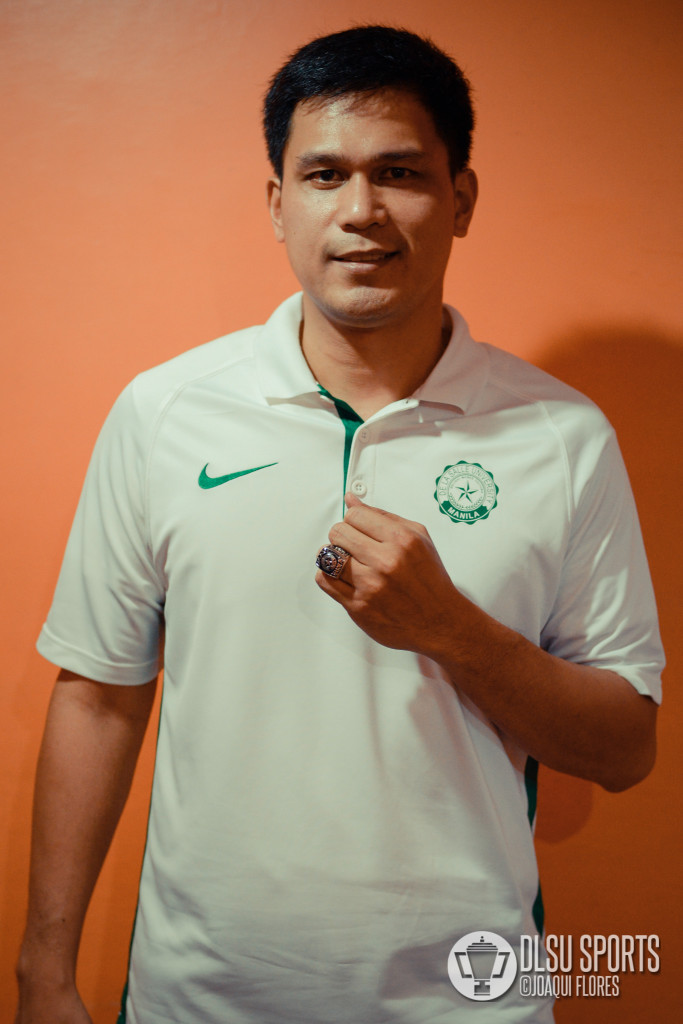 and high school years, he played for the De La Salle Zobel Battling Bengals, now known as the Junior Archers.
In his college days, Coach Juno took a degree in Economics while still finding time to rekindle his inclination to basketball. He played for the Green Archers but had a hard time getting into the line-up.
"I was a walk-on.  I tried out but I wasn't accepted.  And my second year had the same story I tried out but wasn't accepted.  Third year I tried out and wasn't accepted but two weeks before the opening there was one ineligible player because of grades and then the coach just put me in the roster just to complete the line-up,"  explained Coach Juno, who also took the coaching reigns from Gee Abanilla three weeks before UAAP Season 76 began.
Playing for his alma mater and studying Economics was not easy for Coach Juno. Despite all the time constraints due to basketball training, Coach Juno still managed to keep up with his academic requirements. His thesis paper was recognized as one of the best in the School of Economics. As a result, he was awarded the Gawad Br. John Lynam for sportsmanship and leadership.  In his final season in the UAAP, he was appointed to be the team captain where he led La Salle to the championship series, where they lost to UST in three games.
Benches over desks
Right after graduating from DLSU in 1995, Sauler left the basketball court to pursue a career in the corporate world.  He worked in the human resources department for Jollibee and Ayala for two years before realizing that basketball was calling him back.
Sauler went back to the game as a player for the Wilkins Distillery in the now-defunct Philippine Basketball League. After one season, he was offered a job as an assistant coach for the same team.  He shares, "I missed the atmosphere. I missed the game.  So I came back as a player, I played for the PBL, that was a commercial league.  And then from then on my coach from that team (Wilkins Distillery) asked me if I wanted to join the coaching staff."
From then on, Sauler continued his basketball journey not as a player but rather as a coach.  He joined the coaching staff of the Green Archers in 1998 under Coach Jong Uichico and later on, under Coach Franz Pumaren for a year.  Coach Juno was also the architect of the Lady Archers' three straight UAAP championships from 1999-2001 before Coach Dax Castellano completed the four-peat in 2002.
Coach Juno also joined the professional league as an assistant coach for the Barangay Ginebra Kings in 2002. He also offered his coaching expertise for the Philippine National Basketball Team led by fellow LaSallian, Coach Jong Uichico.
Striving for improvement at all times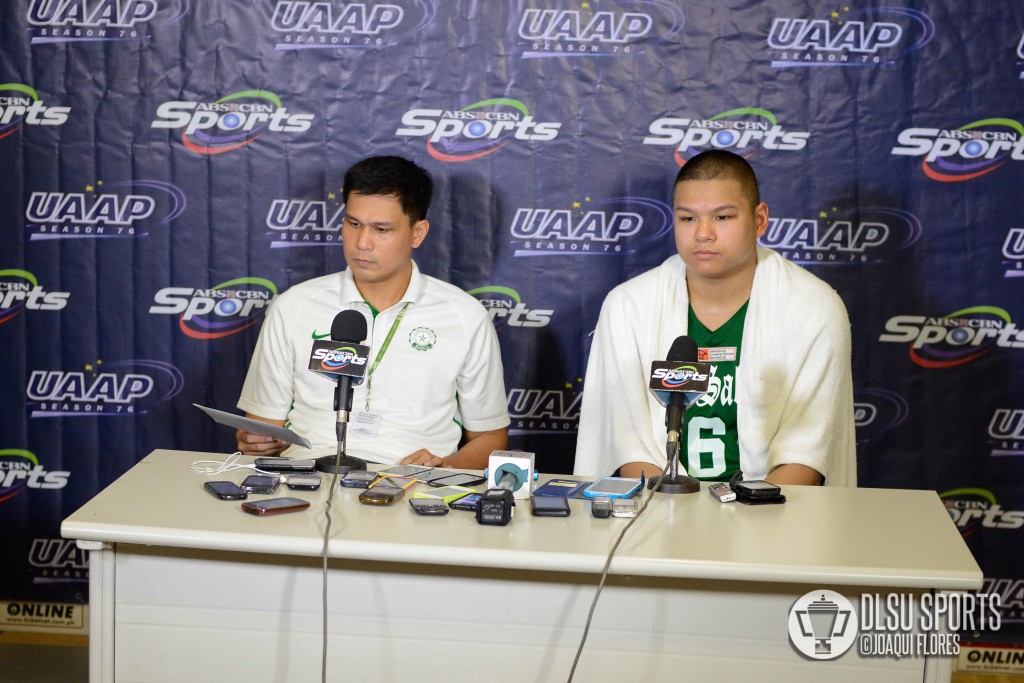 Although the Green Archers had a tough opening round in the 76th season of the UAAP by only winning three games, Coach Juno never lost his composure.  He steered the green team to an impressive second round performance, winning against the whole league with a win-loss record or 7-0. This then led to the unexpected comeback of the Green Archers as the kings of UAAP men's basketball.
This year, Sauler faces another challenge in leading La Salle to defend the UAAP crown. "I'm not really thinking about the past championship it doesn't have any significance in what we are trying to accomplish this year.  All the seven teams are going to be tough."  Sauler said.
When he was asked what advice in sports and in academics does he have for athletes, he answered "Commit to the discipline whatever field that you choose whether it be basketball or any sport and at the same time academics.  Find time to make sure that you improve on what it is you're doing."
Editors' Note: This piece was written in partnership with Lou Nazareno.