Football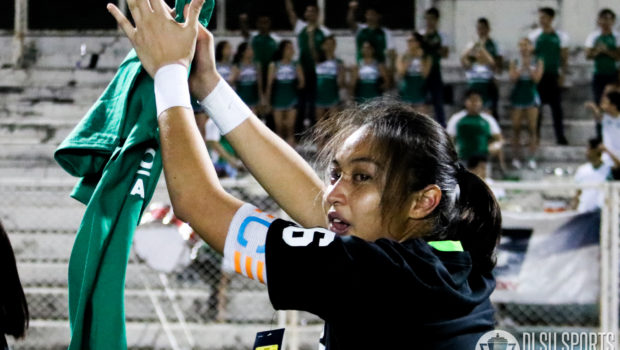 Published on May 25th, 2017 | by Timothy Nolasco
0
Keeper's Corner: Inna Kristianne Palacios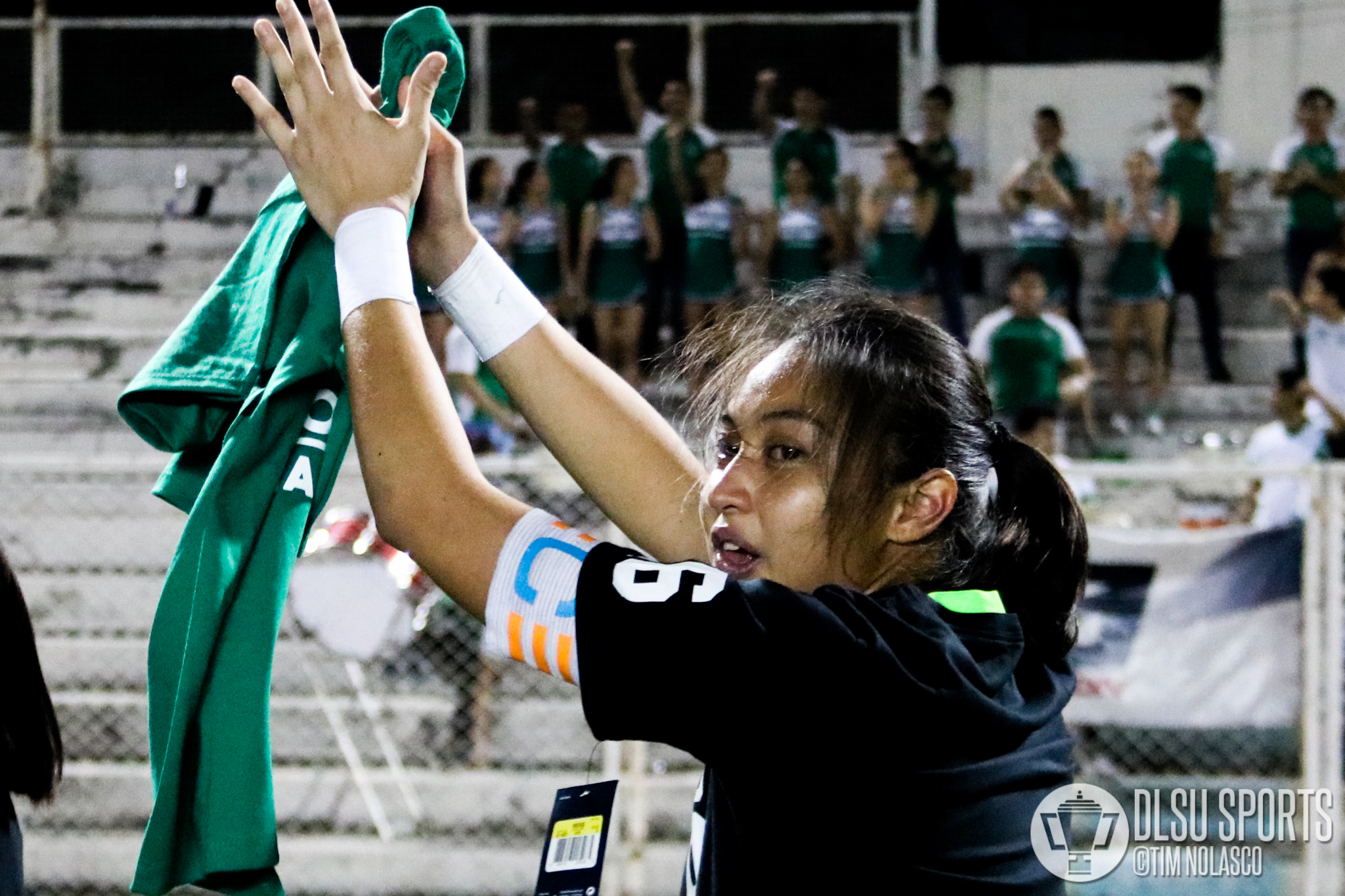 Heroes come and go, but LEGENDS STAY FOREVER.
Five fruitful years. From cellar dweller to UAAP Champion! Inna Palacios went through struggles in the early stages of her UAAP career, but her hardwork and dedication finally paid off. There could not have been a better ending than this. 4-time best goalkeeper, team captain, final goal scorer for the season. Inna dedicated her successes to all her coaches, teammates, and the entire Lasallian community who have supported her since day one.
"All these awards are for him (Coach Lolong). He has been my constant goalkeeping coach. Coach Hans, he's always been there. But (it really is) Coach Lolong. Si Haya, Deyto, me, lahat kami produkto niya." She also commended her backup keeper, Erika Turtur. "Si Tur, she's an excellent keeper."
Discovering Football
Palacios started as a curious little third-grader who wanted to play around. According to her, someone just entered their room looking for kids who wanted to play football. It was love at first try. She also admitted that it was not her first sport.
"Someone went to our room and asked who wants to play. As a kid, I wanted to go out and play. I wanted something to do after school, I didn't know it was for the varsity team na pala." Inna said, "I stopped my taekwondo and I just played football. I just fell in love with the sport and then I never left."
Palacios only thought of football as for leisure. However, she was given a break during her high school years after she was selected for the youth national team. As she matured as a player, she was given her first cap for the Philippines. Since then, she has been a mainstay of the national team and continues to play for the Malditas.
"I started playing for the youth team when I was in first year high school, the U16. I was 13." She had her first cap for the Philippines in 2009. "I just kept playing with the U16, U19 until my first year of college, but I was already part of the Malditas or the senior team when I was still in 4th year high school."
It is never easy playing for flag and country. Being part of the national team helped her in her approach to the game. She also added that these experiences helped her become a better person.
"It also gave me a lot of confidence to do the things that I thought I can never do. I kept going, I kept wanting to improve so the passion was really there, it is the passion really kept me going."
Where to go?
La Salle or Ateneo? That was the question. She has been raised by a family who are alumni of La Salle, but Palacios initially wanted Ateneo.
"I was checking the Big Four. I went down to Ateneo and La Salle then I really wanted to play in Ateneo because I grew up there and it's the school I want to be in." she added, "They were telling me 'oh go to La Salle because it's different, the circle when you graduate is really good' and La Salle for them is La salle and there's nowhere else to go."
It was not an easy decision for Palacios as being part of the Lasallian community was new ground for her. After careful deliberation, she decided to take a double degree in DLSU, giving her the chance to play for the green and white for five great years.
"I didn't want that, I didn't want to be forced into something. But later I realized that 'oh maybe I could take a double major from La Salle instead of taking a four-year course then masters. I don't even know if I'm gonna finish masters'." Palacios also said, "I called up my dad and said 'I'm going to La Salle na, I'll take double major for 5 years. I think it's a good deal for me, plus the offers were good.'. "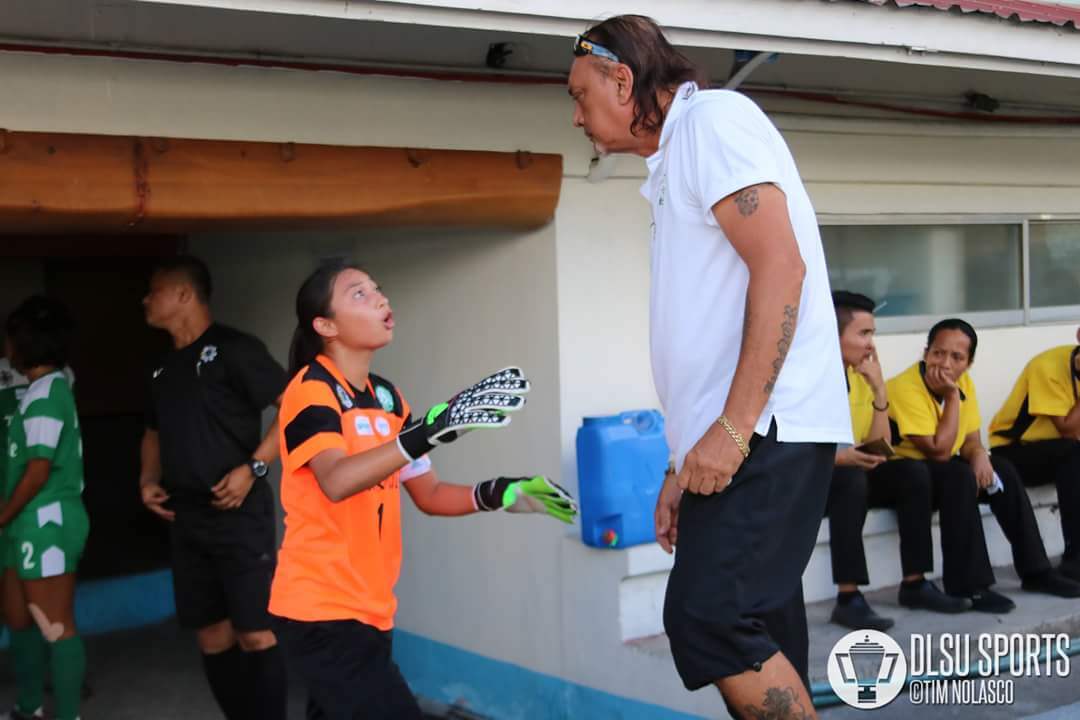 From Striker to Goalkeeper
It is nerve-wracking for a striker going full speed towards the goal knowing that a top notch goalkeeper is always there, ready to block your shot. Same goes for a goalkeeper trying to block a shot from a top-notch striker. Inna has had the experience of both. For her, goalkeeping is an art. From composing herself to deflecting and catching opponents' attempts, Inna found art in it.
"I used to be a striker(or like a winger). I love the feeling of scoring. When I started playing full-time keeper, I found art in what we were doing like how we save the ball, how we dive, how we catch it. For me, it is the position that has to be most composed, you should have the most composure out of everyone." She added, "It feels so much better when you stop a shot. First defender will always be the striker, but you're the last one there, so wala ka nang magagawa."
Middle Years
Palacios spent her rookie years adjusting to the La Salle system. It was an enjoyable season as she learned to love what she was doing and her seniors helped smoothen the transition. She considers her middle years to be a rebuilding process.
"My second year, we were dead last. My third year, we moved up a spot, so 4th out of 5. Last season, my fourth year, we thought we had it, but we just fell short."
Season 78 Heartbreak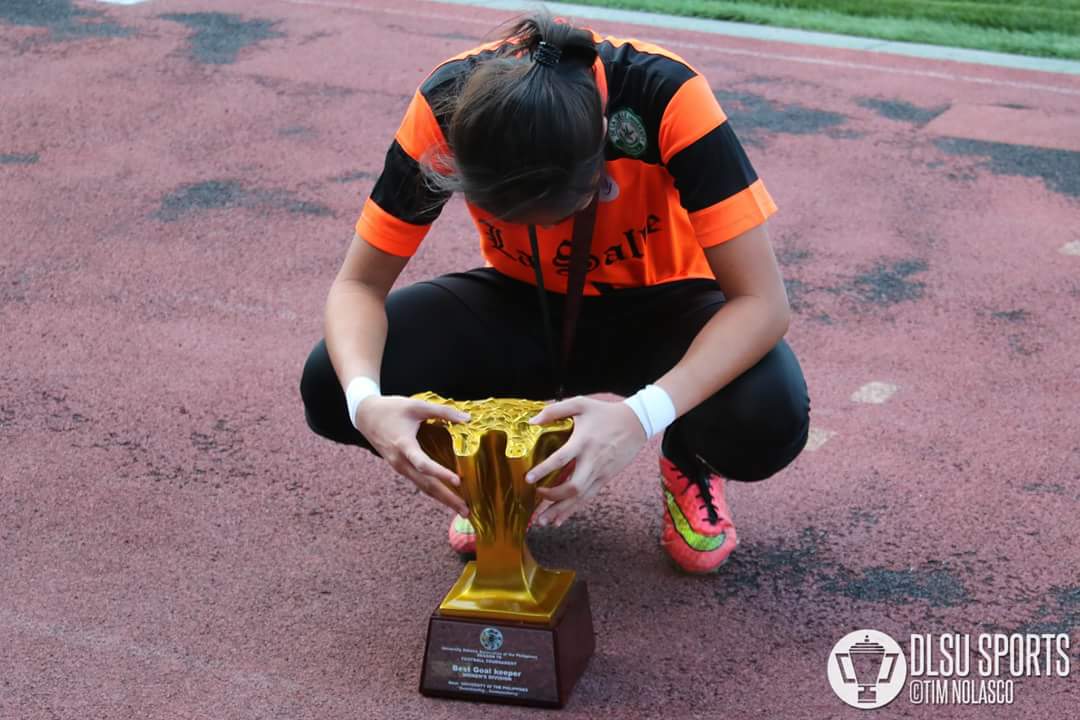 From being the 4th placed team to bridesmaids. Sweeping the season, Palacios and her team thought it would be a smooth ride to the championship. However, little did they know that it was not meant to be as they were frustrated by eventual champions, the UP Lady Fighting Maroons. The heartbreak served as motivation for Palacios and the Lady Booters for Season 79.
"It was such a nice process to experience because it made this year so much worth it, so much unique out of all the five years of experience."
"Turning frustration into motivation." This is what she considers as a key element for the next chapter of her UAAP career.
Coming Back for Season 79 and Her Final Game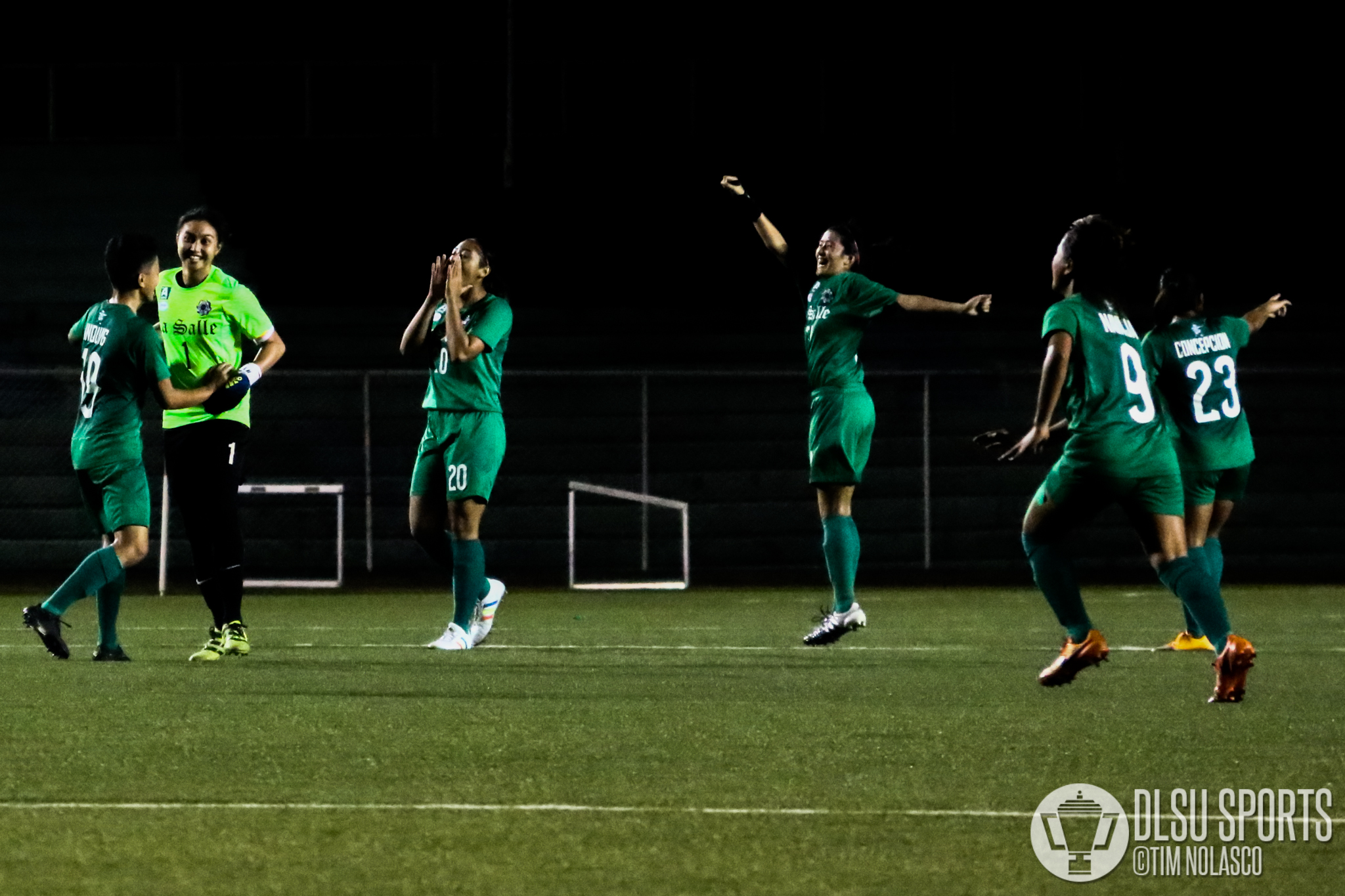 Since entering La Salle, Palacios has always planned to play out all five years of eligibility. Everything flashed back as the referee blew his whistle to signal the end of the game, but not before Coach Hans' prized goalkeeper scored her first(and last) goal of a colorful collegiate career.
"When the referee blew his whistle for a penalty, I didn't even think." she added, "It was a crucial penalty so I thought Sara would take it, but then I saw Sara was pointing at me and then I raised my hand. Coach also gave me a signal to go."
THIS WAS HER CHANCE!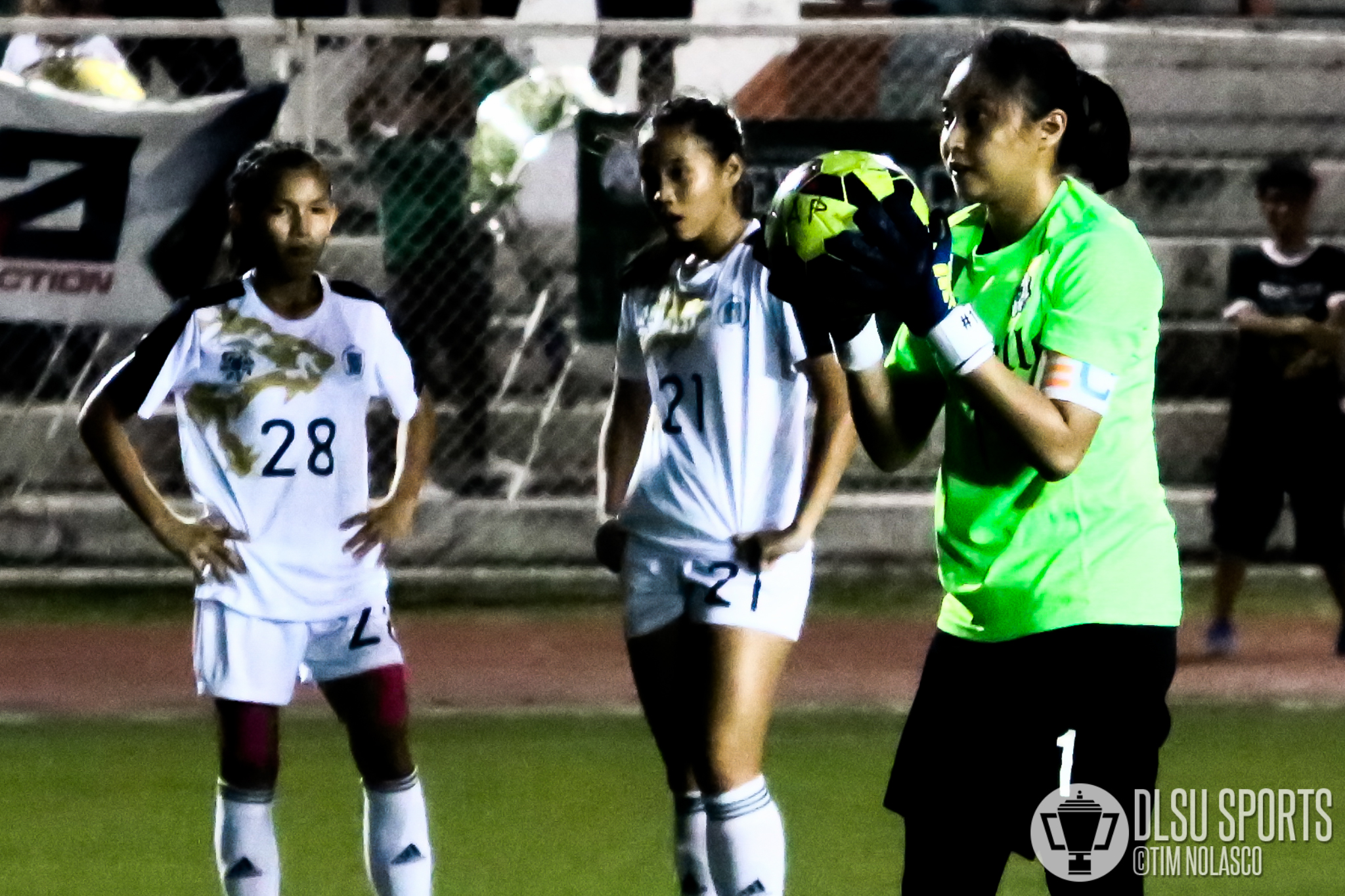 The usually cool, calm and collected captain admitted to having some nerves before attempting it.
"When I was taking the penalty, it took forever. I heard people chanting and I got scared. I was nervous. The keeper was moving towards the side I was gonna go to."
Again, her nerves of steel prevailed. She sent the ball to the top right corner of the goal, out of the opposing keeper's reach, and straight into the back of the net. As everyone enjoyed the moment, Palacios was the least shocked and she was extremely thankful for the opportunity.
"It was exactly the same shot I made yesterday. I did not expect it to be that good, but it went in." She explained, "As a keeper, you thought that the only time I got to score is during a penalty shootout, after extra time. On regular time, it's extremely rare. Just so thankful that coach gave it to me."
After the game, emotions could be seen pouring out of the seniors. They were not emotional in the days leading up to the match, but it was after bagging the crown that all emotions went wild.
"After the whistle, everything just came out. We couldn't hold our emotions. All the hard work, all the efforts, everyday training, your sweat, your injuries, it is just there."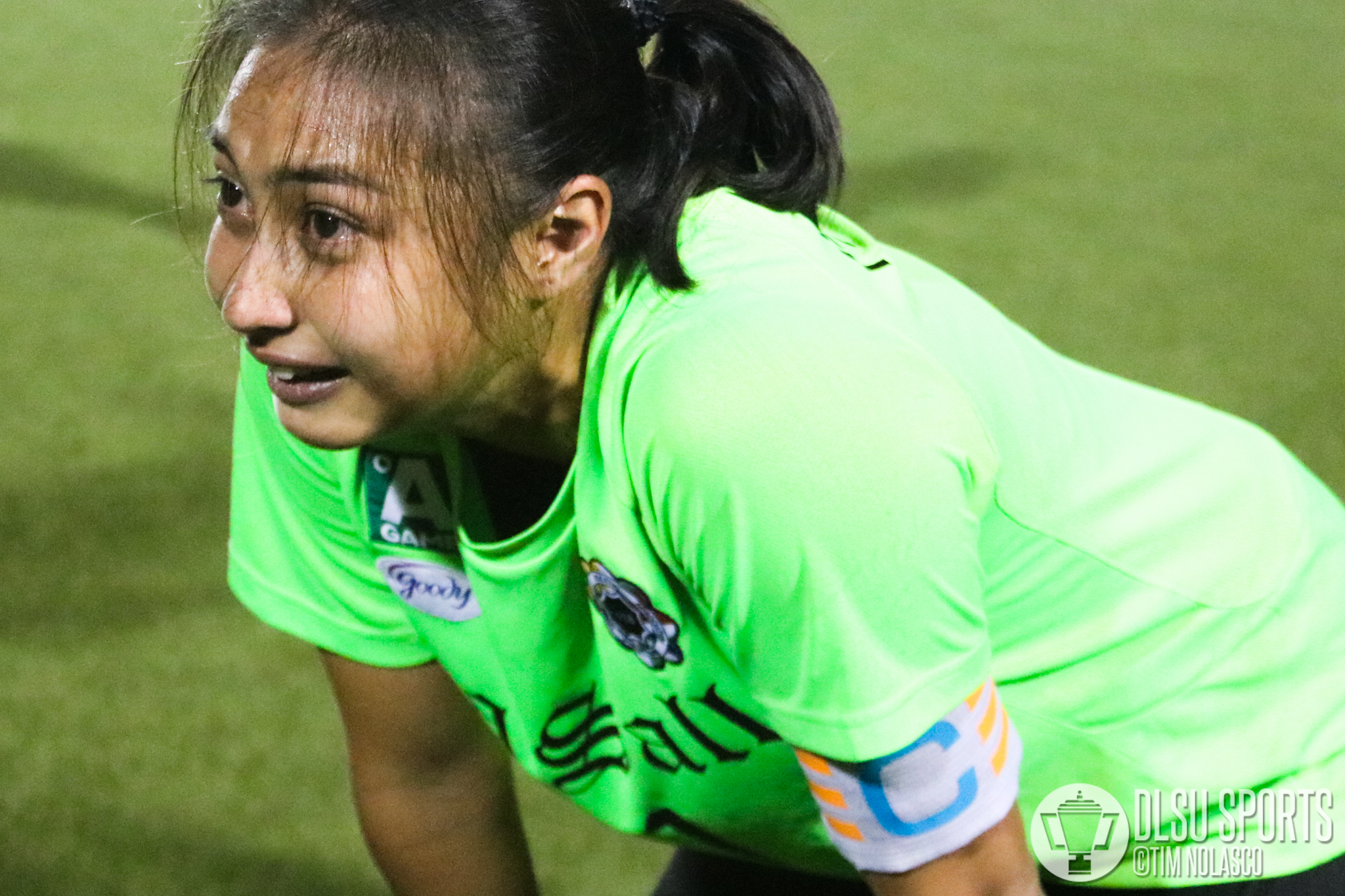 Message to the Young Football Players
Palacios believes that any athlete who explores their limits, breaks boundaries while staying humble can be successful. These are the qualities Palacios hopes the young players will embrace.
"Don't be scared to explore your limits. Just keep fighting and keep improving. You don't know what you can actually do until you do it. Besides everything, stay humble and don't forget where you came from. Because those are the people who will help you get to where you are. Especially your coaches, family, and friends who have always been there."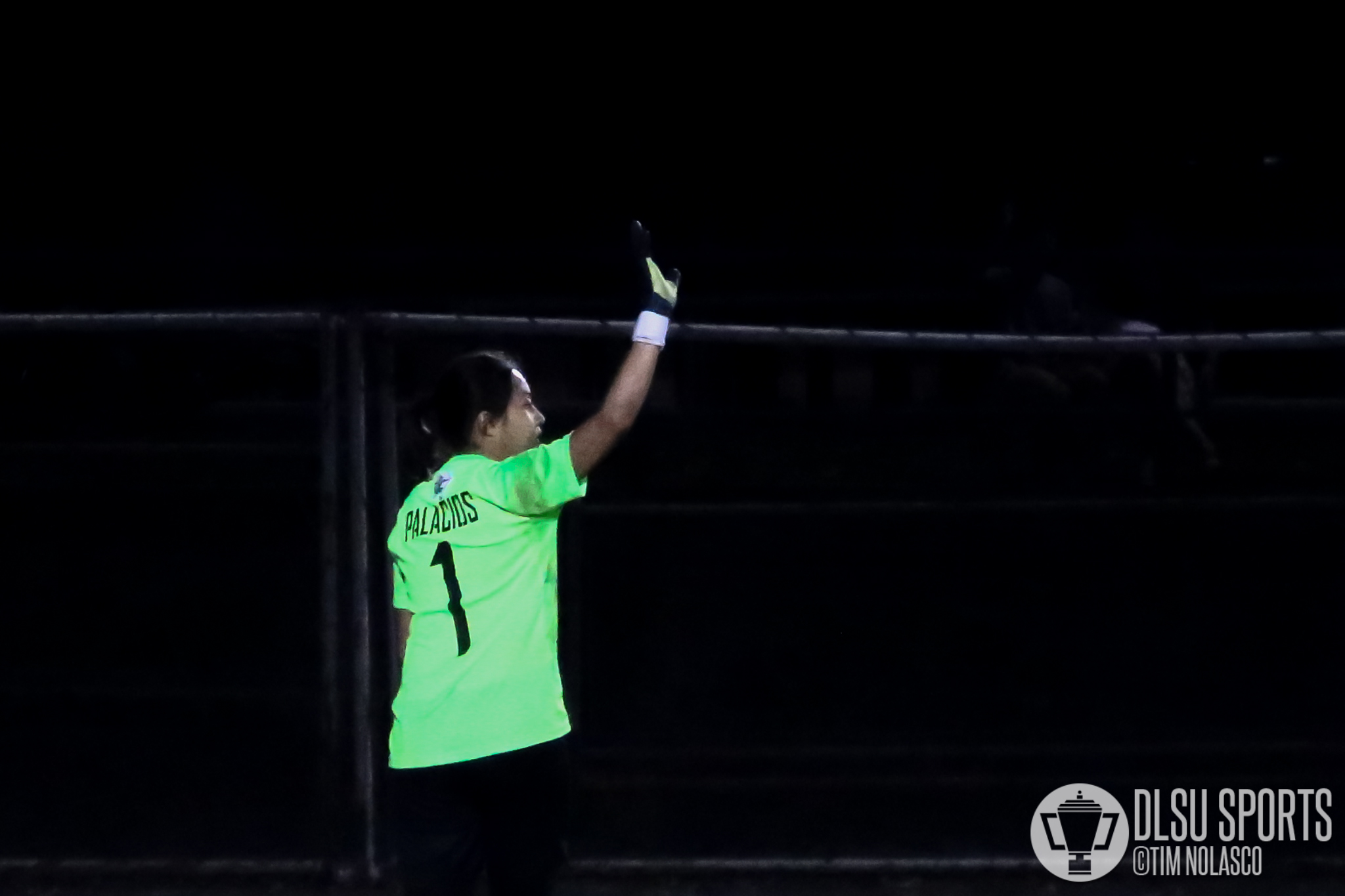 INNA KRISTIANNE PALACIOS, signing off from the UAAP.