Lady Spikers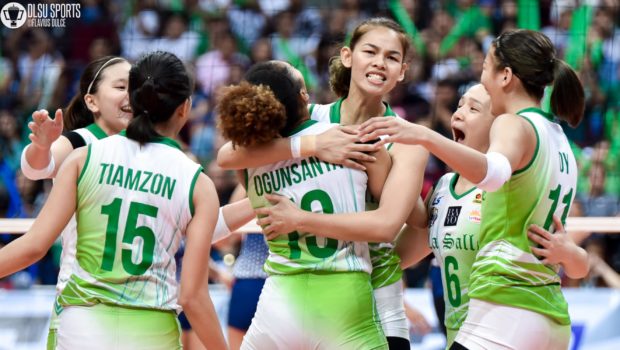 Published on April 23rd, 2018 | by Khyte Mendoza
0
Key Factors in the Lady Spikers' win over the Lady Bulldogs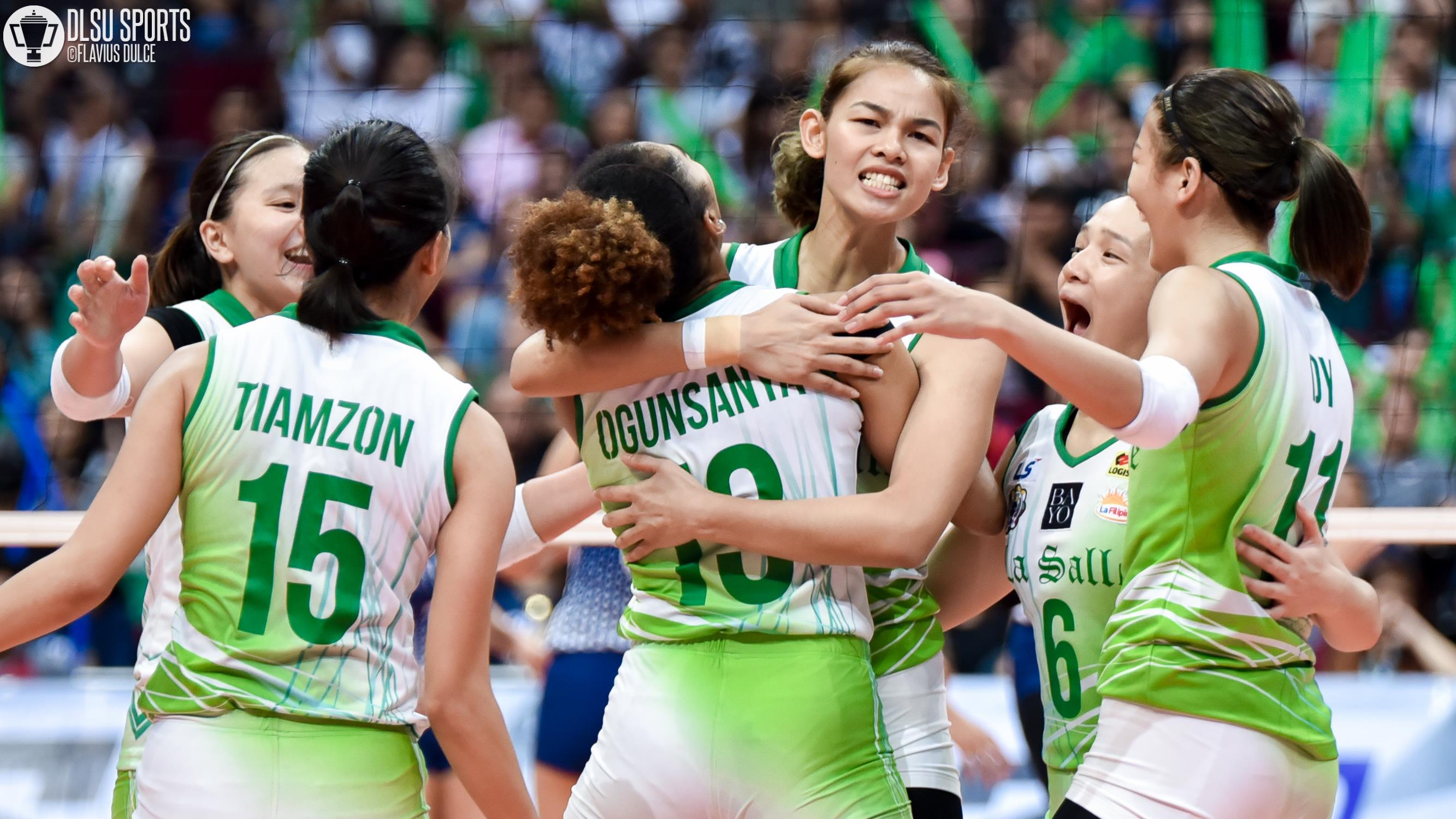 The De La Salle University Lady Spikers advanced to the UAAP Women's Volleyball Finals for the 10th consecutive year after a straight-set victory over the National University Lady Bulldogs.
Coach Ramil De Jesus will be up against former teammate Coach George Pascua and his Far Eastern University Lady Tamaraws. But before that, let's take a look at the key factors that stood out for La Salle in their win against National U to set up a classic match-up with the Lady Tams.
Depth 
Nine Lady Spikers scored in their Final Four win, and five of them posted more than five points. Kianna Dy top-scored with 17 points, while Tin Tiamzon had 11. Arianne Layug, Norielle Ipac, and May Luna contributed as well when Coach RDJ needed a spark off the bench; not to mention CJ Saga's setting duties when she subbed in for Cobb late in the first set. It's all about answering the call. The soft-spoken mentor's 'magic bunots' delivered the goods when the starters somehow cooled down.
On the other hand, only Jaja Santiago barged into double figures in points with 17. The second highest scorer was setter Jasmine Nabor as she posted 10 markers. I repeat, setter Jasmine Nabor. Not Risa Sato, not Jorelle Singh, not Aiko Urdas. Those three Lady Bulldogs had dismal performances and combined for only 10 points. This had been their problem all season long and it was definitely one of the reasons why they went downhill in the second round.
Experience
Late in the first set, the Lady Bulldogs were up, 23-21, so Coach RDJ called for a timeout. La Salle's playoff composure came in. They extended the set and went on to bag the first frame after Baron won the joust. After getting their feet wet, DLSU gained momentum and continued to pound on NU for the next two sets. They have been in the same situation for years now and they are built for moments like that. The Lady Spikers were like a diesel. Once they heat up, they go out blazing.
The Lady Bulldogs could not get back to their form. Santiago could only do so much as and no one helped her. Coach Babes Castillo and his girls could not get out of the woods. They lost track, especially in the third set.
Service Aces
At the end of the eliminations, La Salle is the #1 team in receiving while NU is dead-last. Accordingly, the former placed first in serving with 144 aces, while the latter ended at 6th with 96.  True enough, those two stat categories proved to be factors in the game as the Lady Spikers rained down 11 service aces, compared to the Lady Bulldogs' 2.
DLSU's heavy serving disrupted NU's reception as they could not get smooth attacks throughout the game. No first ball means less chance of an attack and that translated into the match as La Salle had 42 points off attacks, 12 more than their foes.
The Lady Spikers' dominance of the Lady Bulldogs in the Final Four is another victory that came from the disciplined system of Coach Ramil. He has highly-skilled players for sure, but we all know that talent alone is not enough to win a game.
Also, there are players who are not really that talented but flourished under the system. What's important is his players do their job, each Lady Spiker knowing her role in the team. That's Coach RDJ's recipe for success in his tenure as La Salle's women's volleyball mentor. In the last 10 years.