Basketball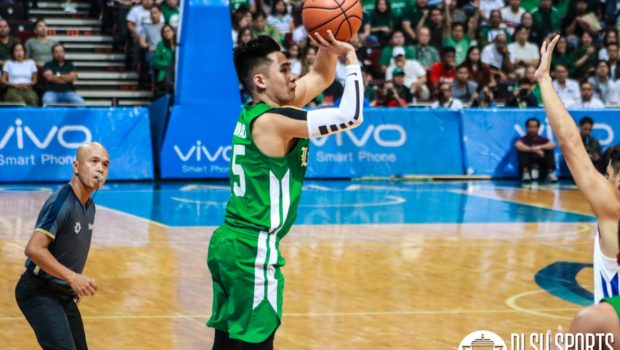 Published on October 14th, 2018 | by Justin Carandang
0
Kib Montalbo five years after getting his first ring: Now, it's gonna be different
It has been five years since DLSU Green Archers captain Kib Montalbo won his first championship in the UAAP.

Now in his last playing year, Montalbo said things are in a seemingly untouched setting this time, especially with him being the most senior in the team. "Now, it's gonna be different because I'm gonna be the leader of this team", he said.

Montalbo posted eight points and four rebounds against Adamson, his second game after coming back from an injury.

The La Salle captain surprised everyone during the game against Ateneo when he played despite having a fractured thumb. "I just really want to play, that's the bottom line. It's my last year and I don't want that my thumb injury will determine my season," Montalbo explained last week.

A throwback

Montalbo recalled that five years ago, he was just doing everything he can despite being a rookie.

"First year, bangko ako eh. Pero my mentality was I want to win kahit bangko ako. I kept cheering on my teammates, pushing them kahit mas matanda sila sakin. Being their rookie, support them. Moral support," he narrated.

Back then, it was a roller coaster ride for the Green Archers.

Then head coach Juno Sauler was named just weeks before the season started, replacing former head coach Gee Abanilla. The green-and-white ended the first round with a 3-4 record, but went on to sweep the second round to improve to 10-4. Two other teams, FEU Tamaraws and league leader NU Bulldogs also had the same record at the end of the eliminations, with the UST Growling Tigers completing the Final Four.

FEU and La Salle played a virtual best-of-three to determine who will enter the Finals. The Archers got the greener side of the pasture in two games, putting them in the Finals again after a five-year absence.

On the other side of the league, NU, with the twice-to-beat advantage, was defeated by the determined UST Growling Tigers.

It took DLSU three thrilling games against UST to bring home the crown back to Taft.

Fast forward to three years after, in 2016, after sitting out a year due to an ACL injury, the Man of Steal had become an integral part of the Archers' system. "Third year, it's fun 'cause nagagamit na ako eh," Montalbo recalled. DLSU, of course, was the most dominant team in the league that year, with Ben Mbala in the lineup. It was also Aldin Ayo's first year as DLSU head coach.

Playing against rivals Ateneo, Montalbo chipped in nine points during the second game of the Finals, behind Jeron Teng's 28 points and Mbala's 18.

Fast forward to this season. Fresh off a win against the upstart Adamson Falcon, Montalbo and the Green Archers are looking ahead to a great closing performance to Season 81. With La Salle ending the first round at solo fourth with four wins and three losses, Montalbo said they're taking things one game at a time. "We'll see how it goes," he ended.