Lady Spikers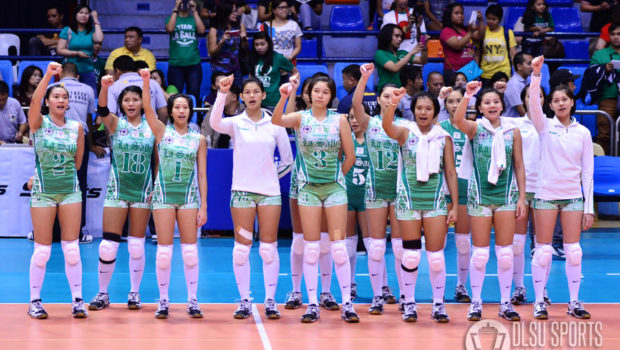 Published on January 13th, 2014 | by DLSU Sports
0
La Salle hammers Lady Tams to open 2014
Even the holiday break couldn't halt the championship poise of this team.
The DLSU Lady Spikers went back to work in the team's 25-19, 25-17, 25-16 sweep over the FEU Lady Tamaraws last January 5 at the Filoil Flying V Arena.
Ara Galang led the La Salle charge as she scored 18 points on 17 attacks. In addition, team captain Abigail Marano filled in 10 points and added 4 blocks for the Lady Spikers.
On the other hand, Geneveve Casugod had 8 points for FEU while Bernadette Pons and Yna Papa nothed 6 points apiece.
Up next for the Lady Spikers will be last year's bridesmaids, the Ateneo Lady Eagles, this coming January 12 at the Mall of Asia Arena.
The Lady Spikers went on a scoring binge in the early going with Galang at the helm. The Season 74 rookie of the year cashed in 5 straight markers en route to an 11-8 lead midway through the opening set. Moreover, Galang proved to be much for FEU to handle as she effectively countered team Morayta's tactics.
Momentum eventually carried in the following set as the Lady Spikers' defense set the tone. With FEU committing a flurry of unforced errors, La Salle quickly took advantage of it leading to another win.
The rest is history as the Lady Spikers breezed through the final set to remain undefeated this season.
With this win, La Salle still remains atop the standings with an unblemished 5-0 record.