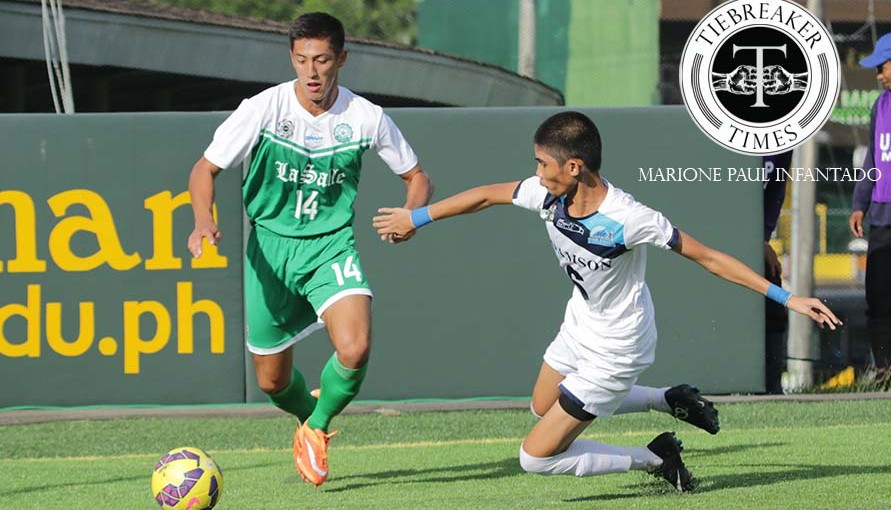 DLSU Men's Football Team in action versus Adamson. (Marione Paul Infantado/Tiebreaker Times)
After an opening day draw against UP, DLSU men's football team made sure that they will get a win over Adamson earlier at FEU Diliman. It was 3-2 at fulltime for La Salle.
Quick start
Literally quick, Layumas scored just less than two minutes passed after kick off. Via a Nathan Alquiros corner kick, Layumas found the bottom of the net to give an early 1-0 lead for La Salle.
Costly error
Greg Yang set to pass on towards the left of their goal as suddenly Etis of Adamson rushed to score an equalizer of Yang's pass at the 25th minute. Tied at one apiece, DLSU pound AdU's defense as they managed to score two more goals before the first half ends.
Almost a duplication of the first goal, it was Alquiros again from the corner as Layumas squeked in the goal at 33′. Another pass from Alquiros in the 35th minute gave La Salle a 3-1 lead via a Gelo Diamante goal.
Second half drought
Though scoring multiple attemps, La Salle was not able to extend their lead as Adamson managed to trim it to one. A 57th minute goal by Pilarca moved the Falcons closer at 3-2.
The Taft-based squad prevented another equalizer all throughout the match as they escape with a 3-2 victory. Currently, La Salle is at 1-1-0 slate good for second place as of posting time.