Basketball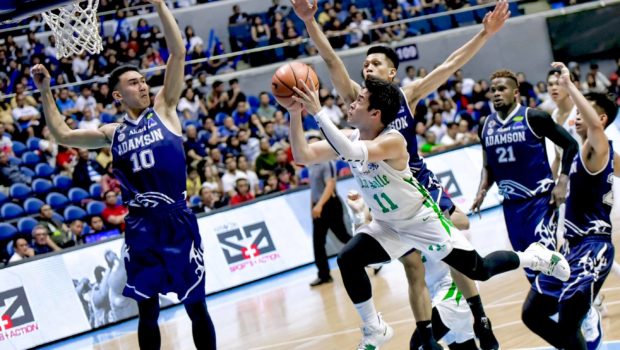 Published on October 21st, 2018 | by Gabriel Minamedez
0
La Salle's 3 year reign over Adamson halted
The De La Salle University (DLSU) Green Archers quite couldn't put an exclamation point to finish their match up against Adamson University (AdU) this season as the Green and White fell to the Soaring Falcons, 50-57, on Saturday at the Araneta Coliseum.
It was a rough game on the offensive end for the Green Archers, as they really had to work extra hard for their points. The gutsy Adamson defense was able to limit DLSU to only 26.09% shooting.
The first quarter was a testament to La Salle's measly offensive outing, as the Taft-based squad was only able to score 2 points, courtesy of free throws from Joaqui Manuel. The Archers went on a forgettable 0/18 at the first frame to trail Adamson, 2-9.
The second quarter was favorably better for La Salle. Justine Baltazar hit a hook shot to finally put DLSU on the field goal board. Mark Dyke followed up on the next possession to inch La Salle closer to the lead. Adamson was still able to combat with a run of their own, but Aljun Melecio stepped up big time to score 6 straight points to cut the lead back down, 14-23. Melecio and Encho Serrano then proceeded to score the last 7 points for La Salle to end the quarter, 21-28, in a low scoring affair.
The activity level for La Salle elevated in the third quarter, with Justine Baltazar opening with two quick possesions to dig into the lead, 27-33. From then on, it was a game back and forth, capped off by a jumper from Kib Montalbo to end, 35-41.
The final frame was the decider, with the result still hanging in the balance. Midway through the fourth quarter, though, Melecio hit two consecutive triples to trim the lead down to just a single points, 46-47. Adamson respon ded with 6 straight point that put a blow to La Salle's comeback efforts. Encho Serrano put up four straight for DLSU to cut back down to four, but it was all too late as clutch performances from Papi Sarr and Sean Manganti to put a cork on the game.
Aljun Melecio topscored for La Salle with 18 points and 8 rebounds. Encho Serrano, who has seen a continued improvement on the court, followed with 10 points. Despite scoring only 6 points, Justine Baltazar had his way on the glass with 15 rebounds.
Meanwhile for Adamson, Sean Manganti was on brand with his breakout season, pouring in a double-double of 19 points and 12 rebounds. Papi Sarr also had a double-double with 12 points and 15 rebounds, while Jerrick Ahanmisi chipped in 9 points, all from beyond the arc.
The win marked Adamson's first win over La Salle since October 2015, marking an end to La Salle's 3-year reign of terror over the Soaring Falcons.
The Green Archers will look to get back on their feet as they take on the Far Eastern University (FEU) Tamarawas on Saturday at the Mall of Asia Arena.