Basketball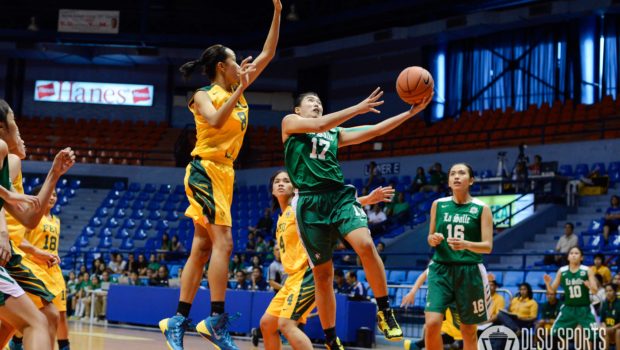 Published on August 9th, 2013 | by DLSU Sports
0
Lady Archers end first round with 5-2 slate after loss to FEU
After losing to the NU Lady Bulldogs last week, the DLSU Lady Archers were dealt another blow as they lost to defending champions FEU Lady Tamaraws, 70-49, last August 4 at the Arena in San Juan.
Cassandra Santos led La Salle with nine points and four rebounds, while Alyanna Ong and Alyanna Vergara had eight points apiece and hauled down a combined 10 rebounds.
"We were outplayed" said Lady Archer mentor Tyrone Bautista with the defeat.
Early in the game, the Lady Archers struggled because of the tight defense the Lady Tamaraws gave along with their hot shooting from the outside. They were led by Lady (first name) Albano's 14 points and five rebounds. FEU finished the first half with a 21 point lead, 41-20.
Both teams played on even terms in the second half and FEU maintained their first half lead. Red hot 3-point shooting by the Lady Tamaraws was the game sealer in the 4th quarter as Camille Sambile led the way with 19 points and nine rebounds.
With this tough setback, the Lady Archers finished the first round with a 5-2 Win-Loss record, good for 3rd place in the standings.
"This is a learning experience for us, but I believe in my team that they will bounce back come second round because they stick together as a team through it all," Coach Bautista ended.
The scores:
DLSU (49) – Santos 9, Vergara 8, A. Ong 8, Garcia 5, Oyao 4, Corcuera 4, Abaca 4, Revillosa 4, Ramos 2, Piatos 2, Claro 1, Scott 0, M. Ong 0.
FEU (70) – Sambile 19, Albano 14, Tanaman 10, Soriano 10, Gesalan 5, Siat 5, Chan 4, Gabriel 4, Basa 2, Valenzona 0, Lozano 0, Castro 0, Baldonado 0, Arellado 0.
Quarter scores: 11-12, 20-41, 30-54, 49-70.