Basketball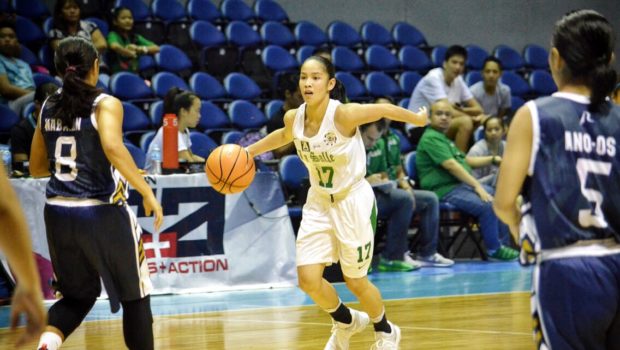 Published on September 16th, 2017 | by Genrev Josiah Villamin
0
Lady Archers start Season 80 with a 0-2 record after loss to Lady Bulldogs
Photo by May Luna
The De La Salle University Lady Archers suffered back-to-back losses to open their UAAP Season 80 campaign. The runners-up lost to the defending Champions, NU Lady Bulldogs, 56-77, in the rematch between the UAAP Season 79 finalists on Saturday at the Smart Araneta Coliseum.
Angel Figueroa led the team with 15 points and eight rebounds. Khate Castillo added 11 points and six rebounds.
The Lady Archers started the game flat and trailed by nine points early in the opening period. They went scoreless in the first four minutes. Bernice Paraiso's basket finally put them on the scoreboard. Then, Charline Javier brought them to within 11 with under four minutes remaining. At the end of the first quarter, the Lady Archers trail the Lady Bulldogs by 12, 10-22.
An unsportsmanlike foul was slapped on NU in the second frame but La Salle was still down by 10, 12-22. The gap widened up to 16 points, 12-28, with a little over four minutes to go in the first half. The Lady Archers rallied to trim their deficit to only eight points. They had an opportunity to even pull them to within five points. However, rookie Lauryn Del Campo missed a triple at the buzzer to end the first half, 25-33.
In the second half, the Taft-based squad could not carry any momentum as they continued to struggle. The Jhocson-based squad extended their lead back to 16 with an 8-0 run. With less than four minutes left in the third quarter, NU already poured 19 points. To contrast, La Salle only had four points. The Lady Bulldogs' scoring runs buried the Lady Archers further, 29-52. A 10-3 La Salle run spiked by three Khate Castillo treys cut NU's lead to 16, 39-55, bridging the third and fourth quarters. Moreover, DLSU forced NU turnovers as they continued to rally and pull them to within 10, 49-59. However, the defending Champions countered with 13 unanswered points with 2:32 remaining in the game. The Lady Archers eventually ran out of gas as the game ended 56-77.
The DLSU Lady Archers will try to get their first win when they face the Adamson Lady Falcons on Wednesday at the SM Mall of Asia Arena.
Scores:
DLSU 56 – Figueroa 15, Castillo 11, Torres 6, Javier 5, Jimenez 4, Vergara 4, Paraiso 3, Nunez 3, Del Campo 3, Arciga 2, Dagdagan 0.
NU 77 – Itesi 21, Nabalan 19, Antiquera 11, Aminam 9, Sison 5, Del Carmen 4, Harada 4, Camelo 2, Ano-os, 2, Ceno 0 , Tanesa 0.