Basketball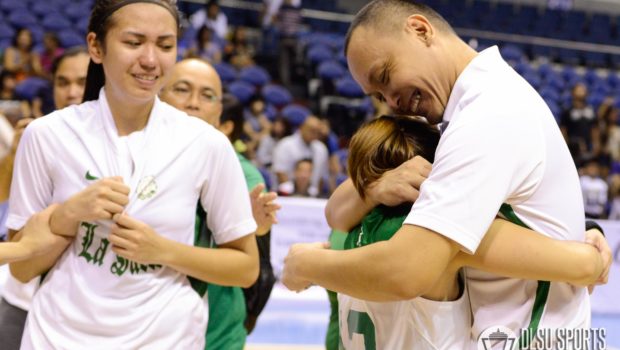 Published on October 11th, 2013 | by DLSU Sports
0
Lady Archers fend off Lady Bulldogs to capture UAAP 76 title
Behind a furious third quarter run, the De La Salle University Lady Archers claimed their first UAAP women's basketball championship in eleven years as they defeated the National University Lady Bulldogs, 69-61, Saturday morning at the SMART-Araneta Coliseum. The Lady Archers were led by Mythical Five member Ara Abaca who tallied 16 points while Finals MVP Trisha Piatos also poured in 15 markers as all of the 10 players that Coach Tyrone Bautista fielded were able to contribute at least two points each—a fitting way to end their UAAP season.
With the first half tightly-contested, La Salle banked on Ara Abaca's perimeter game, along with Alyanna Ong's inside baskets that resulted to a 13-7 run, putting the Archers ahead by seven, 43-36 before NU Coach Pat Aquino called for a breather. The Lady Bulldogs came close to within five at 45-40 with 2:44 left in the third period but an 8-0 run towards the end capped by an Inna Corcuera post move widened the gap to 13 points at 53-40 in favour of the Lady Archers.
The Lady Archers continued their torrid scoring pace in the final period with Ara Abaca converting on a jumper, Cass Santos scoring valiantly on a scrambling putback against two NU players, and Trisha Piatos converting her third triple in the game to give the Lady Archers their biggest lead of the game at 17 points, 62-45 with 6:05 left in the fourth period. 
But as the Lady Archers thought it was all over, the Lady Bulldogs mounted a final run that saw them trail by just 9 points at 62-53 with 2:38 to go in the game. Most of NU's points though came as a result of the Lady Archers getting into penalty situation early in the fourth quarter. NU was awarded with 20 free throws attempts with DLSU called for 13 fouls in the process. Unfortunately, the Lady Bulldogs were just able to convert 11 out of the 20 free throws given to them in regulation.
Trisha Piatos broke the four-minute cold spell of the Lady Archers with a corner jumper, pushing La Salle's lead to 11 points, 64-53 going into the final two minutes of the game. But the Lady Archers' inability to get a good inbounds pass coupled with ball handling turnovers resulted to multiple scoring opportunities for the Lady Bulldogs. Risa Paig scored five points all from the charity stripe while Afril Bernardino converted a lay-up off a fastbreak to cut DLSU's lead to 4 points at 64-60 with 1:25 left in the ball game.
Coach Tyrone Bautista sued for time. The Lady Bulldogs got their opportunities but were not able to capitalize. Ara Abaca and Camille Claro split their charities to push La Salle's lead, 67-60 with 9 seconds left. After an empty, last-ditch attack for the Bulldogs, Abaca tapped the ball forward to an unchallenged Piatos who then passed the ball to graduating player Camille Ramos to cap off a memorable victory with a buzzer-beating lay-up.
"I really feel great. We've worked hard for this. It took a long time coming. There were many ups and downs along the way. I will take this anytime," told Bautista of the remarkable triumph. He furthered, "They [NU Lady Bulldogs] are most probably the talented team. They won't be number one for nothing. They dominated the pre-season so we were really facing a strong team. [But I think] we're hungrier."
"I don't want to think about redemption. I think the season was more about working hard. You will always be rewarded when you work hard", the mentor ended with a smile on his face.
The scores:
DLSU (69) – Abaca 16, Piatos 15, Corcuera 10, A. Ong 8, Santos 5, Claro 5, Melendres 4, Ramos 2, M. Ong 2, Garcia 2
NU (61) – Paig 21, Bernardino 16, Abriam 7, Tongco 6, Gupilan 6, Bonleon 4, Escoto 1, Sison 0, Seno 0, Antiquera 0
Quarter scores: 15-13, 30-29, 53-40, 69-61