Basketball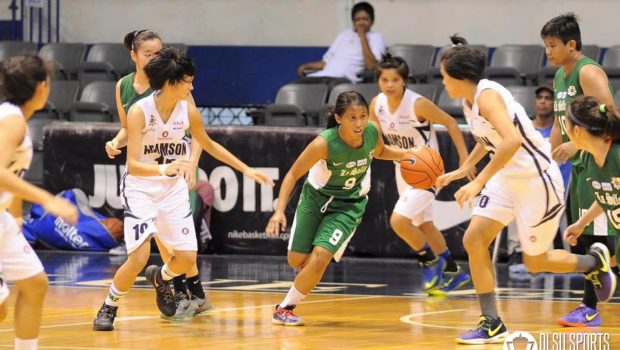 Published on September 27th, 2015 | by Trina Mae Yu
0
Lady Archers outhustle Lady Falcons, 75-57.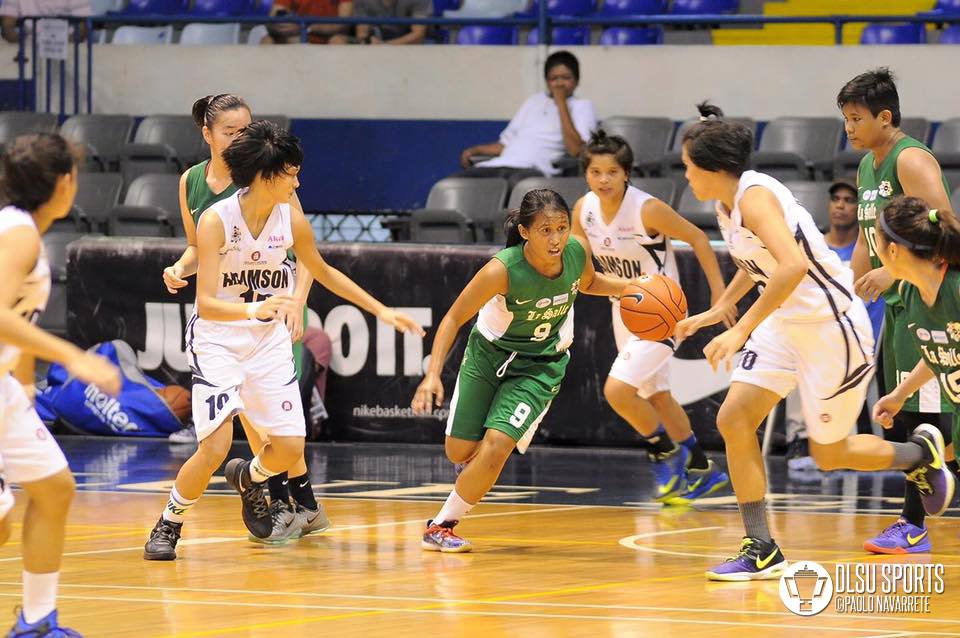 After surviving archrivals ADMU Lady Eagles, the DLSU Lady Archers look forward to continuing their winning streak as they go head-to-head with the AdU Lady Falcons today at the Blue Eagle Gym.
To welcome the first quarter, DLSU Lady Archers had Roxas, Ong, Abaca, Castillo and Dagdagan as their starting 5. AdU Lady Falcons on the other hand, had De Castro, Lacson, Osano, Pingol and Cochico to start their game.
The Lady Archers had a rough start as Lady Falcon Lacson managed to bag a four point lead in the first quarter, but later on, the Lady Archers Roxas and Castillo scored one and three points respectively, making both teams five apiece. With Castillo's consistent effort, she gave the team a two point lead, 7-5, DLSU. But with Adamson's Alcoy scoring a three point buzzer beater, they outscored the Lady Archers in the first quarter with 11-10, AdU.
In the second quarter, DLSU also had the same rough start, but as it progresses, they've managed to get back in the game. Castillo pulled an unexpected jump shot that gave their team a one point lead, 25-24, DLSU. AdU retaliated with charities and triples, but Claro responded with back-to-back triples, tying the score to 30 each. In the end of the first half, the Lady Falcons bested the Lady Archers by a point, 31-30.
The third quarter played out a different story when DLSU's first few shots can't seem to get in. Abaca's precise shots secured two free throws that seemed to pervade among the Lady Archers as their score with the opposing team has gotten really tight. The two teams have been simultaneously exchanging baskets, but it was soon cut off when Ong, Abaca and Dagdagan hit triples. Towards the end of the quarter, Claro made an impressive layup that helped them snatch the 3rd, 57-42, DLSU.
The final quarter commenced with the Lady Archers Vergara and Castillo earning the quarter's first four points, 61-42. The Green shirts maintained their great play that extended their lead to 18 points, 69-51, with 3:14 minutes left in the game. This went on until the DLSU Lady Archers finally procured their imminent win against AdU Lady Falcons, 75-57.
Claro led the team with 17 markers, 5 rebounds and two assists, while Castillo posted 14 points to go with three rebounds and three assists. Abaca scored 13 points, four rebounds and one assist. On the other team, Alcoy acquired a total of 14 points, seven rebounds and two assists. Osano and Tacitac grabbed 10 markers each.
The Lady Archers will go up against the UST Growling Tigers on October 4, 2015, 10:00 am at the Blue Eagle Gym.