Basketball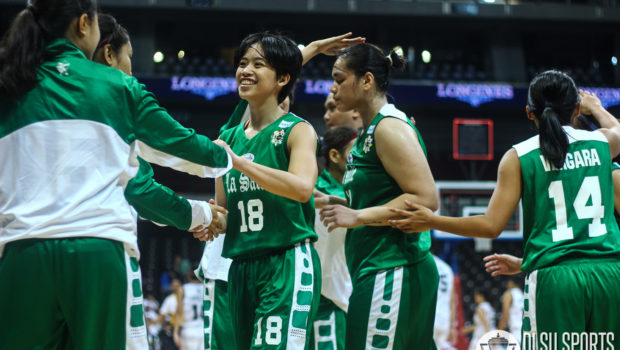 Published on August 20th, 2014 | by DLSU Sports
0
Lady Archers outlast UST, back on winning track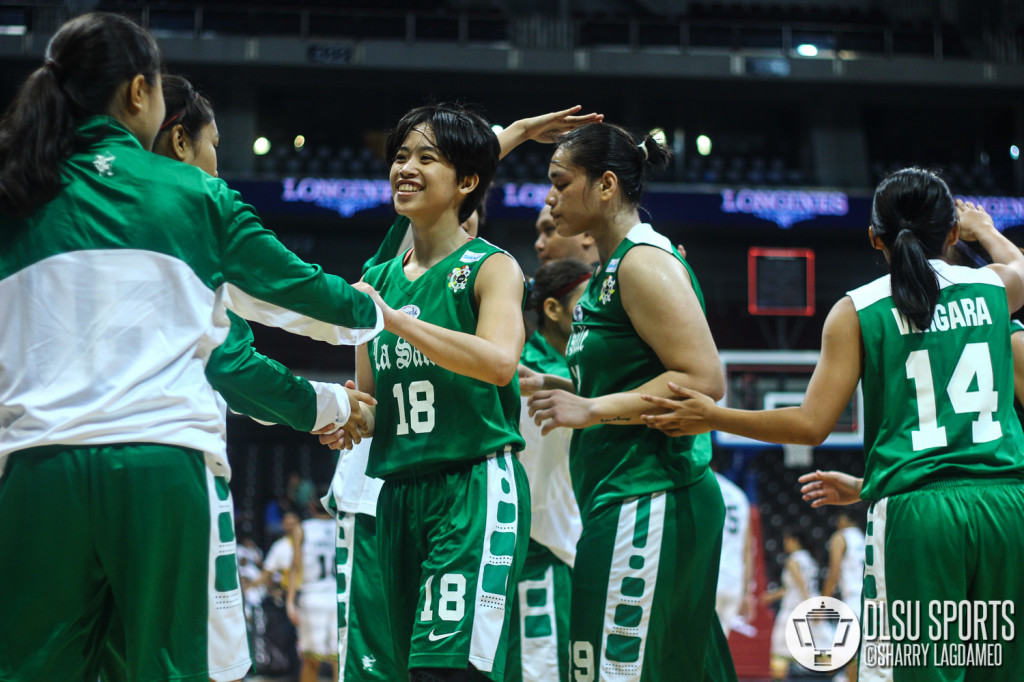 After dropping their last two games at the hands of NU and Adamson, the Lady Archers returned to winning ways after quelling the comeback of the UST Golden Tigresses, 69-63, at the Mall of Asia Arena this morning.
Camille Claro paced the Taft-based cagebelles with 15 points, four rebounds and five assists while Cass Santos garnered 13 markers and seven rebounds. UST's Jen Angeles and Lore Rivera led all scorers with 17 points each.
The Lady Archers bucked a slow start in the opening quarter and executed good defense to prevent UST's gunners from putting in any easy baskets. Camille Claro regained her offensive rhythm to score a series of clutch shots and lay-ups to help her team sustain a 31-20 lead at the end of the first half.
The defending champions led by as much as 16 points in the third quarter. However, UST would not go down without a fight as they went on to crawl their way back into the ballgame through a 16-3 rally powered by Rivera and Candice Magdaluyo's phenomenal sniping, keeping the Lady Archers within striking distance. The Golden Tigresses also relied on the services of Maica Cortes to take possession of several rebounds, making it difficult for the Taft-based squad to sustain their offense.
The champions responded with sense of urgency as the team stayed composed to take a 49-40 lead as a result of offensive plays by Trisha Piatos and Nicole Garcia that ended with a teardrop by Inna Corcuera.
"It's more about staying focused. Sometimes, there is this tendency to relax when you have a huge lead. The most important thing is that we did not collapse," Lady Archers head coach Tyrone Bautista said regarding the team's endgame composure.
As DLSU began to dictate the tempo of the game throughout the fourth quarter, UST refused to go down without a fight as the Tigresses threatened to make another run with Rivera and Magdaluyo continuing to convert field goals from three-point land. Santos had the answer to UST's rally after cashing in midrange jumpers to help the Lady Archers stay on track of a victory.
With a little over thirty seconds remaining in the final canto, Miller Ong made a crucial steal to officially put an end to UST's rally and then drew a foul from Rivera to sink in two free throws to give the Lady Archers a comfortable 68-63 lead. Claro, fouled after a barren UST possession, split her charities to seal the deal for DLSU.
"She's (Miller Ong) a smart player, especially on defense. I decided to put her on Rivera because I knew Rivera will have the ball," coach Tyrone Bautista commented on Miller Ong's last defensive stop in the fourth quarter.
Up next for the Lady Archers is an anticipated rematch with archrivals Ateneo Lady Eagles at the Blue Eagle Gym on Sunday, August 24.
DLSU (69) – Claro 15, Santos 13, Piatos 8, Garcia 8, A. Ong 8, M. Ong 6, Melendres 5, Corcuera 4, Vergara 2, Lumba 0, Scott 0
UST (63) – Angeles 17, Rivera 17, Magdaluyo 12, Cortes 11, Felisarte 5, Gandala 1, Siapoc 0, Brillantes 0, Isanan 0, Mandilag 0, Pernia 0.
Quarter scores: 13-15, 31-20, 49-40, 69-63.