Uncategorized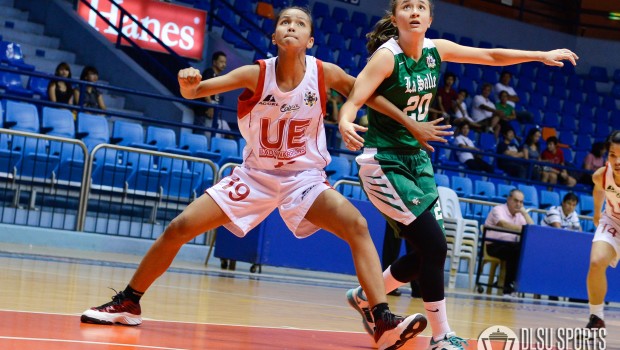 Published on August 9th, 2013 | by DLSU Sports
0
Lady Archers on a roll after dispatching Lady Warriors

The DLSU Lady Archers made quick work of the UE Lady Red Warriors with an easy 63-35 win last July 21 at the Arena in San Juan City
The Lady Archers dominated all throughout the game led by Lady Archer Ara Abaca's 18 points and 11 rebounds.
"Our defense is always the catalyst of this team and I know the tougher challenges to come. We just have to focus and be mentally and physically prepared," said Coach Bautista after the game.
The Lady Archers shut down things for good early in the final period after key baskets from Abaca along with timely hits from Trisha Piatos who finished with 12 points.
The UE Lady Red Warriors managed somehow to secure some points on the board on the other hand led by Bienca Ramos who finished with 12 points and 10 rebounds.
The Lady Archers started the game slow as UE clawed to a 4-0 lead early on. Key baskets from Nicky Garcia who finished with six points helped boost DLSU's lead to 17 points at the end of the first half.
Up next for the Lady Archers will be the NU Lady Bulldogs this coming July 28 at the San Juan Arena.
"We must not take each game lightly because anything can happen in any game," coach Bautista ended.
The scores:
DLSU (63) – Abaca 18, Piatos 12, Garcia 6, Oyao 5, Claro 5, Vergara 4, Santos 4, Ramos 3, Revillosa 2, Ong 2, Corcuera 2, Scott 0, Pineda 0, Ong 0, Melendres 0, Gonzales 0.
UE (35) – Ramos 12, Mendina 5, Doqueza 5, Ventura 4, Valdez 4, Domino 3, Sto. Domingo 2, Llosala 0, Ano-os 0.
Quarter scores: 19-7, 34-17, 50-25, 63-35.