Basketball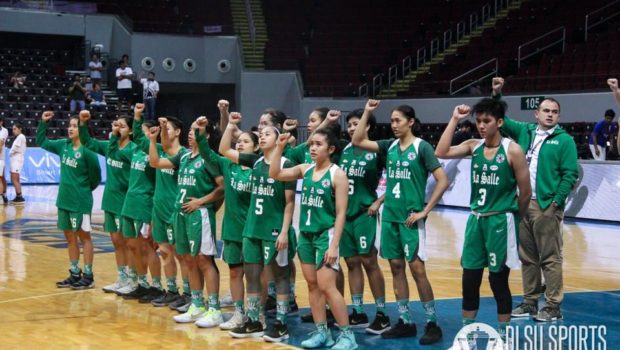 Published on October 10th, 2018 | by Gabriel Minamedez
0
Lady Archers shoot down Ateneo in first round closer
Riding high from their winning ways this season, the De La Salle University (DLSU) Lady Archers dominated the Ateneo de Manila University (ADMU) Lady Eagles, 82-56, to close out the first round on a high note on Wednesday at the Mall of Asia Arena.
Coming off a resounding win against the University of the Philippines (UP), the Lady Archers went right back at it, this time with a supersized swagger against their arch rivals.
La Salle blew the opposition right out of the water to start, as excellent two-way play from the Green and White had the Lady Archers jump right into a big lead. Camille Claro started things off right with a booming triple. Katrina Guytingco responded with a jumper to make it 3-2, but that was the last field goal that Ateneo would make that quarter. Brought by a collective effort from DLSU's Castillo, Paraiso, Qungco, and Arciga, the Lady Archers were able to jumpstart to a 16-5 lead to end the first foray.
The Lady Archers never let their foot off the gas in the second quarter, as the lead even reached to a whopping 24-5 until Ateneo's Newsome was able to stop the bleeding with a jumper of her own. It was this quarter where Khate Castillo absolutely dominated, as she scored 17 of her game-high 19 points in the second quarter, including three triples. After one half, it was 44-12, DLSU in complete control.
Even when the Lady Eagles retaliated in the second half, outscoring La Salle 44-38, it was all too late for Ateneo as a tremendous start from the Lady Archers made the last two quarters a formality.
Khate Castillo spearheaded La Salle with a game-high 19 points on an impressive 66% clip. Kat Nunez added 16 big points, all off the bench. Angel Quingco also held her own with 9 points and 6 rebounds.
Ateneo's Joson led the team in scoring with 9 points. Off the bench, they had Villamor, Newsome, and Nimes scoring 8 apiece for the Katipunan-based squad.
The victory brings the Lady Archers to 5-2 after the first round, on third just below powerhouses National University (NU) and Far Eastern University (FEU).
Stay tuned for updates on the second round schedule of the Lady Archers. Be there to support the Green and White! Animo!