Basketball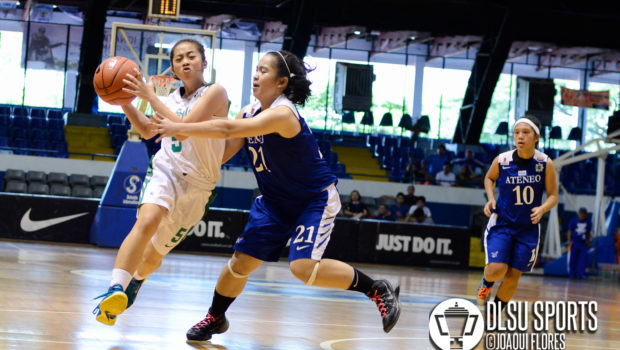 Published on July 22nd, 2013 | by DLSU Sports
0
Lady Archers shoot down Lady Eagles to jumpstart season
It was a nice start to another grueling season of hoops action.
Spacing the floor with their stingy defense all-game long, the Lady Archers blasted the Ateneo Lady Eagles with a dominating 54-38 win last July 4 to open their UAAP Season at the Blue Eagle Gym in Ateneo de Manila University.
FilOil Preseason Cup Finals MVP Ara Abaca led the way for La Salle with an all-around performance of 12 points, 5 rebounds and 3 steals while Inna Corcuera complemented it with a double-double outing of 11 markers and 11 boards.
"We created a lot of turnovers for the other team (because) naconvert naman namin 'yun and doon, nagpickup na yung game but we still have a lot of room for improvement," praised head coach Tyrone Bautista after the game.
On the other hand, Cara Buendia led Ateneo with 11 points and 4 rebounds while Kat Nuñez followed up with 9 points and 4 assists.
Entering the fourth quarter facing a 33-36 deficit, the Lady Archers were able to turn the tables around in their favor by holding down the opposition to only 2 points made. Alyanna Vergara's three-point play sparked a huge 19-2 run which was too much for Ateneo to handle.
With the victory at hand thanks to numerous fastbreak points, Miller Ong's three-pointer from the top of the key placed the exclamation point with 1:22 left in regulation for a 54-38 finish.
"We thrive on our running game (and) easy baskets," coach Bautista added.
Up next for La Salle will be the UST Tigresses this coming Sunday, 10:30 am, at the FilOil Flying V Arena.
"It's going to be tough because UST is an intact team also and we expect a grind-it-out game against them. As long as we stay disciplined sa defense namin and as we follow the gameplan, I think we're going to be fine," coach Bautista ended.
The scores:
DLSU (54) – Abaca 12, Piatos 11, Corcuera 11, Santos 9, M. Ong 5, Vergara 4, Melendres 2, Scott 0, Revillosa 0, Ramos 0, A. Ong 0, Gonzales 0, Garcia 0, Claro 0.
ADMU (38) – Buendia 11, Nuñez 9, Uy De Ong 8, Jose 5, Posadas 2, Javier 2, Aseron 1, Veloso 0, Tantoco 0, Limcaoco 0, Bo-ot 0, Belarmino 0.
Quarter scores: 8-12, 25-19, 33-36, 54-38.