Basketball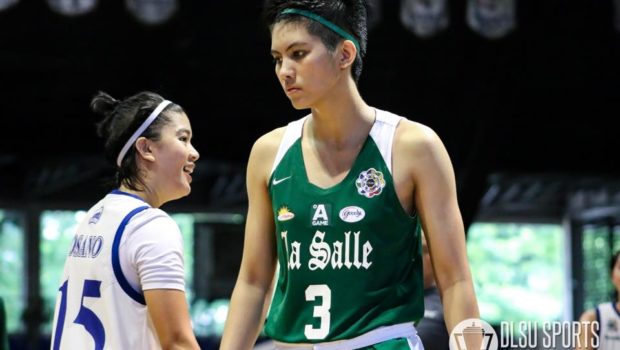 Published on September 26th, 2018 | by Gabriel Minamedez
0
Lady Archers suffer first loss to streaking NU
In what was a toe-to-toe battle of two royalties in women's basketball, it was the National University (NU) Lady Bulldogs who reigned supreme over the De La Salle University (DLSU) Lady Archers, 74-66, on Wednesday at the FilOil Flying V Arena.
The two basketball powerhouses were nip and tuck for most of the game, as both held identical immaculate records entering the game, and it was the Bulldogs who remained lossless after the match.
The first quarter started off with NU firing on all cylinders, hitting on a 3 of 6 clip from beyond the arc, a patented weapon of the Lady Bulldogs. The Lady Archers, however, weren't about to allow the opposition to fire away for themselves, as Bernice Paraiso and Joe Arciga combined for 8 of DLSU 13 points in the opening quarter, trailing only by five.
Defense was the main game for the second quarter, as the Lady Archers took advantage of their defensive tools to exploit NU's offense. Clamping down the perimeter, the Green and White allowed only a single shot from downtown out of the Bulldogs, forcing them to go to the paint and in unfamiliar territory. The Archers were able to inch a bit closer to the lead, entering halftime trailing, 28-31.
The third frame ensued an all-out hustle for both teams inside the paint that ended well for the Taft-based squad. A huge 13-2 run, capped off by a three from Bettina Binaohan, heaved La Salle to a 7-point lead, their biggest in the game. Eventually though, the Lady Bulldogs woke up and went on a run of their own, eventually tying it back up at the quarter's end with a layup from Itesi.
In the final canto, though, Nu showed their grit and winning culture, as a conserted effort from Animan, del Carmen, and Pingol was enough to get past the hungry Lady Archers. Allowing a mini 5-2 run from the Sampaloc-based squad, it was a little too late to catch up for the Green and White, and eventually dropped the game, 74-66.
Despite the loss, a number of Lasallians had a game. Veterans Khate Castillo and Bettina Binaonan scored 13 apiece, and also combined for 11 rebounds. Camille Claro played an all-around game with 11 points, 4 rebound, and 6 assists, while Bernice Paraiso also chipped in 11 points of her own.
NU was led by Jack Animan, who had a double-double of 16 points and 13 rebounds off the bench. Itesi also poured in a double-double of her own with 11 points and 11 rebounds, while Nabalan, Pingol, and Cacho combined for 32 points.
Catch the Lady Archers next as they go for a bounce back win versus Far eastern University (FEU) on Sunday, September 30, at the Blue Eagle Gym.