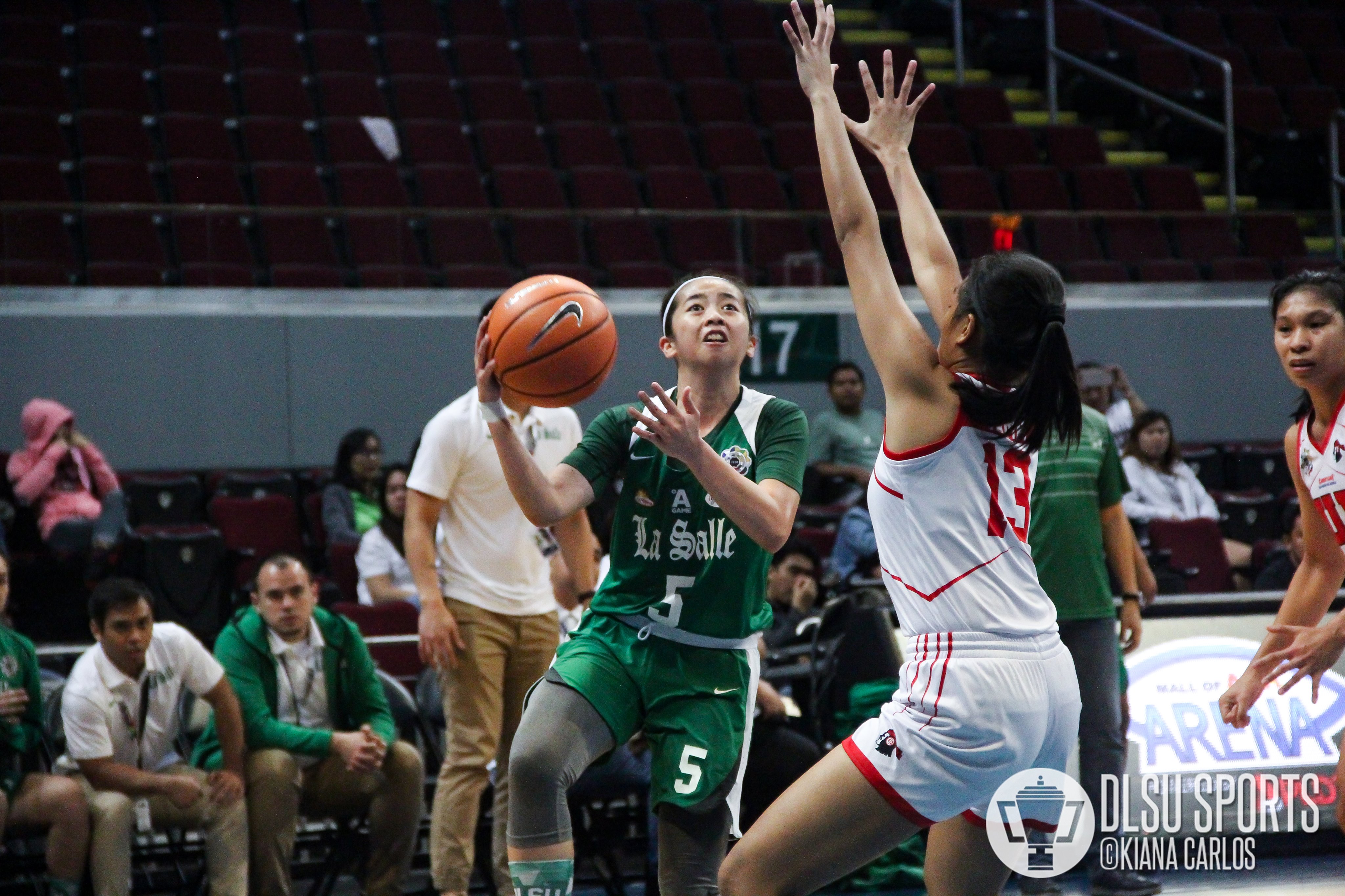 Written by: Resch Untalan
The DLSU Lady Archers overcame the University of the East Lady Warriors, 64-61, in the UAAP Women's Basketball Tournament, Wednesday, at the Mall of Asia Arena.
The Green and White started off slowly in the first quarter as they were plagued with turnovers throughout the period. Luckily, the Lady Archers were able to hold their ground, conceding only a four-point deficit to the ladies in red at the end of the quarter, 17-21.
Angel Quingco towed DLSU to the lead in the second quarter after being subbed in by Head Coach Cholo Villanueva. Quingco provided more presence in the paint for the Lady Archers, helping them take an eight-point lead at the half, 28-36.
UE started the third quarter aggressively, eventually putting the game at a deadlock at the four-minute mark at 41-all. Both teams then committed a series of turnovers and missed shots but DLSU still came out on top at the end of the third, 50-45.
The Lady Archers' misfortunes in the third continued through the start of the fourth quarter as they continued to commit turnovers. The Lady Warriors took advantage of this, eventually taking the lead at the six-minute mark at 53-52. Quingco and Marie Arciga came to the rescue of DLSU, bringing down crucial rebounds for second-chance points.
The Taft-based squad eventually got back the lead but still cannot remove the prick on their back that is the Lady Warriors as the score was 62-61 at the one-minute mark, in favor of DLSU. With four seconds left, UE committed a foul on Aimee Del Ocampo who made both free throws, icing the game.
Quingco notched a big double-double with 10 points and 17 rebounds, paired with a steal and two blocks. Arciga topscored for the Lady Archers in a near double-double performance with 12 points and eight rebounds paired with two assists and a steal. Camille Claro also had 12 points for DLSU, together with two assists and a rebound.
Meanwhile, Princess Ganade stuffed the stat sheet for the Recto-based squad, tallying 14 points, seven rebounds, three steals, two assists, and a block.
DLSU 64 – Claro 12, Arciga 12, Quingco 10, Torres 7, Del Campo 5, Castillo 5, Jimenez 4, Revillosa 4, Nunez 3, Paraiso 2.
UE 61 – Ganade 14, A. Pedegrosa 12, Cortizana 10, Requiron 10, Francisco 7, P. Pedegrosa 5, Nama 3.