Lady Archers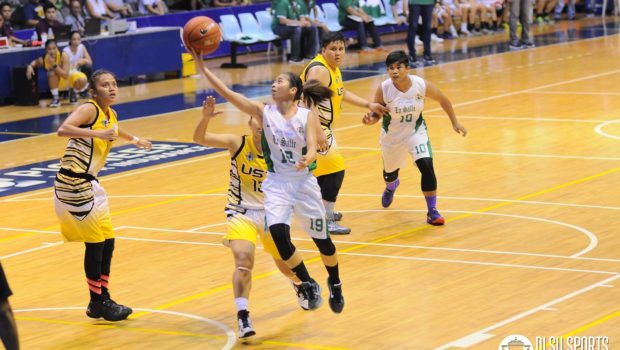 Published on October 4th, 2015 | by Denise So
0
Lady Archers tame Tigresses, 67-56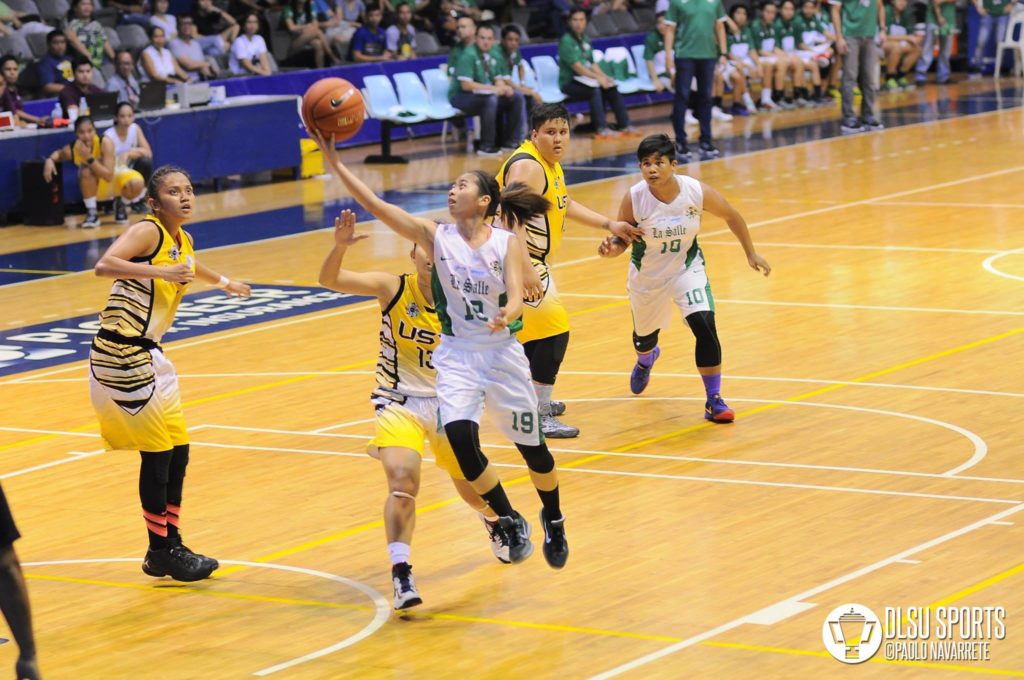 Today, the DLSU Lady Archers seek to end the first round of their season's symphony on a high note. Displaying a harmonious and balanced attack, they outplayed the University of Santo Tomas (UST) Lady Tigresses, 67-56. All through out the game, the Archers' defense rendered the Tiger's offense discordant and off-key.
From the tip off, the Lady Archers looked aggressive in both offense and defense. They suffocated UST's attempts at attacks with a full court press while continuously wreaking havoc in the lady Tigresses' defense. Early in the quarter, Abaca scored consecutive jumpers while Roxas and Dagdagan contributed baskets from beyond the arc. An assist by Claro to Revillosa gave the Archers a 10-point advantage at the end of the first canto, 20-10.
The Archers started the second quarter on the same note as the first as a steal and a crisp pass by Vela to Revillosa led to their first basket in the quarter. Their full court press forced the UST Tigresses into committing several turnovers, which the Lady Archers were able to capitalize on. UST's team captain, Cortes crashed the boards with rebounds while Lady Tigress Anies attempted to cut the deficit by continuously driving into the paint. A mini run by the Tigresses in the last few minutes of the quarter managed to cut the Archer's lead to four at the half.
The Lady Archers started the second half with the same aggression. A basket from point-blank range by Ong and a layup by Castillo early in the quarter extended La Salle's lead to eight. However, the Tigresses seemed to have awakened from slumber as they kept La Salle's offense and defense off-balanced by putting up baskets each chance they get. The first deadlock of the game came from a put-back by Cortes but consecutive layups by Vergarra and Penarada gave the Archers the breathing room they need. Unfortunately, the Lady Tigresses refused to be tamed and continued to attack the Archers, cutting the lead to a point as the clock expired 44-43.
Both teams entered the last quarter with high hopes to steal the game. However, the Lady Archers proved more resilient as they continuously outhustled the Lady Tigresses. With the win, The Archers further solidified their hold on second place leaving the Lady Tigresses singing the blues in third.
Aracelie Abaca played a well-rounded game and led the Lady Archers with 14 points, 12 rebounds and five assists, while Ana Castillo and Camille Claro contributed 13 and 12 points respectively. On the other hand, UST's Maica Cortes led the Tigresses with 13 points of her own.