Basketball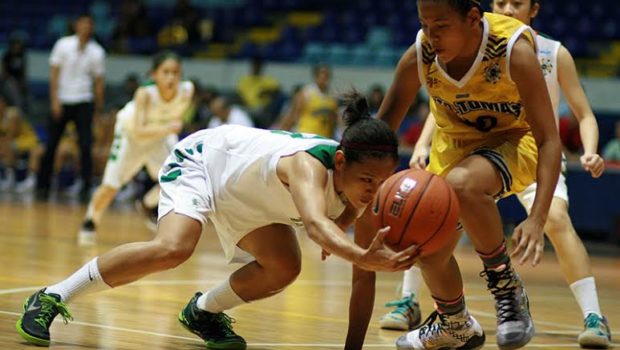 Published on July 14th, 2014 | by Absolut Verde
0
Lady Archers upend Tigresses despite surfeit of errors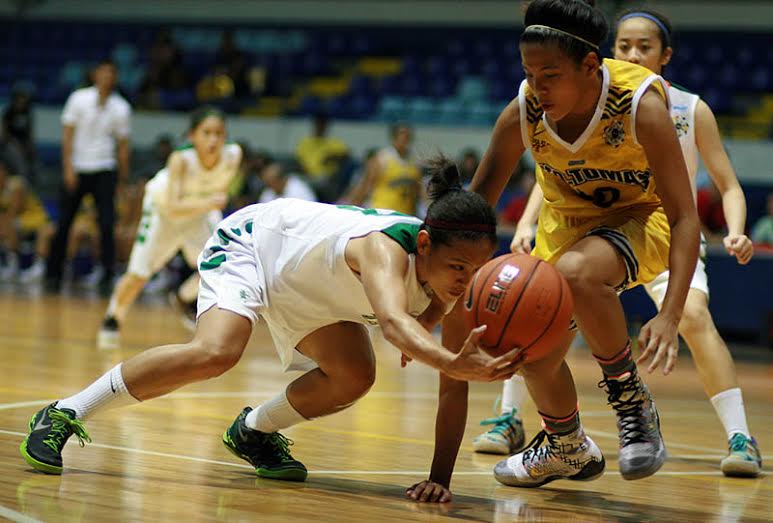 La Salle 56
UST 50
Blue Eagle Gym — And so the defence of the title began inauspiciously, with a turnover. Then another. A full three minutes would pass before Alyanna Ong could put La Salle's first points of the season on the board; by then the UST Tigresses had hit two field goals and a trey. On paper it was the defending champions against last season's fourth-placers. On the court today, the Lady Archers were their own worst enemy.
"We are who we are — we defend and we run," Coach Tyrone Bautista had said in pre-game. It would take a full half for the message to get through. The Lady Archers came ready to defend against UST's primary pick-and-roll, and the energy to challenge perimeter shots. On the outside they were a success, holding the Tigresses to a collective one for 15 on three-point attempts. But completing defensive plays from the inside was always going to be a challenge for a team missing the experience of Cass Santos (recovering from a knee injury) and the aggression of (red-shirted) Ara Abaca. Senior Inna Corcuera faced the hulking Maica Cortes and the tenacious UST frontline spelled only by rookie Jamie Roxas, who in 13 minutes of play got a swift introduction to the physicality on offer at this level. Only UST's woeful conversion rate on putbacks prevented them from punishing the Lady Archers' lack of defensive finishing.
On the other hand, any advantage La Salle earned from pushing the tempo disappeared in a mess of turnovers, as neither the backcourt unit of Ong and Vergara nor Claro and Piatos off the bench could get a handle on the ball, let alone the game. Both point guards suffered from a lack of sharpness, giving the ball away a total of 11 times between themselves, although UST partook of a mere two points from this generosity. The first half ended 24-23 to the Tigresses and was everything you'd expect from an early-season encounter: error-strewn, maddening, and totally absorbing.
In the second half, Ms. Piatos happened. But that rain of heavy artillery was seeded by a more determined inside defence and an added half-court peskiness that kept UST to a single-digit third quarter. Those who miss the good old days of the La Salle nightmare press would do well to come and see the Lady Archers once in a while, as Garcia and Vergara, Ong and even Melendres can leave reminders of what that mayhem was like. La Salle's fastbreak finishing continues to worry the regulars, but on days like this, who needs an easy two when last year's Finals MVP is hitting half her threes? An initial hail of five points midway through the third to provide some separation, then some sniping off the slack UST defence, and suddenly it was an eight-point lead entering the fourth.
La Salle pulled it off in the end, but in the dugout afterwards, there was only nervy relief. UST had scored 17 in the final ten minutes, most of them from an awful sequence of fouls and turnovers, fair warning of mental tests that lie ahead. Miller Ong and Nicky Garcia were casualties for the Lady Archers and Lore Rivera for the Tigresses in the madcap conclusion that was punctuated by Bautista's tirade against the officials who, with 38 seconds left and La Salle up by four, ruled out a Piatos three-pointer for a shot-clock violation, but appeared unwilling to review the call on video.
The Lady Archers have never had to play three games in a week; to open their season as champions, they will be made to endure precisely that. On Wednesday they meet former tormentors FEU, and on Saturday perennial contenders Adamson. It's early days, everyone has a blueprint. First to find themselves wins.
Player of the game: Head says Trisha Piatos, Lord Mayor of Clutch City — but heart says Nicky Garcia. It's happened enough times over the years to become an article of faith: if Garcia hits the floor at least five times in a game, the Lady Archers will find a way to win. Today the count was six.