Football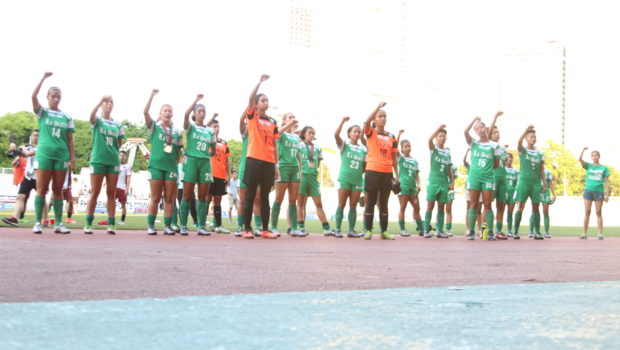 Published on May 5th, 2016 | by Khyte Mendoza
0
Lady Booters yield UAAP Football crown to UP, settle for second place
The De La Salle University Lady Booters lost to the University of the Philippines Lady Maroons, 1-2, in a tianic clash in the UAAP Season 78 Women's Football Finals, at the Rizal Memorial Football Stadium, earlier today.
La Salle was going for the kill early in the first half as Mary Cristine Duran crossed it to Kyla Inquig for a header but the ball went wide in the fourth minute of the match. Chelo Hodges had another chance to deliver the first goal for DLSU, but she sent it straight into UP's Javier in the seventh minute mark. The Green and White team gained advantage in ball possession and they were blasting shots on the offensive end of the field.
Team captain Inna Palacios denied every chance UP could get, as the La Salle defense suffocated the booters from Diliman.
Rookie sensation Sara Castaneda and Irish Navaja brought life to DLSU once more but their shots went wide the post. Castaneda broke free from the Maroon defense, but Javier timely came out the box to block the shot in the 38th minute.
At the start of the second half, the Lady Booters suffered a huge blow as Regine Metillo got a yellow card and allowed a penalty kick for UP which eventually led to the first goal of the match from Delos Reyes in the 57th mark, 0-1. In the 61st minute, Aira Agustin was called for handball inside the box. Castaneda then pinched in the equalizer, 1-1.
However, the Lady Maroons took the driver's seat and changed the tides yet again, a header from Sta. Clara marked the final and winning goal of the match for UP, 1-2, in the 67th mark.
Free kicks and corners from Shannon Arthur could not connect for La Salle. Time ran out for Coach Hans Peter-Smits's crew as they were not able to tie the match.
Meanwhile, the Lady Booters though, dominated the individual awards. Main gunner Arthur won the Best Striker award after finishing the season with seven goals. Palacios bagged the Best Goalkeeper honors after allowing seven goals from opponents and Regine Metillo notched the Best Defender award.
Castaneda garnered three awards in her maiden year in the UAAP, getting the nod for the Rookie of the Year, Best Midfielder awards, and co-Best Striker with Arthur for Season 78.
This year's Mythical XI also consisted most of the booters from Taft with Navaja and Inquig completing the winners in the individual accolades for DLSU.
The Lady Booters might have lost, but this season was no doubt the best one for DLSU as the team made a fantastic run. Heads up La Salle!