Green Judokas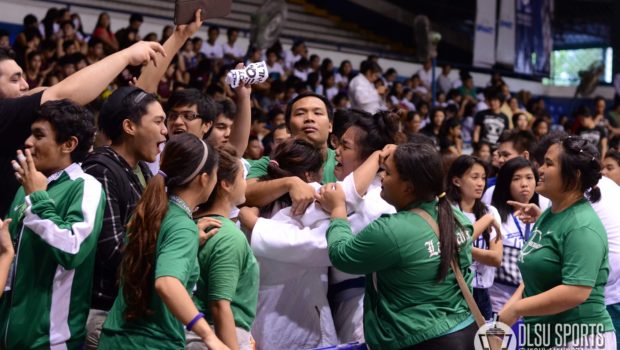 Published on October 8th, 2013 | by Kim Leong
0
Lady Judokas bag maiden title, Green Judokas stay at third place
It was a day of fierce battles, powerful cheers, and tears of joy.
Defying the odds stacked against them, the DLSU Lady Judokas blasted their way through the top of the podium as they took the gold while the Green Judokas yet again settled for third placefor the third straight year in the recently concluded UAAP Season 76 Judo Tournament held last September 28 and 29 at the Blue Eagle Gym in Ateneo de Manila University.
Making History
Forever etched in the history books of the La Salle sports community, it will always be remembered by the DLSU Judo team as it was the day it won its first UAAP Judo title.
Pushed to the brink of tears, a highly strengthened Lady Judokas squad, along with the cheers of the Animo Squad and an energized Lasallian crowd, gave everything they had and gained the honor of being the first Lasallian Judo team to bag the school's first ever Judo championship.
Co-captain Marjorie Santiago, Justine Pongase and Nikki More contributed three gold medals. The medal run, however, did not end there as team captain Mariel Santiago and Kristine Espinas nabbed a silver medal and Kat Valencia won a bronze medal.
"It's the best thing a captain can receive on their last UAAP playing year. I am so very proud of each and every one of the girls in our team. Each member did their best not just for themselves, but for the overall championship," said team captain Santiago.
Furthermore, La Salle got another blessing as Lady Judoka Nikki More was hailed MVP.
"I was overwhelmed with mixed emotions! A bit shocked because I never imagined that I'd end up bagging that gold and that MVP title, especially during my last playing year," shared More.
Another third place finish
For the third straight year since Season 74, the Green Judokas once again landed   as third place. In addition, the team garnered a total of two gold medals coming from team captain BG Albarracin and co-captain Mickey Regala. Kyle Kapunan and William Chia landed silver medals while Kiel Batocabe had a bronze medal.  
Reaping the Rewards
Changing to a stricter and more demanding training regimen, Lady Judoka Freesia Hernandez shared that all the sleepless nights, all the sweat shed, and all of the pain they had to endure was well worth it after the successful run this year. She further commented that the success of her seniors as well as their hardship has strengthened the team's resolve.
An emotional Samson Bernales, Coach of the Green and the Lady Judokas, also commented on the team's success as being the result of hardwork, dedication, and heart, saying "Hindi mo talaga kaya makahanap ng mga magagaling kaagad na players, masaya ako na makita na lahat ng sacrifice ko ay may nagawa para sa kanila at hindi nasayang".