Sports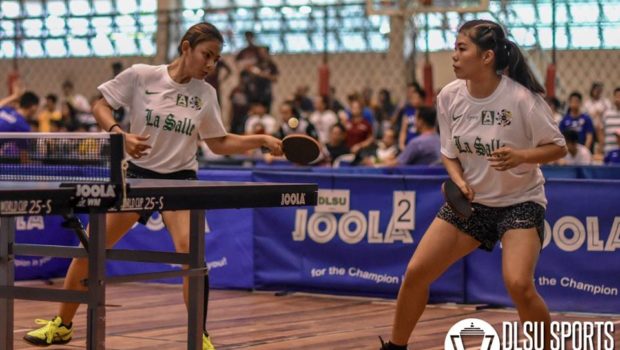 Published on October 2nd, 2018 | by Genrev Villamin
0
Lady Paddlers climb to 10-0, Green Paddlers suffer fifth straight loss
The DLSU Green and Lady Paddlers are going opposite directions midway through the UAAP Season 81 Table Tennis tournament. The Lady Paddlers continue to assert their dominance as the defending champions in the Women's Division. Meanwhile, the Green Paddlers struggle to find answers against their opponents in the Men's Division.
Lady Paddlers vs UE
Jannah Romero and Emy Dael would usually open the first two singles matches with destructions of their opponents. And versus UE, it was no exception. Romero swept Celina Vasquez in the opener (11-8, 11-5, 11-1). Then, Dael continued her undefeated streak in all her matches this season with another sweep of Elaine Garrucho (11-8, 11-6, 11-3). However, the Lady Paddlers also continued to struggle against the pair of Mich Abello and Ila Lague. After losing in five sets in Round 1, Caressha Bernaldez this time teamed up with Ina Co instead of Kimberly Lumenda. Bernaldez and Co suffered a defeat in four sets (3-11, 7-11, 11-4, 6-11). Nonetheless, Jhoana Go dominated Joyce San Agustin just like in their first round meeting. The rookie from Taft routed San Agustin (11-9, 13-11, 7-11, 11-2) as La Salle claimed the victory.
Lady Paddlers vs FEU
With barely a change in the lineup of both squads, the Lady Paddlers proved they can repeat their Round 1 win against the Lady Tamaraws. Romero and Dael were armed once again with brooms after making quick works of Josephine Talay (13-11, 11-8, 11-4) and Princess Verano (11-6, 11-1, 11-4), respectively. Co and Kimberly Sorongon finished FEU in a four-setter versus Danah Cruz and Jandra Sacay (11-4, 9-11, 11-2, 11-3) to make official their 10th straight win.
Green Paddlers vs UE
After defeating the Red Warriors in five thrilling sets in Round 1, the Green Paddler ran out of fuel in the second round. UE's Sandro Cortez trounced La Salle team captain Tarak Cabrido in five sets (11-8, 7-11, 11-7, 5-11, 11-6). First year Paddler Patrick Pasumbal also suffered a beating from Justin Pacana in the second singles match (6-11, 11-9, 9-11, 2-11). Carrying a pivotal 2-1 set lead in the doubles match, Edhric Eder and Vince Remitio had the golden chance to strike one against UE. However, McDranreb Africa and Serge Benoya were able to force a knockout set after winning Set 4, 11-6. Eder and Remitio were comfortably ahead, 7-3, in the fifth set when the Paddlers from Recto exploded for eight straight points to steal the set and seal the five-set win (8-11, 11-7, 11-13, 11-6, 11-7).
Green Paddlers vs UST
Although rookie Marwin Eder lost his opening singles match against UST's Josh Castro (6-11, 12-14, 11-9, 6-11), the Green Paddlers were able to recover and gain a 2-1 lead after winning the next two matches. Cabrido defeated Alvin Sevilla in four sets (11-8, 6-11, 11-8, 11-9). Then, the duo of Pasumbal and Remitio swept UST's Danhil Monares and Carl Victorio (11-9, 12-10, 11-8). However, La Salle could not close out and avenge their first round loss to the same team. The España-based squad tied the match at 2-all with Paul Que's four-set victory over Espinosa (9-11, 11-6, 11-4, 11-6). Reymark Mabuang edged Ocon in the deciding match to clinch the W for UST and give La Salle its fifth straight loss.
Up next:
The Lady Paddlers confidently sit at the top of the mountain with a 10-0 win-loss record. They look to extend their unbeaten run to 12 as they next meet Ateneo and NU, 8 AM and 1 PM, respectively, today. The defending champions demolished both teams in straight sets in their first round meetings.
On the other hand, through 10 games, the Green Paddlers sit at fifth place with a 4-6 slate. They next face UP at 8 PM today and Ateneo at 1 PM with a hope of ending their losing streak. The Green Paddlers defeated UP (3-0) and Ateneo (3-1) back in the first round.