Uncategorized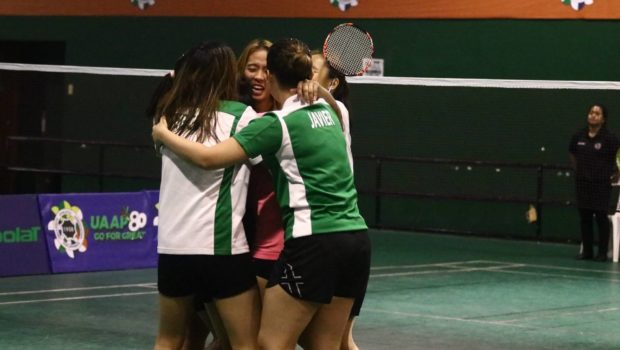 Published on October 15th, 2017 | by Resch Untalan
0
Lady Shuttlers take first of best of three championship
The DLSU Lady Shuttlers got a leg up in the finals over the defending champions, the UP Lady Maroons, 3-2, at the Rizal Badminton Hall, Sunday.
Arianne Rivera kicked off the Green and White's first finals match day against UP's Ann Alcala. Rivera dominated the first game of the match with a 21-16 win. The Lady Shuttler fell off in the second game after losing 12-21. The two gave the spectators a show as the two answered point after point before Rivera ended the match, 21-19.
Semifinals hero Nicole Albo went up next for the Taft-based squad versus Marina Caculitan. Like Rivera, Albo whipped her opponent in the first game then lost the second game, 21-11 and 14-21, respectively. The Lady Maroon looked as if she was already going to win the match before Albo completed an eight-point comeback, taking the win, 21-19.
The first doubles match of the day featured Iyah Sevilla and Lindsay Tercias go up against Jessie Francisco and Alcala of the Diliman-based squad. Francisco and Alcala proved to their billing as favorites after beating Sevilla and Tercias in the first game, 14-21. The Lady Shuttlers fought tooth and nail to take the second game, 21-18. Fatigue got the better of the Sevilla and Tercias as they were crushed by Francisco and Alcala in the deciding game, 8-21.
Isay Leonardo and Albo took the court for the second doubles match contra Christine Enlayo and Mary Ann Maranon of the Lady Maroons. Leonardo and Albo were outclassed by the defending champions in two games, 10-21 and 16-21.
Sevilla faced off against Jessie Francisco for the final and deciding match. The Lady Shuttler avenged Leonardo and Albo's loss, sweeping Francisco, 21-11, 21-17.