Beach Volleyball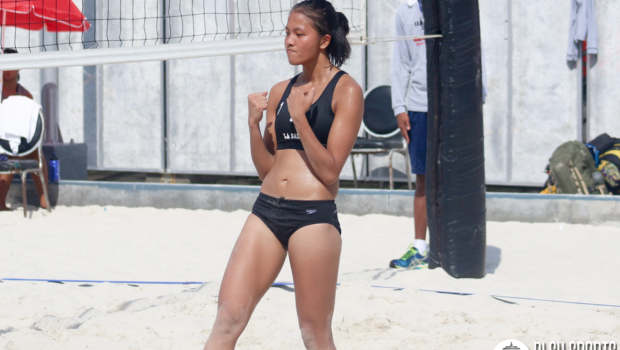 Published on October 3rd, 2016 | by Karl Dela Cruz
0
Lady Spikers continue to get their grip on sand!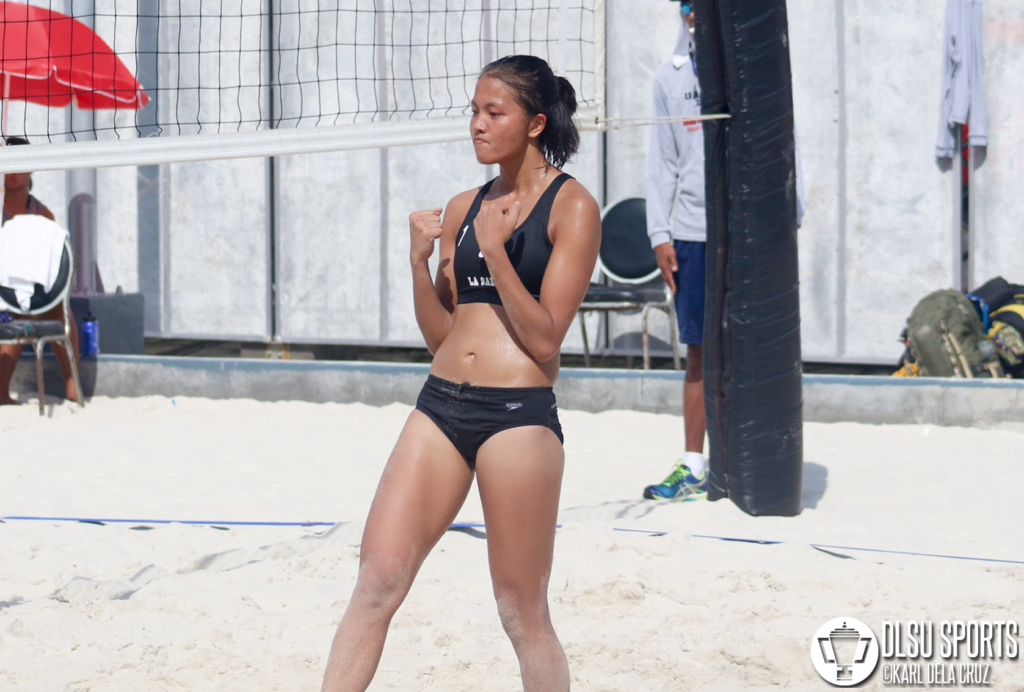 Once again, the De La Salle University Lady Spikers split their outings in the continuation of the UAAP Beach Volleyball tournament after facing UST and NU, October 2 at the SM Sands by the Bay.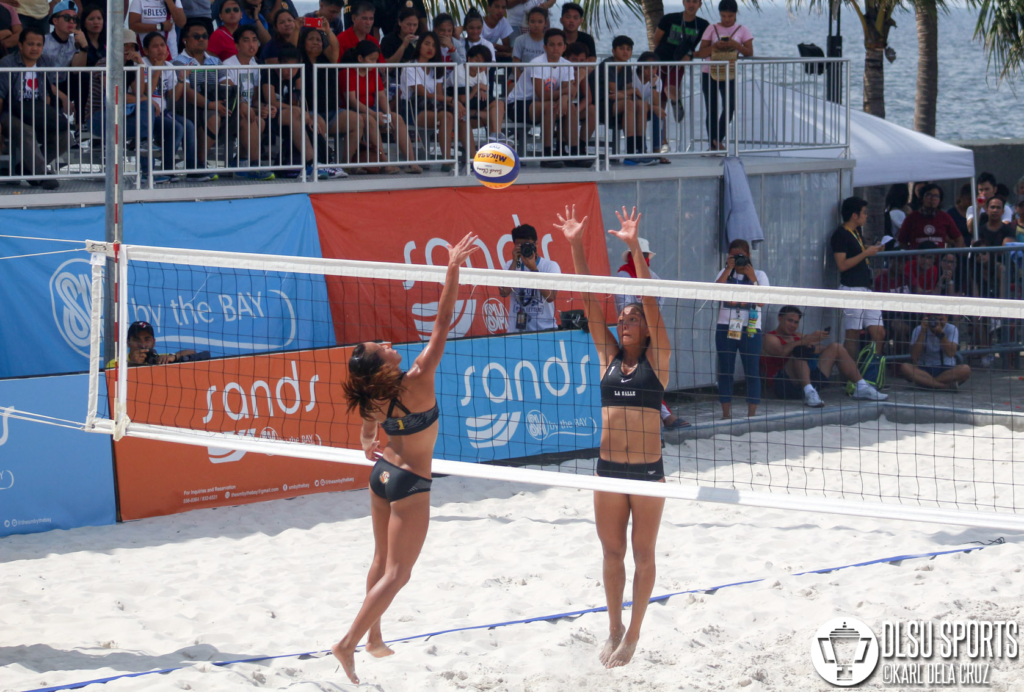 Lady Spikers vs UST
Coming from a loss against UP, the Lady Spikers faced the UST Tigress Spikers with more determination and will to keep their winning slate going. However, the España-based squad proved to be a tough team to handle.
In the earlier part of the opening set, the duo of Desiree Cheng and Tin Tiamzon tried to keep up with the efforts of Tigresses Cherry Rondina and Jem Gutierrez. However, the España-based squad made it tough for DLSU as they blew any chance the Lady Spikers could get momentum. After a drop from Cheng at 4-12, the Green and White tandem tried to inch closer to UST's massive lead via a 4-0 run. Former beach volleyball MVP Rondina kept DLSU at bay after an explosion of attacks eventually taking the set, 15-21.
After a drop from Tiamzon in the second set, 1-2, the Lady Spikers were frozen with UST's offensive variation, which widened the gap for the España-based squad, 2-7. The scoring blitz continued until UST gained a massive set leverage, 9-16. Although Cheng and Tiamzon tried to inch closer to UST, 15-18, two attacks from Gutierrez and a kill from Rondina ended DLSU's chance to extend the match, 16-21.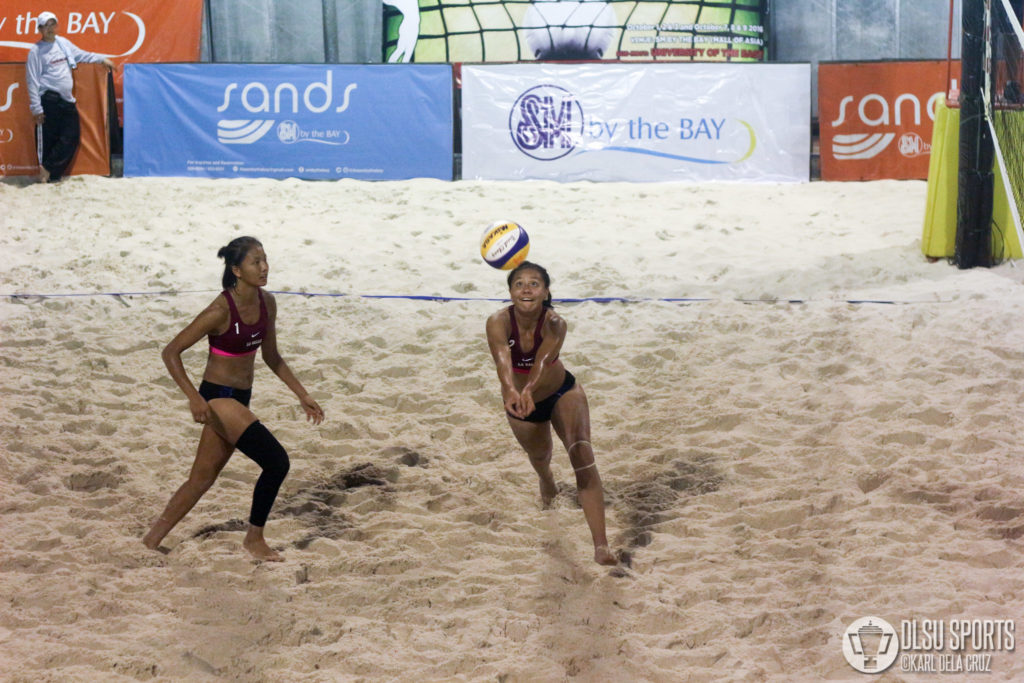 Lady Spikers vs NU
A rejuvenated Lady Spikers entered their final match of the day as they faced NU Lady Bulldogs Roma Doromal and Aiko Urdas.
In the beginning of the first set, the Lady Spikers were able to build a steady lead to halt the Lady Bulldogs from making runs. However, NU was able to catch up after a few attacks from their duo and errors on our side, 7-6. Tiamzon and Doromal went neck-and-neck as they went on a heated rally of points, 15-12. The Lady Spikers went on from this point to finally claim their first set after two outings, 21-16.
The Lady Spikers slowly but carefully constructed their momentum against the Lady Bulldogs. Banking on target services, the Green and White team was able to punish NU as they could not formulate plays due to bad passing, 12-9. The duo of Cheng and Tiamzon then caught fire to pull away mid-set, 17-11. Although the Blue and Gold team tried to catch up, Cheng and Tiamzon disallowed them from doing so after a series of offensive and defensive plays to finally give DLSU its second win, 21-16.
On their game against UST, team captain Tiamzon was thankful as the Lady Spikers considered the loss as a learning experience in the coming games. "Maganda na nadaanan na naming yung mga yung early on in the tournament," said Tiamzon. Meanwhile, former beach volleyball queens think that both Cheng and Tiamzon are bound to release their inner beast modes as the league continues. "Siguro nasa adjustment stage pa lang sila. Maaga pa naman yung league so marami pang pwedeng mangyari," said former Lady Spiker Cyd Demecillo. On the other hand, third man Kim Fajardo who's raring to play again in the sand court believes that the duo is slowly starting to build confidence in their games, "Nanibago lang talaga sa buhangin yung mga yun pero sigurado namang babawi sila," she said.
True enough, Cheng and Tiamzon transcended major improvements in their game against NU. "We just had to push the restart button and move on. We just needed to go back to the basics and focus more," expressed the CapTIN. The Green and White duo's fighting spirit during the match worked magic as they stood their ground especially during crucial points in the game. "We just had to fight for each other," expressed Tiamzon.
With three remaining matches in the elimination against AdU, UE and ADMU, the Lady Spikers are more than ready to defend DLSU's beach volleyball crown. See them in action today, October 3 and on Friday, October 7.